Innovation Improves Efficacy of Ultrasonic Instrumentation
NSK's Varios 970 features the latest developments in piezoelectric technology.
NSK has been providing innovative dental products since 1930. That history of innovation continues with the Varios series of piezoelectric ultrasonic scalers. The line features the iPiezo engine, which ensures consistent output by automatically adjusting the power to the tip depending on the condition of the tooth surface.
The Auto Tuning Function enables the dental hygienist to feel the power output, supporting effective oral hygiene and successful scaling procedures.
The new slim-line handpieces ensure much clearer vision and enable easier identification of calculus and plaque during hygiene procedures.
The twin LED lights assure excellent, virtually shadow-free visibility — dramatically improving conditions in the operatory. LED lights simulate natural daylight, which is easy on the eyes and promotes clearer vision. LED light sources are also longer lasting and more durable than halogen bulbs.
The Varios 970
The most advanced model in NSK's Varios ultrasonic scaler series, the Varios 970 includes a control unit, handpiece,handpiece cord, three scaling tips, foot control, two irrigation bottles, three tip wrenches with torque limiter, and AC power cord. The unit weighs 2.1 kg and offers a variety of benefits.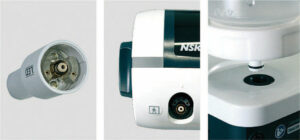 High-Quality Irrigation. The Varios 970 is a two-bottle system that eliminates concerns about irrigation, enabling dental hygienists to focus on instrumentation. The two bottles can be placed and removed easily and may be used for any type of irrigation to complement treatment. Large 400 mL bottles deliver ample irrigation capacity, improving efficiency.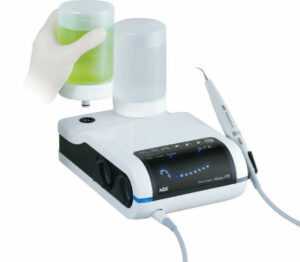 Top Notch Visibility. The large LED display has a 10-stage numeric power display and bar graph to show the irrigation volume. This intuitive layout reduces the risk of error. Power adjustment and function selection are performed easily.
Maximized Durability. The introduction of the resin-based water pipe of the bottle, pump, and handpiece improves durability as it substantially reduces the corrosion and rust caused by the residuum of antiseptic solutions.
Simple to Clean. The Auto Cleaning Mode flushes the tubing, handpiece, and tips at the push of a button when required. The two channels can be flushed independently.
Maintenance Made Easy. Daily maintenance is simple with the Varios 970's auto rinse function and seamless body design. Repeated tests of its components and material studies ensure high durability even when used extensively with antiseptic irrigation solutions.
If a part does need replacement, most components of the irrigation system are easily replaced by the user, negating the need for costly service and downtime.
NSK AMERICA CORP
888-675-1675
From Dimensions of Dental Hygiene. July/August 2023; 21(7):25.