Industry Info
Grant Program Launched to Support Children's Oral Health
GRANT PROGRAM LAUNCHED TO SUPPORT CHILDREN'S ORAL HEALTH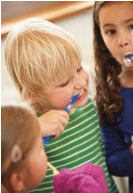 The Canada-United States Chapter of the Alliance for a Cavity-Free Future (ACFF) recently launched a new grant program to help fund interprofessional projects that positively impact the oral health of pregnant women and children younger than 6. With support provided by Colgate-Palmolive Co, the new grant program will award up to $50,000 to selected projects. The application window for the 2016 grants is from September 1 to October 1. For more information about the grant application process, visit: alliance for a cavity free future.ca.
To be eligible for an ACFF interprofessional grant, projects must focus on improving attitudes, knowledge, and practice related to the prevention of dental caries among pregnant women and/or children younger than 6 within vulnerable populations. Applicants must be part of an interprofessional team that includes a dentist and dental hygienist and/or dental therapist, and be currently enrolled or working in a university setting or involved in public health.
The ACFF is a nonprofit group of dental experts who implement changes to dental health practices across the globe. Its goal is to stop the development and progression of tooth decay in order to move toward a caries-free future for all people.
PAC-DENT ACQUIRES GINGI-PAK
Pac-Dent International Inc in Brea, California, has acquired the Camarillo, Californiabased Belport Co Inc, which is the parent company of Gingi-Pak. Announcing the acquisition in July, Pac-Dent said it will operate Gingi-Pak as a stand-alone business and continue to promote its portfolio of products. Gingi-Pak manufactures retraction cord, topical anesthetic, hemostatic liquid, cord packing instruments, and hydrocolloid impression material.
WORLD DENTAL HYGIENIST AWARD WINNERS HONORED AT INTERNATIONAL MEETING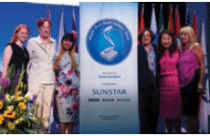 The International Symposium on Dental Hygiene, hosted by the Swiss Dental Hygienists in cooperation with the International Federation of Dental Hygienists (IFDH), took place June 23 to June 25 in Basel, Switzerland. During the meeting, the Sunstar Foundation hosted the fourth annual World Dental Hygienist Awards ceremony.
The World Dental Hygienist Awards are given to outstanding dental hygienists who have made significant contributions to the dental and dental hygiene communities, their profession, and the general public. The 2016 winners are Rebecca Barry, PhD, RDH, and Juliet Dang, PhD, MS, RDH, for re search, and Sandy Kemper, RDH, BS, for the project category. Each recipient presented her research or project at the ceremony and answered questions from the audience.
The IFDH also honored the director of the Sunstar Foundation, Mayumi Kaneda, with a special award to recognize the foundation's continued support of the dental hygiene profession.