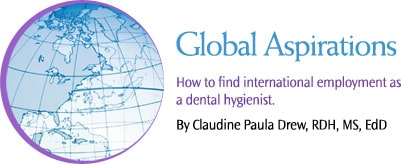 Global Aspirations
How to find international employment as a dental hygienist.
International employment can be an exciting and adventurous chapter in your life. It will open new worlds and experiences to you while you—as a dental health professional—bring sound oral health care and prevention to another population.
CHOOSING THE RIGHT COUNTRY
The first step in researching the possibility of international employment is deciding in which country you would like to practice. In choosing the country, consider your own expertise and then identify the dental hygiene procedures needed for competent dental hygiene practice in the target country. Each country may have a different, expanded, or limited scope of dental hygiene care. For example, some countries may not allow dental hygienists to administer local anesthesia.
Patricia Johnson, RDH, PhD, provided an in-depth analysis of dental hygiene practice among 17 countries in her 2003 paper "International Profiles of Dental Hygiene 1987 to 2001: A 19-Nation Comparative Study" (two countries did not have a defined legal scope of care at the time of her survey).1 She analyzed the dental hygiene process of care (assessments, dental hygiene diagnosis, treatment plan, implementation, and evaluation of outcomes). Johnson found that dental hygiene clinical practice "was remarkably similar worldwide."1 All of the countries surveyed by Johnson allowed supra- and subgingival scaling but only the
Netherlands had the expanded function of Class 1 cavity preparation. She further noted that some countries had "alternate" personnel other than the dental hygienist performing common procedures. For instance, the intra-oral dental assistant and the dental therapist perform procedures overlapping those associated with the dental hygienist in some countries. However, where the intraoral dental assistant was used, the position did not encompass hard and soft tissue evaluation, many therapeutic procedures, and decision making within treatment planning. Typically, the main focus of dental therapists is not on preventive strategies and implementation but on caries detection, diagnosis, and subsequent treatment.1

STRATEGIES FOR FINDING THE INTERNATIONAL JOB
Setting a goal and visualizing it coming to fruition are key to beginning the process of seeking international employment. The next big step is networking with professional colleagues,2 friends, and even former teachers. By letting others know about your goal of practicing internationally, you may find they have contacts or suggestions to help you. Also, social networking on the Internet2 can be helpful. Hiring a headhunter is another option, however, beware of those who charge exorbitant fees and make sure to read the fine print in any contract.3
Advertising in different professional journals can be a successful strategy. The Journal of the American Dental Association is read all over the world. A job-wanted advertisement will certainly be noticed.3 Also the target country's dental professional journal is another good option to advertise for a position. Read classified ads in the American Dental Hygienists' Association's Journal of Dental Hygiene as well as the International Journal of Dental Hygiene. In the early 1980s I answered an ad that appeared in the Journal of Dental Hygiene for international employment at King Faisal Specialist Hospital, Riyadh, Kingdom of Saudi Arabia. I was hired and worked there from 1983 to 1984.
Contacting the target country's embassy or consulate is another strategy that can help secure international employment. Washington, DC, New York City, Los Angeles, and other cities have consulates and/or embassies. Call them directly to ask about potential employment in their respective countries. They may be able to put you in touch with a prospective employer. Use Internet search engines, like Google, to investigate the target country's dental and dental hygiene professional societies. Email the contact listed there.
Another idea to help secure a foreign post is to spend your vacation visiting the target country. Once there, search out any leads. Ask the hotel's concierge what dentist is used for hotel guests' oral health needs and emergencies. Visit the American embassy or consulate located in the target country. Do they have a dentist who takes care of the American civil service workers? That local dentist may want to hire an American dental hygienist. While in Hong Kong on vacation, I took an afternoon off from an extensive Asian tour to visit the University of Hong Kong, which had a dental and allied dental school. I thought I might be interested in working there. No openings were available but I was graciously referred to a local dentist's office that was hiring. Unfortunately, I was 3 months too late and another American dental hygienist had already secured the job.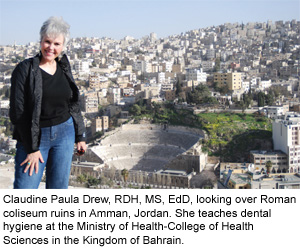 Attending any and all professional meetings to meet and greet potential contacts is a good plan.2 The International Federation of Dental Hygienists (IFDH) hosts a conference every 3 years. The next International Symposium of Dental Hygiene will be in Glasgow, Scotland, July 1 through July 3. More information is available at the IFDH website: www.ifdh.org. This will be a great venue for networking and information gathering, as is the ADHA Annual Session held every June. This year the ADHA Annual Session will be at Caesar's Palace in Las Vegas, June 23 through June 29. Housing and registration information is available at www.adha.org.
Lastly, in this phase of achieving your goal of attaining international employment, keep track of all contacts you have made. Your sources are always receiving new, updated information. Follow them up.
CONSIDERATIONS FOR ACCEPTING INTERNATIONAL EMPLOYMENT

Once you have been offered a position in the target country, you will need to negotiate your employment contract entitlements.1 First, the base salary must be what you feel is fair for your dental hygiene expertise. Many countries will investigate the average American dental hygiene gross annual salary and offer you that amount. Of course, you should negotiate as the law of supply and demand is applicable all over the world. The new employer may increase the salary because you have all the credentials for which he or she is looking. On the other hand, you may be offered less remuneration than your present American salary. The cost of living in the target country may be less than the United States, hence, a lower salary.

Usually you will not have to pay American federal tax on the first US $87,500 earned internationally. Your international employment status also allows you to file your taxes after the April 15 deadline. However, an accountant should help you make sure that you are in accordance with all current United States tax laws. Also, some foreign countries will tax you on the money earned in their country. This is not typical in the Middle East, but it has occurred in some European countries.
The second area of salary negotiation is benefits' entitlements (see Table 1). What will the employer be responsible for paying and what will you, the employee, be accountable to pay? Will housing be supplied or will you have to pay that on your own? Benefits, such as sick pay, vacation pay, health insurance coverage, uniform allowance, professional development, even retirement incentives, should be negotiated and reviewed before signing the contract. Is your contract for 1 year or 2 years? Is there a probationary period, ie, the first 90 days, in which case either party can terminate the contract if the new employment situation proves unsatisfactory? If the employment situation is not what you envisioned or you find you do not like living as much outside your comfort zone as you thought you would, then you will be able to resign in good standing and return home. In this case scenario, the employer most often will pay for your return air ticket. Be sure to negotiate this beforehand.
International employment has much to offer the dental hygienist and it presents its own challenges as well. With proper investigation and evaluation, you can secure an interesting dental hygiene position abroad.
REFERENCES
Johnson PM. International profiles of dental hygiene1987 to 2001: A 19-nation comparative study. Int Dent J. 2003;53:299-313.
Fitzgerald, M. Finding a job abroad. Available at: www.jobsearch.about.com/internationaljobs/a/careerabroad2.htm

. Accessed January 20, 2010.

St. Cloud State University. Career Services Center, Handout #50: Finding a great Job in Tough Times— Nine Successful Strategies. Available at: www.stcloudstate.edu/careerservices

. Accessed January 20, 2010.
From Dimensions of Dental Hygiene. February 2010; 8(2): 50, 52-53.