Favorite Topical Anesthetic Is Reintroduced
Unavailable for the past several years, DycloPro (dyclonine hydrochloride), made by Septodont, is now back on the market.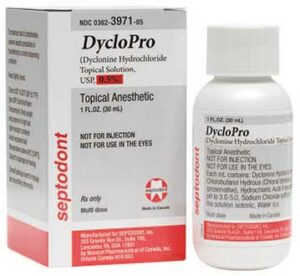 How often do we see patients with severe gag reflex, which makes it almost impossible to take radiographs, scale posterior teeth, or even perform an intraoral examination? Although the dental market has plenty of options for topical anesthetics, none of the current drug options are indicated for use over a large surface area of the oral cavity due to high drug concentrations, potential toxicity, and risk of severe allergic reactions. With the reintroduction of DycloPro (dyclonine hydrochloride) to the dental market, clinicians now have access to a versatile topical anesthetic that helps anesthetize mucous membranes (eg, mouth, pharynx, larynx, trachea, esophagus, etc) without using a large dose or a highly-concentrated drug.1
Dyclonine hydrochloride was previously manufactured by a different drug company but had been absent from the market for several years. Since then, the drug has only been made available through compounding pharmacies, which require one prescription per patient.2 Many dental practices, however, are not compliant with using one prescription per patient and, instead, use a single bottle of dyclonine hydrochloride on multiple patients. Using unregulated compounded drugs can be a liability issue for practitioners because no information is available on maximum recommended doses (MRD), contraindications, or allergies.
DycloPro by Septodont is regulated by the United States Food and Drug Administration (FDA) which gives clinicians access to reliable information on the drug indications, contraindications, and MRD.3 Because DycloPro is now available as a manufactured drug, dental providers can use the drug on patients without requiring one prescription per patient.
DycloPro is also a good alternative for patients with allergies to amides or esters because it is ketone-based.4 DycloPro is available in 0.5% (dyclonine HCl, 5 mg) and 1% (dyclonine HCl, 10 mg) topical concentrations. The MRD for the 1% topical solution is 30 mL (300 mg of dyclonine HCl), although the use of 4 mL to 20 mL has been shown to produce satisfactory anesthesia.1
With high efficacy and low drug concentration, DycloPro is an excellent topical anesthetic option for covering a large surface area in the oral cavity; the low concentration also minimizes the risk of drug toxicity. The drug onset of DycloPro is between 2 minutes and 10 minutes and the duration of the topical anesthetic is 30 minutes, making it an effective option for clinicians while reducing the need for reapplication.5
REFERENCES
Septodont. Product Information on DycloPro (Dyclonine Hydrochloride Topical Solution, USP, 0.5% and 1%). Available at: septodontusa.com/​​sites/​​default/​​files/​​2020-06/​​DycloPro%20Dyclonine-PI-2814.pdf. Accessed February 17, 2021.
Kravitz ND, Graham JW, Nicozisis JL, Gill J. Compounded topical anesthetics. J Clin Orthod

. 2015;49:307–313.

United Sates Food and Drug Administration. FDA-Approved Drugs: Dyclonine Hydrochloride (0.5% and 1% Topical Solution) as of 2018: Available at: accessdata.fda.gov/​scripts/​cder/​daf/​index.cfm?event=overview.process&ApplNo=200480. Accessed February 17, 2021.
Bassett K, DiMarco A, Naughton D. Local Anesthesia for Dental Professionals

. 2nd ed. Upper Saddle River, New Jersey: Pearson; 2015.

Septodont. DycloPro, Dyclonine Hydrochloride Topical Solution, USP, 0.5%. Available at: septodontusa.com/​products/​dyclopro. Accessed February 17, 2021.
From Dimensions of Dental Hygiene. March 2021;19(3):14.