Ensuring Smiles for Kids with Facial Clefts
The management of patients with cleft lip and palate.
PURCHASE COURSE
This course was published in the September 2009 issue and expires September 2012.
The author has no commercial conflicts of interest to disclose.
This 2 credit hour self-study activity is electronically mediated.
EDUCATIONAL OBJECTIVES
After reading this course, the participant should be able to:
Explain the developmental processes that occur during normal palatal development.
Describe the types of cleft lip and palate that result from developmental disturbances.
Understand the multifactorial etiology of clefting.
Discuss the dental hygiene implications for treatment of patients who have cleft lip or palate.
Understand the need for a team approach to treating patients with cleft lip or palate.
---
On February 22, 2009, millions of people were watching the 81st Annual Academy Awards when the host, Bill Maher, announced that Smile Pinki won the Oscar for Best Documentary Short. A documentary created by Smile Train—a nonprofit organization dedicated to helping children born with facial clefts—Smile Pinki provided an opportunity for the world to see the serious effects of cleft lip and palate and how medical and dental intervention can make a significant improvement in the lives of children born with these deformities.
Each year, thousands of children across the globe are born with cleft lip and palate defects. Cleft disorders are the most common birth defects in the United States. Most children living in the developed world lead normal lives after successful surgeries and coordinated treatment. Unfortunately, those born in developing countries have limited access to treatment and often experience psychological stress due to the resulting disfigurement. See Figure 1 for pre- and post-treatment photos of an infant with cleft lip and palate.
Cleft lip and palate can cause functional deficits including problems with feeding and speech, increased incidence of ear infections, and potential hearing loss. Dental hygienists play an important role in the oral care of patients with cleft lip and palate. They can also provide education about the prevention of these types of birth defects since some risk factors can be modified.
Oral clefts have diverse origins ranging from genetic factors such as gene mutations and protein errors to environmental components that include smoking during pregnancy. Clefting may occur in combination with genetic syndromes such as Treacher-Collins dysostosis and Pierre Robin syndrome. Cleft lip and palate may also be associated with more profound symptoms, including shorter life span and increased risk of cancer.1
EPIDEMIOLOGY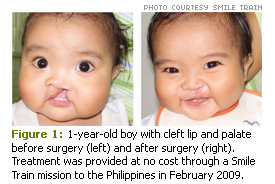 Cleft lip, with or without palatal involvement, is a common congenital abnor mality and is the most visible birth defect. Cleft lip occurs in one out of every 700 births or approximately 5,000 babies born in the United States each year.2 The incidence of clefts in the United States varies among ethnic groups with an increased rate in the Caucasian population (1:500 to 1:1,000 births) compared to the African American population (1:2,000 births).2 Table 1 provides a breakdown of the incidence among a variety of ethnic groups. Clefting also affects boys more frequently than girls.3

A REVIEW OF CLEFT LIP AND PALATE
Complete formation of the primary palate/premaxillary area and the secondary palate are necessary for the normal development of the lip, alveolar ridge, and palatal region (Figure 2).4 The formation of cleft lip and palate begins between week 4 and week 6 of prenatal development when the molecular process responsible for the proper development and fusion of the primary palate/ premaxillary area is interrupted, resulting in the incomplete development of the lip and often the incomplete development of the alveolus and nasal structures, resulting in a cleft deformity (Figure 3).5 The formation of the secondary palate, between 8 weeks and 12 weeks, is dependent on the fusion of the two lateral palatine shelves and the subsequent fusion with the premaxillary area, which closes the Y-shaped opening in the roof of the mouth (Figure 4).6 Again, disruption of either of these fusions may result in cleft lip, cleft palate, or both (Figures 2 and 3).4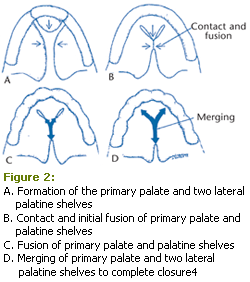 ETIOLOGY
Cleft defects are multifactorial in their etiology and often associated with a complex sequence of events involving genetic mutations and certain prenatal environmental risk factors.3 Although the specific origin of cleft defects continues to undergo investigation, evidence shows that certain prenatal environmental risk factors, such as the mother's use of tobacco, alcohol, prescription and non-prescription medications, and illegal drugs as well as an excess or deficiency of certain vitamins, increase the likelihood a fetus will develop a cleft.7
Proteins play a role in the genetic causes of clefting. In 2006, Alkuraya et al found that the SUMO1 gene encodes a small protein. During facial development, this protein attaches to the protein products of three genes known to cause cleft lip and palate. When this protein is not produced in sufficient amounts, cleft lip and palate can occur.8
Smoking and folic acid intake during pregnancy are two main factors that modify genetic risks for cleft lip and palate. Cigarette smoking during pregnancy significantly increases the risk of the embryo developing cleft lip and palate defects.2 Shi et al found that if the fetuses of pregnant women who smoked lacked a particular enzyme—GSTT1— they were more prone to developing a cleft defect. Their research determined that GSTT1 helps create reduced glutathione— an anti-oxidant—that protects cells from free radicals, which are initiated by smoking. The data showed that the risk of developing a cleft lip or palate in a fetus lacking the GSTT1 enzyme was significantly increased when the mother smoked 15 or more cigarettes per day.9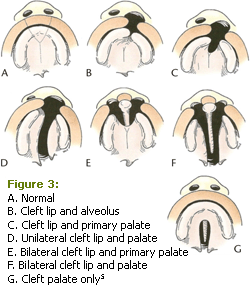 Folic acid, which is vital to the healthy development of the fetus, has also been linked to cleft lip and palate defects. Folic acid supplements appear to reduce the risk of an embryo developing cleft lip and palate by about one-third.2 Multivitamin supplementation also seems to have an effect. According to Lammer et al, a deficiency of multivitamins during early pregnancy is related to the development of cleft lip and palate defects— placing the embryo at two times greater risk.10
Braybrook et al found that mutations in the gene TBX22, which cause cleft palate defects, are inherited through the X chromosome. This gene is important for the proper growth of facial structures.11 In a study done with Icelandic, Brazilian, Canadian, and American Indian populations, a variant of gene PVRL1, which is necessary for cell fusion during development, predisposed the study participants to cleft lip and palate.12
ORAL HEALTH MANAGEMENT FOR PATIENTS WITH CLEFT DEFECTS
A dental prevention plan that includes regular dental checkups, education about how to provide effective self-care, the application of fluoride, and nutritional counseling to limit refined sugars is important for managing the oral health care of children who have cleft lip and palate. These children are at a significantly higher risk for caries because the incisor teeth often have enamel defects that allow caries to develop more quickly; the teeth around the cleft often erupt in crowded or abnormal positions impeding cleaning; and children who have these defects often consume more soft foods because they have missing teeth.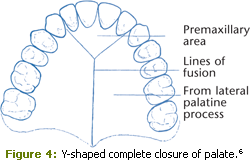 Chapple and Nunn assessed the prevalence of dental caries, developmental defects of enamel, and related factors among children who have clefts. Not only did the study reveal that oral disease is prevalent among these patients, but also that the risk of caries for these patients increased with age.13
The oral health problems that accompany cleft lip usually involve abnormalities in the maxillary arch, such as supernumerary incisors, rotation and malformation of the lateral incisors, and malocclusion. When the cleft involves both lip and palate the deformities can include rotated hypoplastic or absent lateral incisors; the canines may be positioned in the palate behind the premaxilla; and the molars may be in crossbite.14 A coordinated team that includes dental, orthodontic, and prosthodontic professionals who are familiar with the oral issues created by cleft disorders is necessary to address these problems.
Children born with cleft disorders who receive ongoing care, treatment, and support usually have positive long-term prognoses but other issues may arise. Infants with cleft palate may have difficulty feeding thus requiring special bottles and nipples specifically designed to keep liquids flowing downward into the stomach. Feeding in an upright position can also help keep the liquid flowing downward. An obturator (prosthetic palate) may be used until surgery can be performed to help with feeding problems. Repeated ear infections caused by fluid build-up may occur because the Eustachian tubes are not positioned correctly and the placement of special tubes may be needed.15 Children may also experience speech problems that can be improved with speech therapy.
The psychological effects of clefts on children as well as their families should be considered. In a study done by Turner et al on the psychological status of patients with cleft lip and palate and their parents, 73% of patients felt their self-confidence had been significantly affected by their cleft.16 A mental health professional should be part of the health care team that works with the child and his or her family.
LONG-TERM PROGNOSIS
Cleft lip and palate can be treated and repaired. Treatment usually requires a team of professionals working from birth throughout adolescence to address the complicated needs specific to each individual. Advancements in genetic research continue to provide more clues to the causes of cleft deformities. There are many suggestions for the direction of future research—all with the goal of increasing proper fetal development and decreasing the incidence of this manageable yet devastating birth defect. Researchers are currently working on the creation of a clinical test that could be used in utero to discover the development of cleft abnormalities.
REFERENCES
Menezes R, Marazita ML, Goldstein McHenry T. AXIS inhibition protein 2, orofacial clefts and a family history of cancer. J Am Dent Assoc. 2009;140:80-84.
Vieira AR. Unraveling human cleft lip and palate research. J Dent Res

. 2008;87:119-125.

Mulliken JB. The changing faces of children with cleft lip and palate. N Engl J Med

. 2004;351:745-747

Melfi RC, Alley KE. Permar's Oral Embryology and Microscopic Anatomy

. 10th ed. Philadelphia: Lippincott Williams & Wilkins; 2000.

Nanci A. Ten Cate's Oral Histology Development, Structure, and Function

. 7th ed. St. Louis: Mosby/Elsevier; 2008.

Avery JK. Essentials of Oral Histology and Embrology A Clinical Approach

. 2nd ed. St. Louis: Mosby; 2000.

Abramowicz S, Cooper ME, Bardi K, Weyant RJ, Marazita ML. Demographic and prenatal factors of patients with cleft lip and cleft palate A pilot study. J Am Dent Assoc

. 2003;134:1371-1376.

Alkuraya FS, Saadi I, Lund JJ, et al. SUMO1 haploinsufficiency leads to cleft lip and palate. Science

. 2006;313:1751.

Shi M, Christensen K, Weinberg CR, et al. Orofacial cleft risk is increased with maternal smoking and specific detoxification-gene variants. Am J Hum Genet

. 2007;80:76-90.

Lammer EJ, Shaw GM, Iovannisci DM, Finnell RH. Periconceptional multivitamin intake during early pregnancy, genetic variation of acetyl-N-transferase 1 (NAT1), and risk for orofacial clefts. Birth Defects Res A Clin Mol Teratol

. 2004;70:846-852.

Braybrook C, Doudney K, Marçano AC, et al. The T-box transcription factor gene TBX22 is mutated in X-linked cleft palate and ankyloglossia. Nat Genet

. 2001;29:179-183.

Sözen MA, Suzuki K, Tolarova MM, Bustos T, Fernández Iglesias JE, Spritz RA. Mutation of PVRL1 is associated with sporadic, non-syndromic cleft lip/palate in northern Venezuela. Nat Genet

. 2001;29:141-142.

Chapple JR, Nunn JH. The oral health of children with clefts of the lip, palate, or both. Cleft Palate Craniofac J

. 2001;38:525-528.

Shah CP, Wong D. Management of children with cleft lip and palate. Can Med Assoc J

. 1980;122:19-24.

DiMatteo A. Cleft lip and cleft palate. Consumer Guide to Dentistry. Available at: www.yourdentistryguide.com/cleft

. Accessed August 3, 2009.

Turner SR, Thomas PW, Dowell T, Rumsey N, Sandy JR. Psychological outcomes amongst cleft patients and their families. Br J Plast Surg

. 1997;50:1-9.
From Dimensions of Dental Hygiene. September 2009; 7(9): 52-55.