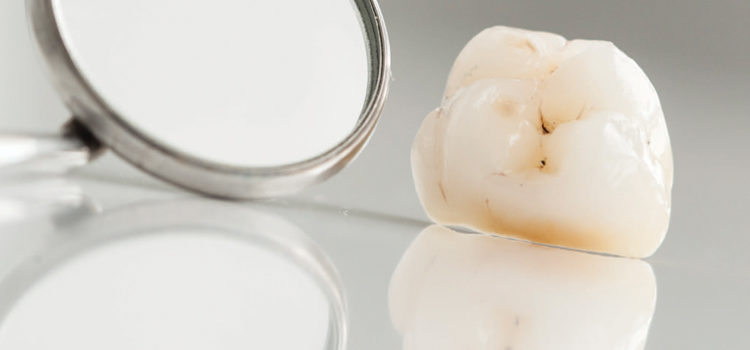 SEB_RA/ISTOCK/GETTY IMAGES PLUS
The Effects of Polishing on Esthetic Restorations
Dental hygienists play key roles in advising patients on restorative options and In helping to maintain them.
With the multitude of restorative options available, dental hygienists need to be knowledgeable about the qualities of each restorative material in order to help guide patients on these decisions. Dental technology has improved the quality of tooth-colored restorations. Advancements have been made with Bis-GMA resin chemistry, resulting in reduced material shrinkage and improvements in fracture resistance. Enhancements with cross-linking of monomer components in composite materials has also furthered the development of ceramic materials.1
Each restorative material possesses its own advantages and disadvantages (Figure 1). Material selection focuses on: the extent of tooth destruction and structural replacement; preservation of existing tooth structure; handling of the material/need for specialized equipment; restoration longevity and durability; cost; esthetics; and patient preference. Restorations need to provide high-quality results while also meeting patient expectations.2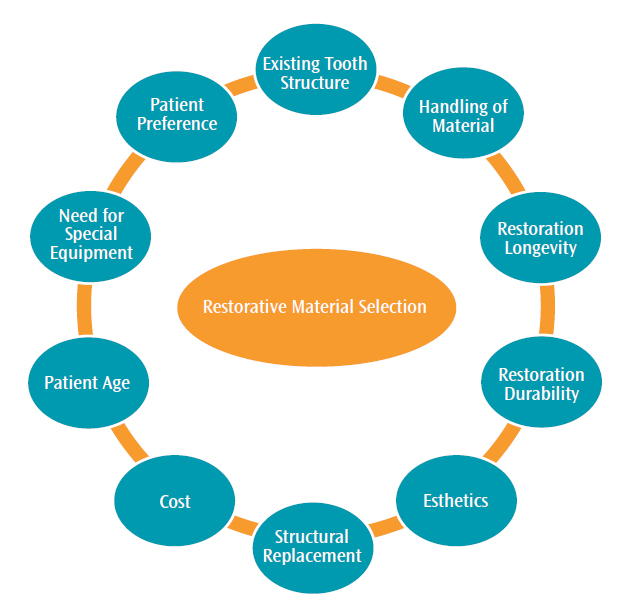 Hue, chroma, and value should be considered when choosing a restorative material. Hue refers to the shade of the tooth's color and the impact of light reflection on the tooth, chroma is the concentration of that shade, and value is its overall luster and shine.3 A study by Talu et al4 found that esthetics and price were the two main factors for restorative selection among patients of all age groups. Gender analysis of the data identified women as valuing esthetics most, whereas men placed more emphasis on cost and treatment time. Longevity and durability were significant factors valued mainly by middle-aged patients.4
DIRECT RESTORATIONS
Retaining sound tooth structure adds to the overall strength of a restoration. Dental adhesives have contributed to minimal tooth preparation and less invasive treatment modalities used to place composites. Direct restorations are mixed, directly placed into the oral cavity, and chemically set. These are typically lower cost than indirect restorations. They are esthetically pleasing and enable the completion of treatment in a single visit. Currently, direct restoration options include resin and polyacid-modified composites, as well as resin-modified glass and traditional glass ionomer restoratives.5
Resin composite materials are available with a variety of filler types that affect both their handling characteristics and physical properties. Fillers include quartz, silica, and silica glass. The agents found in silica glass include barium, strontium, and zirconium. Improving filler content for restorative materials has contributed to the increased use of tooth-colored restorations for posterior teeth. Composites are classified according to filler type, particle size, and shape. Recent dental advances have introduced nanocomposites that may consist of nanofillers smaller than 100 nm. Manufacturers are investigating diverse filler types, such as polymer nanofibers, glass fibers, and titania nanoparticles.1,6 These nanofilled resin composites possess specific properties that enhance surface smoothness and improve wear resistance. The reduction in shrinkage during setting contributes to their increased strength.7
Nanocomposites are either nanohybrids or nanofilled composites. Nanohybrids have a mix of particle sizes, whereas nanofilled composites consist of particles with a more uniform size and dimension. These nanocomposites have increased strength, improved surface topography, excellent optical characteristics, and easily polish.8 Composites provide greater surface smoothness when compared to glass ionomer restorations. A smooth surface is ideal to maintain proper oral health and the optimum esthetic result.5The smoothness of the surface will affect the amount of stain accumulation and the restoration's luster. An increased surface roughness results in biofilm accumulation.7
INDIRECT RESTORATIONS
When extensive tooth reconstruction is needed, indirect restorations are often recommended. Indirect restorations are composed of various materials, such as zirconia, lithium-disilicate reinforced glass ceramics, glass infiltrated alumina, or glass infiltrated alumina-zirconia. These restorations are produced in a dental laboratory or using in-office systems, such as computer-aided design and computer-aided manufacturing (CAD/CAM). Restorations fabricated in a laboratory setting are finished or completed through glazing, which seals irregularities and improves surface quality. The glaze finish must be maintained. The glazing process reduces wear of the opposing tooth and improves masticatory function. These qualities may help minimize biofilm formation.9
CAD/CAM technology offers single restorations with high fracture resistance. These individual restorations are milled from glass ceramic blocks. They are often coated with feldspathic porcelain when fabricating zirconia crown restorations. Recently, highly translucent zirconia restorations have been introduced, helping to improve oral health and esthetic results.9
The placement of indirect ceramic restorations requires finishing/contouring and polishing. The finishing and contouring procedures help to achieve the desired shape of the restoration. Due to the hardness of zirconia, diamond abrasives are often used during the contouring process. The sequential use of larger diamond grit followed by smaller granular abrasives provides a smoother surface; however, the contouring process disrupts the glaze finish. This increases abrasive wear of the opposing tooth and could increase plaque accumulation. To minimize the detrimental effects of disturbing the final glaze, subsequent polishing is completed to achieve a smooth surface.2,10
POLISHING PROCEDURES
Polishing kits include various tools, such as diamond burs, abrasive rubber cups, felt wheels, and diamond polishing pastes.11 For glazed or polished porcelain, diamond polishing pastes are available in coarse, medium, and fine grit. Manufacturer instructions should be followed.12 Diamond pastes contain oxides such as anatase, corundum, zinc oxide, and pumice.10 Using a combination of different pastes can improve the surface finish.
Dental hygienists need to be knowledgeable about the various polishing agents used to maintain the integrity of tooth-colored restorations. The misuse of instruments or coarse abrasives will compromise the restoration's surface quality.13 Medium and coarse polishing pastes are effective in removing stain; however, their use can result in residual roughness. Hence, stain and calculus retention may occur with inappropriate paste selection. Research shows that oral hygiene methods applied by the patient or the dental hygienist can incur surface damage and result in increased deposit accumulation.5
The care and maintenance of esthetic restorations should be ongoing and they may need repolishing.5 Occlusal and interproximal adjustments are required to obtain proper anatomical conformity. Often these adjustments are not followed by new glazing procedures, which may cause ceramic roughness and excessive wear on the opposing dentition.11 Anatomical obstacles can also lead to improper adjustment techniques. Incorrect adaption of finishing tools may create microscopic alterations, weakening the restorative surface and predisposing it to subsequent fractures. Ultimately, a smooth surface finish is recommended, which can be accomplished with different polishing systems.14
Clinicians must have a thorough understanding of the polishing options for indirect restorations.15 Achieving optimum results with esthetic restorations is a balancing act. Various factors impact an individual's opinion of dental esthetics. The perception of tooth appearance can be influenced by gender, age, and education level. Cultural and sociodemographic factors also influence a patient's preference for esthetic restorative procedures. The clinician's preferred material selection may be compromised by the patient's requirements. In addition, placement, finishing, and polishing of esthetic restorations may impact the final restorative material selection, so that it meets the patient's needs.16
Dental hygienists need to be educated about restorative options to best advise their patients, as well as to help them maintain their restorations.
From Dimensions of Dental Hygiene. March 2017;15(3):28,30-31.