Be Part of the Transformation 
As the calendar turns another page, there is much to celebrate within the profession of dental hygiene, as well as ongoing challenges to face in the coming year.
As the calendar turns another page, there is much to celebrate within the profession of dental hygiene, as well as ongoing challenges to face in the coming year. We are experiencing a transformation in the field of oral health care. While private practice remains the predominant setting for clinical practice, adjustments to state practice acts and the introduction of new workforce models are creating additional opportunities for dental hygienists. The impetus behind these changes is the need to expand access to care for the most vulnerable Americans. Dental hygienists—in light of the barriers faced by many who seek quality oral health care, high numbers of patients seeking treatment for oral problems in hospital emergency departments, and lost productivity due to missed school and work—have much to offer in the greater effort to improve oral and systemic health in the United States.
While the health care environment is dramatically changing, the American Dental Hygienists' Association (ADHA) is firmly focused on the future—leading the transformation of the dental hygiene profession to improve the public's oral and overall health. ADHA wants to ensure your profession remains relevant in this evolving landscape. In fact, ADHA envisions that dental hygienists will become integrated into the health care delivery system as essential primary care providers. Let's imagine that: dental hygiene professionals working within the larger health care system alongside other medical professionals to provide important, quality care. ADHA is leading the way to expand your professional opportunities.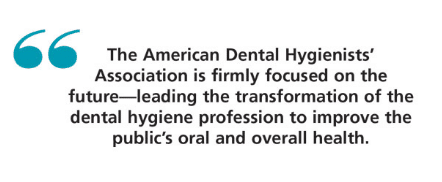 These are the broad goals of your professional organization, but let's talk about how becoming part of the ADHA can help you achieve professional satisfaction in the short term. ADHA has myriad programs, including its Center for Lifelong Learning Annual Meeting to be held this June in Pittsburgh. If you're looking for ways to help shape the future of dental hygiene, there are numerous opportunities to volunteer on the local or national level. And if you merely want to get to know other dental hygienists, local and national conventions provide that opportunity. You can continue networking with colleagues on ADHA's members-only website, which contains exclusive educational content and more.
So while you're making those New Year's resolutions, now is the perfect time to join ADHA. Your membership can have tremendous impact as we transform the future. Just click the "Join now" button on mymembership.adha.org to complete the application. Happy New Year!
The Ask the Expert column features answers to your most pressing clinical questions provided by

 

Dimensions of Dental Hygiene's

 

online panel of key opinion leaders, including: Jacqueline J. Freudenthal, RDH, MHE, on anesthesia; Nancy K. Mann, RDH, MSEd, on cultural competency; Claudia Turcotte, CDA, RDH, MSDH, MSOSH, on ergonomics; Van B. Haywood, DMD, and Erin S. Boyleston, RDH, MS, on esthetic dentistry; Michele Carr, RDH, MA, and Rachel Kearney, RDH, MS, on ethics and risk management; Durinda Mattana, RDH, MS, on fluoride use; Kandis V. Garland, RDH, MS, on infection control; Mary Kaye Scaramucci, RDH, MS, on instrument sharpening; Stacy A. Matsuda, RDH, BS, MS, on instrumentation; Karen Davis, RDH, BSDH, on insurance coding; Cynthia Stegeman, EdD, RDH, RD, LD, CDE, on nutrition; Olga A.C. Ibsen, RDH, MS, on oral pathology; Jessica Y. Lee, DDS, MPH, PhD, on pediatric dentistry; Bryan J. Frantz, DMD, MS, and Timothy J. Hempton, DDS, on periodontal therapy; Ann Eshenaur Spolarich, RDH, PhD, on pharmacology; and Caren M. Barnes, RDH, MS, on polishing. Log on to

 

dimensionsofdentalhygiene.com/asktheexpert to submit your question.
---
From Dimensions of Dental Hygiene. January 2016;14(01):10.