Are Sports and Energy Drinks OK For Kids? 
Summer is in full swing with its hot days and myriad activities.
As oral health professionals, we understand the negative impact of consuming sugary drinks. Sports and energy drinks are loaded with sugar, so for that reason alone we know they aren't healthy. But what about other implications? Several years ago, the American Academy of Pediatrics published the report, "Sports Drinks and Energy Drinks for Children and Adolescents: Are They Appropriate?"1 The findings state:
Energy drinks pose potential health risks because of the stimulants they contain (typically caffeine, guarana, and taurine) and should never be consumed by children or adolescents. In fact, some energy drinks can contain more than 500 mg of caffeine, the equivalent of 14 cans of soda.
Sports drinks can increase the incidence of obesity because of their high carbohydrate content.
Sports drinks have limited benefits for pediatric athletes and should only be consumed when there is need for rapid replenishment of carbohydrates or electrolytes in combination with water. This would occur during times of prolonged and vigorous physical activity.
The report explains that sports and energy drinks are being marketed to children and adolescents for inappropriate uses. It also suggests that consumers do not understand the difference between sports and energy drinks, and often they are viewed as the same. Energy drinks are not designed to hydrate and will not do so. This can be a dangerous point of misunderstanding, especially for young people who may be experiencing dehydration. Ultimately, the American Academy of Pediatrics recommends water for young individuals who need rehydration after physical activity.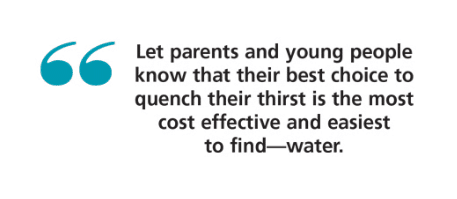 So enjoy summer, but stay healthy and hydrated. Let parents and young people know that their best choice to quench their thirst is the most cost effective and easiest to find—water.
Jill Rethman, RDH, BA
Editor in Chief
[email protected]
Reference
Committee on Nutrition and the Council on Sports Medicine and Fitness. Clinical Report—Sports Drinks and Energy Drinks for Children and Adolescents: Are They Appropriate? Available at: pediatrics.aappublications.org/ content/early/2011/05/25/peds.2011-0965.full.pdf+html. Accessed July 13, 2016.
---
From Dimensions of Dental Hygiene. August 2016;14(08):10.