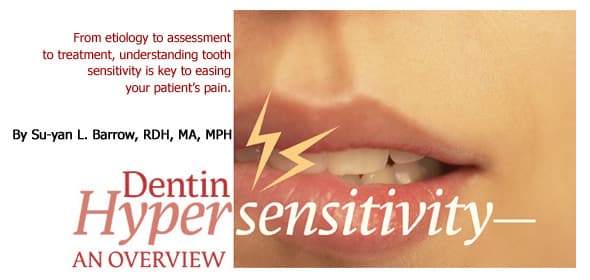 Dentin Hypersensitivity
From etiology to assessment to treatment, understanding tooth sensitivity is key to easing your patients' pain.
Tooth hypersensitivity is an exaggerated response to a sensory stimulus that usually causes no response in a normal, healthy tooth. A source of chronic irritation, dentin hypersensitivity affects eating, drinking, and breathing.1 Hypersensitive dentin is characterized by transient pain in response to evaporative, tactile, thermal, or chemo-osmotic stimulation of exposed dentin in teeth where no other defects or pathology exist. Dentin hypersensitivity affects nearly 40 million Americans at one time or another,2 although few turn to dental professionals for help.3,4 The most common age of onset is between 30 and 40 but women experience a higher incidence of dentin hypersensitivity at a younger age than men.5 The hydrodynamic theory, biological/physiological factors, and dental procedures, such as scaling and root planing, are all possible causes of hypersensitivity.
ETIOLOGIES
A prerequisite for hypersensitivity is gingival recession and subsequent dentin exposure resulting from cementum or enamel loss. The many causes of gingival recession include normal aging, chronic periodontal diseases, abnormal tooth position in the dental arch, periodontal surgery, incorrect toothbrushing habits, and restorative procedures like crown preparations that may involve the root surface. Reasons for cementum and enamel loss are often difficult to determine.6 Exposed root surfaces are prone to abrasion from aggressive toothbrushing, erosion from contact with acidic substances, and hypersensitivity from exposure of open tubules to the oral environment.7 The dentinal tubule is the portal through which stimuli gain access to the pulp.7,8 The odontoblasts and associated nerve fibers are able to detect dentinal fluid movement. Apparently very little is required to disturb and, in some cases, actually move odontoblasts and their associated pulpal nerve fiber endings into the proximal ends of the dentinal tubules.9,10
The hydrodynamic theory, which was proposed in the 1950s,5 focuses on the movement of fluids within the dentin and pulp, which stimulate the nerves causing pain. This increased flow, in turn, causes a pressure change across the dentin.5 The pressure excites the nerves in the tooth, which transmits signals to the pulp where the sensitization is registered by the same depolarization neural discharge mechanism that characterizes all nerve activity.6 External stimuli result in hydrodynamic changes affecting the pulpal balance and can elicit pain.2
In periodontitis, the bacteria and bacterial toxins present in the affected periodontium can invade open tubules and reach the pulp.11 These bacterial products are capable of initiating inflammatory reactions in the underlying pulp.12 This results in dentin hypersensitivity, which is associated with uncovered dentinal tubules.11,12
SCALING AND ROOT PLANING
The basic clinical procedures for periodontal therapy include scaling and root planing. These nonsurgical procedures remove soft and hard deposits and the diseased cementum and dentin from previously exposed root surfaces.13-15 The proposed pathogenesis of hypersensitivity in scaling and root planing patients is that the removal of root cementum by repeated instrumentation exposes dentinal tubules, which become pathways for oral fluids and microorganisms.16 As a result, the patient may experience increased sensitivity of the exposed root surfaces to thermal, tactile, evaporative, and osmotic stimuli.1
The results of one study demonstrate that scaling and root planing were accompanied by an increased intensity as well as incidence of temporary root dentin sensitivity.17 Patients who have received periodontal therapy are about four times more likely to experience post-operative dentin hypersensitivity than the general clinic population.17
TOOTH WHITENING
Both office and home bleaching procedures may induce discomfort in some patients. The principal complaints are mild tooth sensitivity to temperature changes and local oral mucosal irritation.18 The easy passage of 10% carbamide peroxide through both enamel and dentin to the pulp in 15 minutes19 can create reversible pulpitis in patients with low pain thresholds, irrespective of tooth characteristics.20 Tooth sensitivity, the most commonly cited negative occurrence with whitening, was relatively low in a study with both the 10% and 15% tray groups, affecting 9% and 10% of participants.21 In contrast, 60% of participants in the 20% tray group reported tooth sensitivity, a five-fold increase over the lower concentrations systems.21
ASSESSMENT
Clinicians should routinely check for dentinal hypersensitivity to avoid underdiagnosis.22 A thorough assessment should include a comprehensive examination to rule out alternative causes of pain. Diagnostic aids include the history of the pain, inspection, and radiographic examination of the teeth and surrounding tissues.6 The patient history should include chronology, nature, location, and aggravating and alleviating factors that influence pain.22 Several conditions may elicit the same clinical symptoms as dentinal hypersensitivity such as cracked tooth syndrome, fractured restorations, chipped teeth, dental caries, post-operative sensitivity, sinusitis, palatal-gingiva groove, hypoplastic enamel, a congenitally open cemento-enamel junction, improperly insulated metallic restorations, and teeth in acute hyperfunction.1
Patients' diets should also be discussed. Fruit drinks, such as orange juice or other acidic beverages; energy drinks, which often contain high amounts of titratable acid; and acidic diets high in pickled foods, wine, and fruit yogurt may contribute to erosive effects removing dentin and/or dentinal smear layer, thereby opening the tubules.6 An in-depth exploration of the medical history can provide valuable information on intrinsic factors (eg, vomiting, eating disorders like anorexia and bulimia)22 and extrinsic erosive factors (eg, acidic occupational/environmental reasons, the excessive use of acidic medicaments like vitamin C or aspirin).23
TREATMENT RECOMMENDATIONS
Patients should be informed of the risk of increased sensitivity following various surgical, restorative, and tooth whitening procedures before consenting to treatment.
Professional interventions for hypersensitivity can range from applying fluoride varnish to promote remineralization to more aggressive, low level laser treatments that occlude or fuse the tubules.6 The goal of professional treatments is to close the dentin tubules. Treatments include the use of fluorides, oxalate preparations, calcium phosphate, and resin-based materials.
Using a professionally endorsed desensitizing toothpaste2 with active agents including potassium salts (nitrate, chloride, and citrate), strontium salts (chloride or acetate), sodium citrate, and various fluoride compounds is also helpful.24 Potassium salts appear to act by interfering with the transmission of the stimuli by depolarizing the nerve surrounding the odontoblasts.22 On the other hand, strontium chloride belongs to the group of agents that penetrate and occlude the tubules, thereby stopping the fluid flow mechanism.22 Conversely, fluoride acts as a barrier to dentinal tubules, preventing fluid movement and thereby reducing sensitivity.22
Other self-care products include fluoride compounds in gels, pastes, and rinses, which vary in concentration. Calcium compounds like casein phosphopeptide-amorphous calcium phosphate (CPP-ACP), which occlude dentinal tubules, can be administered via a custom tray, toothbrush, or finger application at home.25 Other suggestions include toothbrushing modification to control plaque buildup and to reduce toothbrush abrasion, caries control measures with fluoride rinses, topical fluoride applications, diet counseling, and proper brushing and proper flossing.7
Another recommended treatment for hypersensitivity is the use of a custom-made soft tray filled with a dentifrice containing potassium nitrate. The tray delivery system increases the medicament-tooth contact time, thus increasing the effectiveness of the potassium nitrate.22 This method is supported by a study conducted by Haywood, which found that using 5% potassium nitrate in bleaching trays reduced the sensitivity triggered by bleaching.26 Other professional treatments include iontophoresis, which delivers a low voltage charge force of sodium fluoride into the dentin and methacrylate polymers, which are applied as a base or composite restoration. In addition, sodium fluoride varnishes that are painted on the tooth surface and set in the presence of moisture occlude the dentinal tubules.25 These interventions have proven to be effective in the management of dentin hypersensitivity and are prescribed depending on the severity of the condition.
CONCLUSION
Dentinal hypersensitivity is a chronic condition that is under diagnosed. Therefore, a comprehensive assessment is essential as is appropriate treatment to decrease the dentinal flow and relieve discomfort. Professional treatment options along with the use of a desensitizing dentifrice should be considered before performing operative and whitening procedures and periodontal therapy that may result in discomfort due to hypersensitivity. A desensitizing product should be used during the course of the treatment and continued during the post-treatment period to decrease patient discomfort with the sensitivity. This will increase patient compliance during treatment, resulting in enhanced outcomes without discomfort to the patient.
REFERENCES
Bissada NF. Symptomatology and clinical features of hypersensitive teeth. Arch Oral Biol. 1994;39(suppl):S31-S32.
Scherman A, Jacobsen PL. Managing dentin hypersensitivity: What treatment to recommend to patients. J Am Dent Assoc

.1992;123:57-61.

Bánóczy J. Dentine hypersensitivity-general practice considerations for successful management. Int Dent J

. 2002;52(suppl):366.

Gysi A. An attempt to explain the sensitiveness of dentin. Br J Dent Sci

. 1900;43:865-868.

Addy M. Dentine hypersensitivity: New perspective on an old problem. Int Dent J.

2002;52: 367-375.

Tilliss TSI, Keating JG. Understanding and managing dentin hypersensitivity. J Dent Hyg

. 2002;76:296-313.

Cox CF. Etiology and treatment of root hypersensitivity. Am J Dent

. 1994;7:266-270.

Brännström MA. Dentinal and pulpal response-II. Application of an air stream to exposed dentine. Acta Odont Scand

. 1960;18:17.

Brännström MA. The elicitation of pain in the human dentin and pulp by chemical stimulation. Arch Oral Biol

. 1962;7:59.

Orchardson R, Gangarosa LP Sr, Holland GR, et al. Dentine hypersensitivity-into the 21st century. Arch Oral Biol

. 1994;39(suppl):S113-S119.

Olgart L, Brännström M, Johnson G. Invasion of bacteria into dentinal tubules: Experiments in vivo and in vitro. Acta Odontol Scand

. 1974;32:61-70.

Bergenholtz G. Effect of bacterial products on inflammation reactions in the dental pulp. Scand J Dent Res

. 1977;85:122-129.

Daly CG. Anti-bacterial effects of citric acid treatment of periodontally diseased root surfaces in vitro. J Periodontol. 1982;9:386-392.
Chaves ES, Cox CF, Caffesse RG, et al. The effect of citric acid application on periodontally involved root surfaces: An in vitro light and scanning electron microscopic study. Int J Periodont Res Dent

. 1992;12:219-230.

Caffesse RG, Holden MJ, Kon S, et al. Clinical evaluations of the use of citric acid and autologous fibronectin in periodontal surgery. J Periodontol.

1988;59:565-584.

Bergenholtz G, Lindhe, J. Effect of experimental induced marginal periodontitis and periodontal scaling on the dental pulp. J Clin Periodontal.

1979;5:59-73.

Drisko CH. Dentine hypersensitivity—dental hygiene and periodontal considerations. Int Dent J

. 2002;52:385-393.

Li Y. Biological properties of peroxide-containing tooth whiteners. Food Chem Toxicol

. 1996;34:9:887-904.

Cooper JS, Bokmeyer TJ, Bowles WH. Penetration of the pulp chamber of carbamide peroxide bleaching agents. J Endod

.1992;18:315-317.

Leonard Jr, RH, Heywood VB, Phillips C. Risk factors for developing tooth sensitivity and gingival irritation associated with night guard bleaching. Quintessence Int

.1997;20:527-534.

Gerlach RW, Gibb RD, Sagel PA. A randomized clinical trial comparing a novel 5.3% hydrogen peroxide whitening strip to 10%, 15%, and 10% carbamide peroxide tray-based bleaching systems. Compend Contin Educ Dent Suppl

. 2000;29:S22-S28.

Kielbassa AM. Dentine hypersensitivity: Simple steps for everyday diagnosis and management. Int Dent J

. 2002;52:394-396.

Scheutzel P. Etiology of dentin erosion—intrinsic factors. Eur J Oral Sci

. 1996;104:178-190.

Tam L. Clinical trail of 3 10% carbamide peroxide bleaching products. J Calif Dent Assoc

.1999;65:201-205.

Haywood VB, Caughman WF, Fraizer KB, Myers ML. Tray delivery of potassium nitrate-fluoride to reduce bleaching sensitivity. Quintessence Int

. 2001;32:105-109.

Nathanson D. Vital tooth bleaching: sensitivity and pulpal considerations. J Am Dent Assoc.

1997;128(suppl):S41-S44.
From Dimensions of Dental Hygiene. June 2006;4(6): 28, 30.