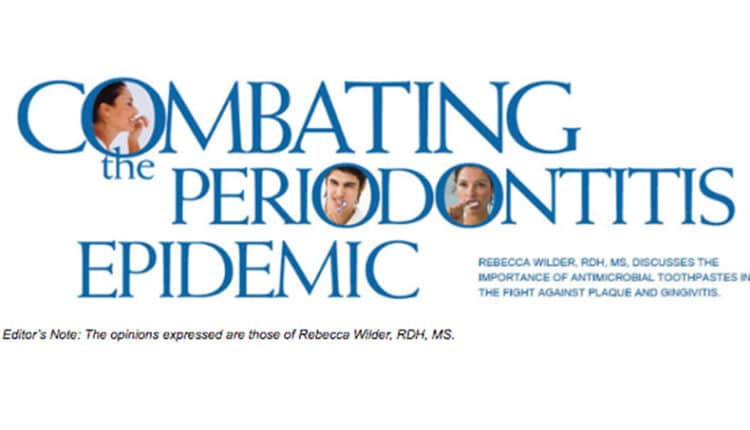 Combating the Periodontitis Epidemic
Rebecca Wilder, RDH, MS, discusses the importance of antimicrobial toothpastes in the fight against plaque and gingivitis.
The most recent statistics from the United States Centers for Disease Control and Prevention report that nearly half of all Americans age 30 and older—or 64.7 million individuals—have periodontitis. Among Americans older than 70, 65% experience periodontal diseases.1 In light of these grim statistics, dental hygienists must use evidence-based products to help patients combat this disease epidemic. In this interview with Dimensions of Dental Hygiene, Rebecca Wilder, RDH, MS, shares her insight on the use of antimicrobial toothpastes to improve oral health.
Is there any regulation of chemotherapeutic products that claim to control supragingival plaque and gingivitis?
Two sets of guidelines are available to regulate which products can make antimicrobial claims for plaque and gingivitis reduction. The American Dental Association (ADA) Council on Scientific Affairs has published guidelines regarding the testing of chemotherapeutic products for control of supragingival dental plaque and gingivitis.2 To be considered acceptable, a product must be tested in two independently conducted trials lasting 6 months in typical product users. Assessment of gingivitis and qualitative and quantitative assessment of plaque are performed at baseline, 3 months, and 6 months. Results should show a statistically significant reduction of supragingival plaque and gingivitis as compared to a negative control in both studies. In addition, product safety with respect to soft tissues, teeth, toxicology, effects on the oral flora, microbial resistance, and the emergence of opportunistic bacteria must be demonstrated.
The other criteria is published by the US Food and Drug Administration (FDA), which assesses the efficacy of toothpastes.3 The FDA has accepted key elements for gingivitis assessment from the ADA Seal of Acceptance Program, a voluntary review process for consumer oral health products, as appropriate for its review, in addition to other FDA requirements. These products are closely overseen, so dental hygienists should be confident they are safe for patient use.
What are the most studied antimicrobials available in toothpastes?
Stabilized stannous fluoride/sodium hexametaphosphate (Crest® Pro-Health®) and triclosan/copolymer (0.3% triclosan, 2% poly­vinylmethyl ether maleic acid copolymer, and 0.243% sodium fluoride in a silica base—Colgate® Total®) are the two formulations with the most scientific evidence supporting their use with patients who exhibit plaque and gingivitis.
Stannous fluoride has been used for many applications over the years, including caries control, plaque and gingivitis reduction, hypersensitivity, and oral malodor. The antibacterial activity of stannous fluoride is related to the presence of tin in the formula. When tin binds to the bacterial surface, it impedes colonization and intracellular activity of the bacteria.4 Stannous fluoride has long been recognized as an effective therapeutic agent but its use was limited due to its chemical instability and negative esthetic effects, such as staining and taste alterations.5 Recently, the stannous paste was reformulated to provide a stabilized stannous fluoride/sodium hexa­meta­phosphate technology that is effective for plaque and gingivitis control.6 Research demonstrates that the toothpaste with this new technology reduces plaque by up to 8.5% and decreases gingivitis between 17% and 26%.7–9 Gingival bleeding was also greatly reduced vs the negative control.9
Triclosan is a broad-spectrum antimicrobial agent that has been in toothpaste since the 1990s. It kills bacteria through lysis of the organism. The addition of the copolymer allows for greater uptake and retention of triclosan, which provides a long-lasting effect.10 Additional studies have also found that triclosan inhibits production of inflammatory mediators, such as tumor necrosis factor-alpha and interleukin 1 beta.11
What is the best way to stay up-to-date on the evidence regarding antimicrobial toothpastes?
Reading systematic reviews is the most effective way to remain current on the available body of evidence. Systematic reviews provide a critical assessment and evaluation of all research studies that address a particular clinical issue. They are conducted by researchers who use a methodical system of locating, assembling, and evaluating a body of literature on a particular topic using a set of specific criteria. If enough data are available, the researchers may conduct a meta-analysis, which is a quantitative pooling of data.12
Although the antimicrobials most frequently available in toothpastes to reduce plaque and gingivitis are those containing stannous fluoride, triclosan, and chlorhexidine, few systematic reviews exist on these ingredients. In 2006, Gunsolley13 published a meta-analysis of antiplaque and antigingivitis agents. More than 40 articles were included in the review. The dentifrices containing stannous fluoride produced a statistically significant albeit small antiplaque effect, but they did exert a statistically and clinically significant effect on gingivitis. This paper, however, was published 8 years ago, so new formulations of stabilized stannous fluoride were not included in the review.
A 1996 study found that the triclosan with copolymer formulation resulted in a clinically and statistically significant result on plaque and gingivitis.14 Davies et al14 compared triclosan/copolymer and fluoride dentifrices in plaque and gingivitis control in 16 6-month trials. Interestingly, subjects in the study used the product unsupervised, which mimicked normal behavior. Results showed that the triclosan paste significantly improved plaque control compared with a fluoride dentifrice. Hoie and van der Weijden15 also reported similar results in their systematic review of triclosan/copolymer in 6-month studies. In 2013, the Cochrane Collaboration published a review of 30 studies analyzing 14,835 participants to assess the benefits of using a triclosan/copolymer fluoride toothpaste compared to a fluoride toothpaste without triclosan.16 Results of the meta-analysis showed a 22% reduction in plaque, a 22% reduction in gingivitis, and a 48% reduction in bleeding gums. Tooth decay was reduced by 5%.16
More systematic reviews are needed in this area so that dental hygiene professionals can make evidence-based decisions about which antimicrobial toothpastes to recommend to their patients.
What are the contraindications for antimicrobial toothpastes?
Allergy to any of the ingredients in the paste is the first contraindication. Some patients experience tissue alterations with the use of a particular paste. For example, individuals have reported reactions to sodium lauryl sulfate (SLS), an anionic surfactant that is used as a wetting agent, emulsifying aid, and detergent in various cosmetic and dermatologic products, as well as most toothpastes on the US market.
Regarding stannous fluoride pastes, the primary complaint is the occurrence of tooth staining. The addition of sodium hexametaphosphate, however, to a recent formulation of stannous fluoride has alleviated this problem significantly.17
Safety is a common issue that surrounds the use of antimicrobial toothpastes. For example, questions have been raised about the safety of triclosan, which is used in a variety of consumer products. The US marketed toothpaste that contains triclosan is regulated by the FDA for safety. In December 2013, the FDA noted that studies conducted on triclosan show that its use in the dental setting is safe and effective.18 According to clinical trials of triclosan that have lasted at least 6 months, triclosan does not promote microbial resistance and does not cause a shift in the normal oral microbial ecosystem.19–21 Even with regular use, triclosan is completely eliminated from the body.22,23 Lastly, a systematic review published by the Cochrane Collaboration noted that after reviewing 30 randomized controlled trials, in which 14,835 people were randomized to receive a triclosan/copolymer-containing fluoride toothpaste or a fluoride toothpaste containing no triclosan/copolymer, there was no evidence of harmful effects associated with the use of triclosan/copolymer toothpastes in studies up to 3 years in length.16
Dental hygienists can play a significant role in helping patients combat the epidemic of gingivitis, which can lead to periodontitis. Recommending evidence-based antimicrobial products is an important step in the effort to achieve success.
REFERENCES
Genco RJ, Borgnakke WS. Risk factors for periodontal disease. Periodontol 2000. 2013;62:59–94.
Genco RJ. Current view of risk factors for periodontal diseases. J Periodontol. 1996;67(Suppl 10):1041–1049.
Kinane DF, Marshall GJ. Periodontal manifestations of systemic disease. Aust Dent J. 2001;46:2–12.
Grossi SG. Assess periodontal risk. Dimensions of Dental Hygiene. 2013;11(10):58–62.
Page RC, Martin JA, Loeb CF. The Oral Health Information Suite (OHIS): its use in the management of periodontal disease. J Dent Educ. 2005;69:509–520.
Page RC, Krall EA, Martin J, Manci L, Garcia RI. Validity and accuracy of a risk calculator in predicting periodontal disease. J Am Dent Assoc. 2002;133:569–576.
Page RC, Martin J, Krall EA, Mancl L, Garcia R. Longitudinal validation of a risk calculator for periodontal disease. J Clin Periodontol. 2003;30:819–827.
Lang NP, Tonetti MS. Periodontal risk assessment (PRA) in supportive periodontal therapy (SPT). Oral Health Prev Dent. 2003;1:7–16.
American Academy of Periodontology. Gum Disease Risk Assessment Test. Available at: perio.org/consumer/riskassessment. Accessed May 21, 2014.
Clinical Practice Guideline Treating Tobacco Use and Dependence 2008 Update Panel, Liaisons, and Staff. A clinical practice guideline for treating tobacco use and dependence: 2008 update. A US Public Health Service report. Am J Prev Med. 2008;35:158–176.
American Dental Hygienists' Association. Ask Advise Refer. Available at: askadviserefer.org. Accessed May 21, 2014.
Mahmoudi M1, Coleman CI, Sobieraj DM. Systematic review of the cost-effectiveness of varenicline vs bupropion for smoking cessation. Int J Clin Pract. 2012;66:171–182.
Jorenby DE, Hays JT, Rigotti NA, et al. Efficacy of varenicline, an alpha4beta2 nicotinic acetylcholine receptor partial agonist, vs placebo or sustained-release bupropion for smoking cessation: a randomized controlled trial. JAMA. 2006;296:56–63.
Corbella S, Francetti L, Taschieri S, De Siena F, Fabbro MD. Effect of periodontal treatment on glycemic control of patients with diabetes: A systematic review and meta-analysis. J Diabetes Investig. 2013;13;4:502–509.
Simpson TC, Needleman I, Wild SH, Moles DR, Mills EJ. Treatment of periodontal disease for glycaemic control in people with diabetes. Cochrane Database Syst Rev. 2010;12: CD004714.
Borgnakke WS, Ylostalo PV, Taylor GW, Genco RJ. Effect of periodontal disease on diabetes: a systematic review of epidemiological observational studies. J Periodontol. 2013:84(Suppl 4):S135–S152.
Chapple ILC, Genco RJ; working group 2 of the joint EFP/AAP workshop. Diabetes and periodontal diseases: consensus report of the Joint EFP/AAP Workshop on Periodontitis and Systemic Diseases. J Periodontol. 2013;84(Suppl 4):S106–S112.
Institute of Medicine, Food and Nutrition Board. Dietary Reference Intakes for Vitamin C, Vitamin E, Selenium, and Carotenoids. Washington, DC: National Academies Press; 2000.
Institute of Medicine, Food and Nutrition Board. Dietary Reference Intakes for Calcium and Vitamin D. Washington, DC: National Academies Press; 2010.
Wu X, Offenbacher S, López NJ, et al. Association of interleukin-1 gene variations with moderate to severe chronic periodontitis in multiple ethnicities. J Periodont Res. 2014 Apr 2. Epub ahead of print.
Friedewald VE, Kornman KS, Beck JD, et al. The American Journal of Cardiology and Journal of Periodontology Editors' Consensus: periodontitis and atherosclerotic cardiovascular disease. Am J Cardiol. 2009;104:59–68.
Wactawski-Wende J. Periodontal diseases and osteoporosis: association and mechanisms. Ann Periodontol. 2001;6:197–208.
Hacker BM, Roberts FA. Periodontal disease pathogenesis: genetic risk factors and paradigm shift. Pract Proced Aesthet Dent. 2005;17:97–102.
Baker PJ, Roopenian DC. Genetic susceptibility to chronic periodontal disease. Microbes Infect. 2002;4:1157–1167.
From Dimensions of Dental Hygiene. June 2014;12(6):16,18.