Clinical Insights: Patient Care Plan Allows Offices to Customize Goody Bags
The Colgate Care Plan lets dental offices choose goody bag toothbrush and toothpaste options that meet each patient's specific needs.
Do your patients say "Oh goody!" when they receive their goody bags at their dental hygiene recare appointments? You may have an agreement with a company or distributor, sometimes referred to as a plan, that ships your office toothbrushes and toothpaste at regular intervals—such as the Colgate Care Plan (colgateprofessional.com/​products/​colgate-care-plan). There is more potential in that goody bag than many realize. The toothbrush and toothpaste provide an opportunity to help build your dental practice while improving the quality of oral care your patients perform at home.
The Colgate Care Plan Is as Easy as 1, 2, 3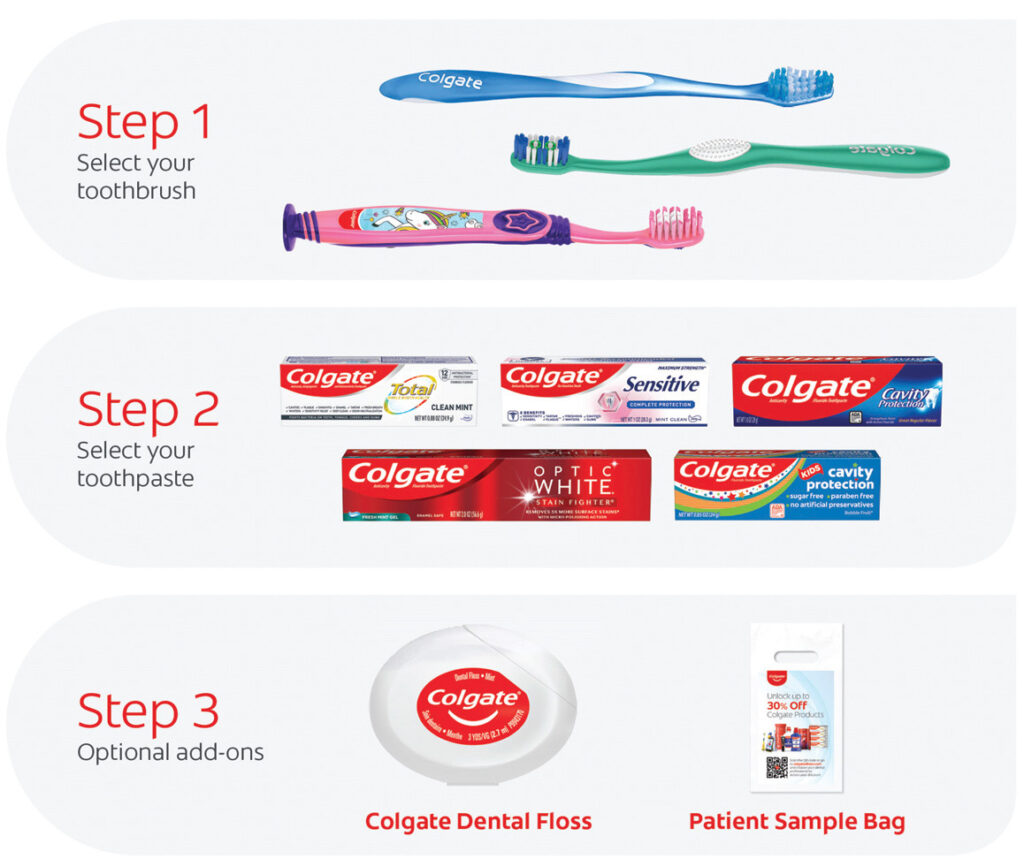 Patient Perceptions
There are a few reasons why you want to continue to offer patients a quality toothbrush, toothpaste, and other self-care aids. Here are observations gleaned from patients who were surveyed after receiving a goody bag at their dental office:1
The goody bag demonstrates your support for your patients' self-care oral health habits.
Patients likely believe you receive the toothbrushes and toothpaste free. Let them know you purchased these specific brushes, paste, and floss because you have determined these are the best products for their oral health needs.
Patients take the new toothbrush as both a reminder, as well as an opportunity, to replace their old toothbrush. Remind them to change their brush every 3 months.
Patients acknowledge name-brand toothbrushes as a quality brush over lower quality no-name toothbrushes. They trust the brand you give them, so offer patients a quality toothbrush and toothpaste you would use.

Colgate Care Plan

When you review self-care, explain why you are giving them this specific toothbrush and toothpaste, and how these products help address the dental needs you have discussed with them

The toothpaste provided to patients is also important. Fluoride toothpaste can reduce caries by 24%.2 Choose one that offers multiple benefits, such as Colgate Total, which features stannous fluoride stabilized with zinc phosphate to help reduce plaque, calculus, gingivitis, and malodor.3
Carry different styles of toothbrushes and toothpaste to fit each patient's particular needs. The Colgate Care Plan allows you to customize your options so you can offer more than one style of toothbrush and multiple variants of toothpaste.
Colgate offers a broad selection of toothbrushes and toothpaste to cover all your patients' needs. Choose Colgate toothbrushes and toothpaste for your goody bags—a brand with more than 200 years of oral care expertise—and help your patients improve their oral health.
References
C Space survey. Patient Perception of Dental Professional Manual Toothbrushes. New York: Colgate Oral Pharmaceuticals; 2021.
Marinho VCC. Evidence-based effectiveness of topical fluorides. Adv Dent Res. 2008;20:3–7.
Haraszthy VI, Raylae CC, Sreenivasan PK. Antimicrobial effects of a stannous fluoride toothpaste in distinct oral microenvironments. J Am Dent Assoc. 2019:150(Suppl):S14–S24.
COLGATE ORAL PHARMACEUTICALS
From Dimensions of Dental Hygiene. October 2022; 20(10)24.