Celebrate Dental Hygienists
The Sunstar Foundation's World Dental Hygienist Awards honor the accomplishments of these key oral health professionals.
INTRODUCTION

The Sunstar Foundation was established in 1977 to improve oral care among the general public. For more than three decades, the foundation has actively promoted dental health. In 2003, the Sunstar Foundation established The World Perio Research Award to honor researchers and clinicians who have furthered our understanding of the relationship between periodontal diseases and systemic health. In 2007, the foundation established The World Dental Hygienist Awards to recognize and encourage dental hygiene professionals and students to positively impact the dental community, their profession, and the general public. JoAnn R. Gurenlian, RDH, MS, PhD, has provided an insightful overview of the Sunstar Foundation's dental hygiene-related efforts that we hope inspires you in your work to improve your patients' oral health.
—Jackie L. Sanders, RDH, BS
Manager, Professional Relations
Sunstar Americas Inc
Dental hygienists around the world work to advance their profession on a regular basis. Because their contributions to the science of dental hygiene and the improvement of the public's oral health often go uncelebrated, the Sunstar Foundation launched the World Dental Hygienist Awards a decade ago. These awards recognize dental hygienists who have significantly impacted dental hygiene science, patients, the community, and the general public. The awards are presented every 3 years to an individual or group chosen by a selection committee, and are announced at the International Symposium on Dental Hygiene (ISDH), which is hosted by the International Federation of Dental Hygienists (IFDH).
The World Dental Hygienist Awards include two categories: research and activity/project. Practicing dental hygienists and students are eligible to apply for the awards. The research category may include both quantitative and qualitative studies that contribute to the body of knowledge in dental hygiene. Award entries are based on unpublished, original research papers. For the activity/project category, entries should provide details of activities that have impacted patients, the community, or the general public. Individuals or groups of dental hygienists who have notable accomplishments in oral health promotion, including counseling, education, innovation, prevention, and treatment, should consider applying for this award category. As part of the entry, the applicant must provide evidence of measurable outcomes that demonstrated improved health.
---
Name: Tjeerd Blom, RDH, BoH
From: Holland
Award: Student Research Category
Year: 2013
Before Blom decided to enter his research into the World Dental Hygienist Awards, his primary goal was to write an article for publication in a scientific journal. He asked Dagmar Slot, RDH, MSc, one of his dental hygiene professors, to mentor him in the process. Blom decided to study the effect of mouthrinses on oral malodor. He discovered that there was little evidence to support using a mouthrinse to treat this common malady. As he completed the study, Slot encouraged him to submit his research for the student category.
When asked about his experience as a World Dental Hygienist Award winner, Blom noted, "Giving an international lecture about my review and meeting dental hygienists from all over the world was a great honor. The welcome I received from the Sunstar Foundation made me feel like an international pop star. The beautiful statuette itself is a piece of art that still sits on my desk. This award gave me the chance to share my knowledge, provided me with opportunities to present internationally, and encouraged me to do more research for the international dental hygiene community."
Name: Sherry L. Priebe, DipDH, BDSc (DH), RDH, MSc
From: British Columbia, Canada
Award: Research Category
Year: 2010
Sherry L. Priebe, DipDH, BDSc (DH), RDH, MSc, received a World Dental Hygienist Award in 2010 for her work on oral cancer—a global public health problem—in Vietnam. She focused on how the lack of awareness of cultural habits—specifically tobacco, alcohol, and betel nut use— can cause oral cancer. Priebe's goal was to examine the cultural risk indicators of oral squamous cell carcinoma and the awareness of oral cancer in Vietnam. The major finding of her study was that the awareness of oral cancer and the link to tobacco, alcohol, and betel nut use was low, and that late diagnosis of oral cancer had not changed in more than 20 years.
"Since receiving this prestigious award, I have embraced the vital need of further research conducted by dental hygienists and the need to promote oral cancer awareness worldwide. I have been invited to speak both nationally and internationally about the urgency of oral health promotion to save lives," Priebe shared. "As I'm convinced that further education is critical for my career, I am working on a doctoral degree in dental hygiene. I also am planning a volunteer trip to Vietnam through the University of British Columbia in 2016. As people migrate around the world, they bring cultural habits with them, and we, as dental hygienists, often are the ones who save their lives by noticing lesions related to their oral habits," she said.
---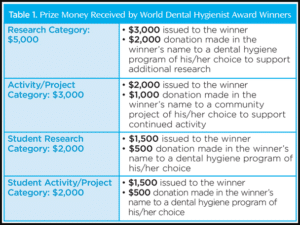 The Sunstar Foundation celebrates the success of the winners with cash awards and donations in the recipients' names issued to a project and/or dental hygiene program of their choosing to support additional research. One representative from each category (research or activity/project) will receive an award presented at the ISDH, as well as full registration and a travel allowance to the symposium. The winning representative will present his/her paper at the ISDH. The prize money is further described in Table 1.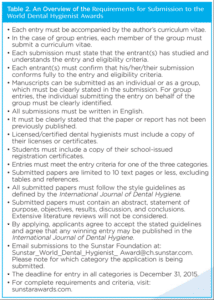 Qualifications For Entry
The World Dental Hygienist Awards are open to licensed dental hygienists or associate, bachelor, or master level dental hygiene students. Entries will be accepted through December 31, 2015; the awards will be presented at the ISDH to be held June 23-25, 2016, in Basel, Switzerland. Table 2 lists the requirements for submission.
Winners will be announced in the International Journal of Dental Hygiene and on its website: ifdh.org, in addition to the websites of the Sunstar Foundation and Sunstar companies. More details about the awards are available at: sunstarawards.com.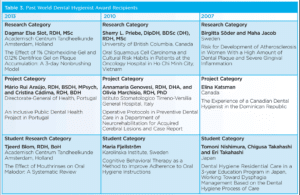 Dental hygienists working in a variety of settings and projects of all types have been honored by the World Dental Hygienist Awards. Table 3 lists the previous award winners and more details are provided about each recipient and his or her projects/activities in the sidebars.
---
Names: Annamaria Genovesi, RDH, DHA, and Olivia Marchisio, RDH, PhD
From: Istituto Stomatologico Tirreno-Versilia General Hospital, Italy
Award: Project
Year: 2010
Annamaria Genovesi, RDH, DHA, and Olivia Marchisio, RDH, PhD, wanted to work together to better the oral hygiene of patients with cerebral lesions in a neurorehabilitation department with the hopes of improving their quality of life. Genovesi and Marchisio's oral hygiene project was directed primarily at medical staff and caregivers. Findings showed improvement in terms of reduction in bleeding on probing, gingival hypertrophy, and edema. Genovesi and Marchisio concluded that teamwork and a multiprofessional approach played a fundamental role in the rehabilitation of patients with acquired cerebral lesions.
Marchisio commented, "The award renewed our energy to continue to put passion in what we do every day. Dental hygienists should be encouraged to participate in the World Dental Hygienist Awards in order to share different research experiences worldwide. It is a moment where we can help ourselves and our profession grow."
CONCLUSION
The Sunstar Foundation is proud to make an impact in the dental hygiene profession through the World Dental Hygienist Awards. The foundation encourages dental hygienists to consider entering the awards process in order to receive recognition for their work, as well as to attend the ISDH and meet colleagues from around the world.
---
Names: Mário Rui Araújo, RDH, BSDH, MPsych, and Cristina Cádima, RDH, BDH
From: Directorate-General of Health, Portugal
Award: Project Category
Year: 2013
The project of Mário Rui Araújo, RDH, BSDH, MPsych, and Cristina Cádima, RDH, BDH, focused on SOBE, which stands for oral health school libraries and means "up" in Portuguese. Their goal was to go "up" by furthering the reach of oral health promotion. To accomplish this, they worked with teachers and industry sponsors to create different types of educational materials in which the heroes were oral health professionals. With their project, Araújo and Cádima were able to realize a 50% increase in the introduction of oral health themes in schools and more than 150,000 new children started brushing their teeth at school.
Araújo commented on winning the World Dental Hygienist Award, "It was an amazing sensation, like when you climb a mountain and reach the peak. We felt such enthusiasm, as well as the serenity generated from accomplishing our mission and the satisfaction that we did something unique and good for others. We were speechless! What made us truly proud was the fact that this was a global award. It provided the opportunity to share what we were doing internationally with the hopes that it would motivate others to make a difference. We are very proud of receiving this award and becoming part of this amazing network of dental hygienists around the globe."
---
From Dimensions of Dental Hygiene. June 2015;13(6):27–30.