Broadening the Horizons of Care
Dimensions catches up with Michele L. Darby, BSDH, MS, chairman of the Gene W. Hirschfeld School of Dental Hygiene at Old Dominion University, about her experiences as a Fulbright Scholar teaching in the Middle East.
Michele L. Darby, BSDH, MS, professor and chairman of the Gene W. Hirschfeld School of Dental Hygiene at Old Dominion University and author of Comprehensive Review of Dental Hygiene, 6th edition, and Dental Hygiene Theory and Practice, 3rd edition, recently spent six months as a Fulbright Distinguished Scholar teaching at Jordan University of Science and Technology in Irbid, Jordan.
Q. What prompted you to seek a Fulbright in Jordan?
A. Even though I have had the professional opportunity to travel beyond the United States, two to three weeks in a foriegn country never seemed enough to understand the culture. I always desired a more comprehensive cultural emersion. Given the opportunity to live in another country, I wanted to venture outside of Western culture. I wanted an experience that broadened my comfort zone.
Faculty members teaching in other disciplines at Old Dominion University had taught and conducted research in other countries, sharing their expertise under the aegis of the Fulbright program. Fulbright grants are internationally competitive, but I felt that the dental care project that I submitted on my application was competitive, plus I had previously made professional connections with faculty at Jordan University of Science and Technology (JUST).
Jordan was my first choice for several reasons. Old Dominion University School of Dental Hygiene had successfully graduated four individuals from the master's degree program who had earned their BSc from JUST. In addition, over the past decade we have graduated dental hygienists from Qatar, Pakistan, Afghanistan, Saudi Arabia and Kuwait. Currently, one of our American graduates is a dental hygiene program director in Bahrain. With the political, cultural and economic importance of the Middle East, I knew that's where I wanted to serve. Besides teaching and advocating dental hygiene, there were so many areas to explore firsthand: women's rights, relationships between men and women, religious and health beliefs and practices (which in Islam are closely related), family structures, social mores and, of course, Jordan's healthcare system.
Q. What was a typical workday like?
A. In the Muslim world, the workweek extends Sunday through Thursday; the weekend includes Friday (the holy day when men and boys gather at mosques to pray) and Saturday. Since I lived on campus, I either walked to my office or drove to the JUST Dental Teaching Center in Irbid. My days were filled with lectures and discussions on dental hygiene theory and practice, periodontics and research methods. I helped faculty prepare for professional publication. I also taught English majors, focusing on their oral communication, pronunciation and understanding of American culture.
In addition, I collaborated with faculty, revising curriculum so it became evidence-based and competency-based. Colleagues managed to recruit me for a few guest lectures in their classes, too. We had a faculty team working to establish a Jordanian Dental Hygienists' Association, and hope to apply for country membership to the International Federation of Dental Hygienists. I also served on a university committee to develop faculty rank policies.
Q. What were your goals during your time in Jordan?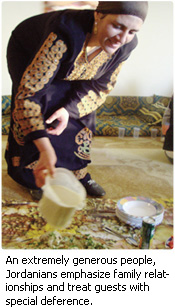 A. Preventable oral disease is prevalent among the Jordanian population. For instance, about 50% of individuals between 20 years and 29 years of age have bleeding gums, and 75% of 14to 15-year-olds have dental decay. In general, Jordanians posses limited knowledge about oral health. Regular dental care is not inherent and most people only seek care when they have a problem that causes pain. These statistics are even higher for those with minimal access to healthcare, such as Bedouin and refugee populations.
Jordan currently has approximately 600 dental hygienists, and 140 dental hygiene students. Despite the fact that the oral health status of Jordanians is improving somewhat, more is needed to achieve even higher levels of oral health. Quality care from dental hygienists can prevent and manage oral disease and improve oral health outcomes in a cost-effective manner. The overall goal of my Fulbright grant was to expand collaborations with JUST's Department of Allied Dental Sciences. The objective was to teach evidence-based decision making and best practices that will advance dental hygiene education and practice in Jordan, and contribute to the health and quality of life of its citizens.
My Fulbright project's specific goals included:
To raise standards of dental hygiene education and practice, following an established accreditation model, and to address the shortage of qualified dental hygiene practitioners and educators in Jordan.
Enable JUST to graduate dental hygienists with skills similar to graduates of programs accredited by the American Dental Association Commission on Dental Accreditation.
Educate dental faculty and dental students on how to work with dental hygienists in order to improve their efficiency as dentists, expand employment opportunities for dental hygienists, and provide quality primary oral healthcare.
Form a sustainable partnership between JUST and Old Dominion University so that information exchange will flourish.
My project was in sync with Jordan's focus on developing its human potential by advancing the well-being of its citizens, improving primary healthcare (and the qualifications of healthcare providers), and controlling chronic diseases. I believe the project's greatest achievement has been to incorporate learning experiences that require students to think critically and become more active learners. Some of the ways we accomplished this were to involve students in cases that required individual and group problem solving and clinical decision-making.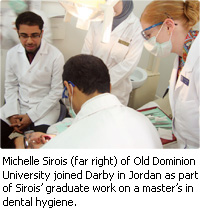 Q. Describe the general Jordanian culture you've experienced; in particular, what's it like for dental hygiene students?
A. Known for their generosity and hospitality, Jordanians take pride in their tribal heritage, family values and religious beliefs. Wherever you go, people will say, "welcome to Jordan" or "ahlan wa sahlan," which translates to "family and ease." It is Jordanian custom to care for guests even better than family. The dental hygiene student body includes both men and women and they work and study together.
Most women wear a hijab (the traditional head covering) with long-sleeved, hip-length tops, abayas (a robe-like dress), thobe (floorlength kaftan) or jilbab (a long, loose-fitting, coat-like garment), but the hijab also is worn by some with tight jeans, leggings, boots, and wide belts at the waist or hips. A few women chose to wear a niqab that covers the face.
Q. What were the most important things you learned during your Fulbright experience?
A. Professionally, I learned that I could communicate and work effectively with people in a cross-cultural context. Personally, I discovered that I should spend more time living in the moment. Being in a foreign culture where I did not always understand what was going on forced me to be in the moment. I did not realize how my life in the U.S. had become: I was always thinking about the next meeting, project or deadline—and missing the joy of the moment. I also learned that I could be happy and comfortable with few possessions and living in a very small space. I always thought that I needed so much more…but I don't.
Q Is there anything else you would like to share with Dimensions' readers?
A. Yes. For those who are interested, I would like to share a little about the Fulbright program (http://fulbright .state. gov). Being a Fulbrighter means that you work toward mutual understanding among people of different cultures, and that you strive to develop sustainable partnerships of international engagement. As the U.S. government's flagship international exchange program, each year the Fulbright U.S. Scholar Program sends approximately 1,100 American scholars and professionals to approximately 130 countries, where they lecture and/or conduct re search in a variety of academic and professional fields.
Because healthcare is a growing area of concern among the Jordanian people, the partnership between Old Dominion University and JUST promises to continue to improve dental hygiene education in both countries, expand employment opportunities in the Middle East, increase access to cost-effective dental hygiene care, sustain avenues of communication, and reinforce trust. In a small way, my Fulbright opportunity contributed to mutual understanding and respect among dental hygiene professionals in the U.S. and Jordan. Being a Fulbrighter is a lifelong commitment, and this scholarship has been a highlight of my career.
Editor's Note: For more information, readers are invited to check out Michele Darby's blog at: http://darbyoralhealthjordan.blogspot.com.
From Dimensions of Dental Hygiene. June 2010; 8(6): 30-32.