Bone Loss Detection
Anitha Potluri, BDS, DMD, MDS, discusses the use of dental radiographs in the identification of osteoporosis.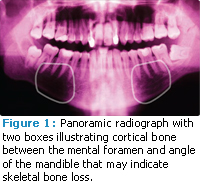 Osteoporosis is one of the most common types of bone disease, and it affects one out of every five American women older than the age of 50.1 By the year 2020, it is estimated that half of all Americans older than 50 will have the disease.2 Older adults are at greater risk of osteoporosis, and the experience more than 1.5 million fractures each year. Health care costs are significant—with direct medical expenditures reaching $17 million to $20 million annually.3 Dental professionals may be able to address this significant problem by identifying bone changes in dental radiographs that can signify early signs of bone loss. Dr. Potluri, an expert in dental radiography, explains how dental professionals may become important players in the early detection of osteoporosis.
How can dental radiographs be used to diagnose or screen for osteoporosis?
Mandibular cortex bone shape and width seen in dental radiographs are good indicators of low skeletal bone density (Figure 1).4,5 Panoramic radiographs illustrate these changes most dramatically, but intraoral radiographs and cone beam CT imaging show more detail, so they are also being studied as potential tools for measuring skeletal bone density.
Osteoporosis—the loss of skeletal bone density over time—is a disease that affects a large proportion of women over the age of 40, especially in developed countries, which tend to have large populations of older people. 6 Current screening techniques include questionnaires and skeletal bone density scans, but these require patients to visit a physician's office. Because patients tend to visit a dental office more often than a medical practice, including this type of screening in the dental setting may increase the ability to identify the first signs of skeletal bone loss.
Has research been conducted on the use of dental radiographs in the diagnosis of low skeletal bone density?
Some studies have shown a correlation between mandibular cortex bone measurements with hip, lumbar spine, and forearm bone density measurements,7-9 while others have not clearly illustrated this relationship.10 Taguchi did find that changes in mandibular cortical bone shape and width, as noted on panoramic radiographs, were just as effective in identifying women at risk of spinal osteoporosis as the typical risk assessment questionnaire frequently used during screening.10 Recent studies using cone beam volumetric imaging have shown differences in the mandibular index measurements and architecture in healthy people as compared to patients with osteoporosis.12 The latest research is being conducted on density measurements made through digital imaging and fractal analysis, and segmentation of bone architecture.
Is this type of screening practical to implement in today's dental practice?
Not yet. Dental professionals will need additional training to be able to accurately note the changes that may predict skeletal bone loss. With the advent of cone beam imaging, which provides more accurate measurement of bone and higher resolution of its architecture, dental professionals will be able to more carefully observe changes that signal skeletal bone loss.
How might the addition of osteoporosis screening change the way dentistry is practiced?
As we all know, there is a lot of pressure on health care professionals to collaborate more effectively in producing better outcomes at a decreased cost. Osteoporosis is a systemic ailment with significant consequences. If dental professionals can serve as the first line of defense in the diagnosis of this widespread disease, patient outcomes should definitely improve. The mouth is the entrance to the body, and the new awareness that many disease processes exhibit early markers in the oral cavity put dental professionals in a more responsible position. They have the opportunity to help in the detection, diagnosis, and treatment of a wide variety of diseases—truly becoming partners with their health care colleagues in the fight to improve the overall health of our patients.
REFERENCES
Medline Plus. Osteoporosis. Available at: www.nlm.nih.gov/medlineplus/ency/article/000360.htm. Accessed January 30, 2011.
National Osteoporosis Foundation. Top 10 Myths. Available at: www.nof.org/aboutosteoporosis/bonebasics/top10myths

. Accessed January 27, 2012.

Becker DJ, Kilgore ML, Morrisey MA. The societal burden of osteoporosis. Curr Rheumatol Rep

. 2010;12:186-191.

Taguchi A, Ohtsuka M, Nakamoto T, et al. Identification of post-menopausal women at risk of osteoporosis by trained general dental practitioners using panoramic radiographs. Dentomaxillofac Radiol

. 2007;36:149-154.

Kavitha M, Asano A, Taguchi A, Kurita T, Sanada M. Diagnosis of osteoporosis from dental panoramic radiographs using the support vector machine method in a computer-aided system. BMC Med Imaging

. 2012;12:1. [Epub ahead of print].

Taguchi A. Triage screening for osteoporosis in dental clinics using panoramic radiographs—a review. Oral Dis

. 2010;16:316-327.

White SC, Taguchi A, Kao D, et al. Clinical and panoramic predictors of femur bone mineral density. Osteoporos Int

. 2005;16:339-346

Taguchi A, Tanimoto K, Suei Y, Ohama K, Wada T. Relationship between the mandibular and lumbar vertebral bone mineral density at different postmenopausal stages. Dentomaxillofac Radiol

. 1996;25:130-135.

Devlin H, Horner K. Mandibular radiomorphometric indices in the diagnosis of reduced skeletal bone mineral density. Osteoporos Int

. 2002;13:373-378.

Mohajery M, Brooks SL. Oral radiographs in the detection of early signs of osteoporosis. Surg Oral Med Oral Pathol.

1992;73:112-117.

Taguchi A, Suei Y, Sanada M, et al. Validation of dental panoramic radiography measures for identifying postmenopausal women with spinal osteoporosis. AJR Am J Roentgenol

. 2004;183:1755-1760.

Koh KJ, Kim KA. Utility of the computed tomography indices on cone beam computed tomography images in the diagnosis of osteoporosis in women. Imaging Sci Dent

. 2011;41:101-106.
From Dimensions of Dental Hygiene. February 2012; 10(2): 42-43.