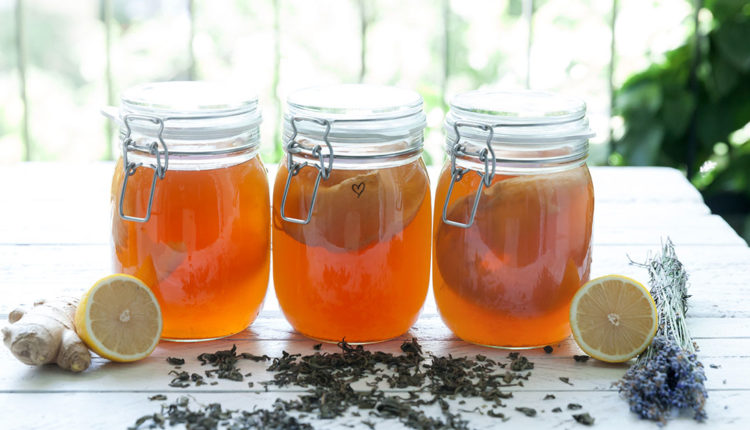 BLANARU / ISTOCK / GETTY IMAGES PLUS
5 Ways Kombucha Drinkers Can Protect Their Teeth
Kombucha drinkers may be familiar with the benefits of consuming this fermented beverage, but completely unaware of its negative side effects
Kombucha drinkers may be familiar with the benefits of consuming this fermented beverage, but completely unaware of its negative side effects. Patients on the kombucha trend do not have to stop drinking the fermented tea, but they should follow appropriate oral hygiene practices to offset any unfavorable oral health effects. Here are 4 ways you can alert patients of the risks associated with consuming kombucha and guide them on how to protect their teeth.
1. ADVERSE SIDE EFFECTS
While discussing the potential health benefits of kombucha, such as being loaded with antioxidants and promoting a healthy microbiome, make sure to include information on the negative side effects that may occur. You may want to mention how some kombucha drinkers experience stomach problems, yeast infections, allergic reactions, nausea, vomiting, and jaundice. Patients with weakened immune systems and those prone to infection should be instructed not to drink kombucha as batches can become contaminated with unhealthy bacteria and fungi.
2. USE A STRAW
Patients should be advised against sipping kombucha throughout the day because fermented tea can stain teeth. Remind them to use a straw to help prevent the drink from contacting enamel surfaces to avoid staining.
3. ACIDITY
Kombucha may not contain as much sugar as soda but it is highly acidic (2.5 to 3.5). Any acidic beverage puts enamel at risk. Remind patients to rinse with fluoride-containing water a few minutes after ingesting the beverage. To prevent erosion, patients should also be advised to not brush their teeth immediately after drinking kombucha.
4. ALCOHOL
Because kombucha contains alcohol, patients who have problems with alcohol should be advised to avoid consuming this fermented beverage.
5. SUGAR
Kombucha consumers should know that the sugar content of these drinks varies from brand to brand. Let patients know they should consider the nutrition facts on the back of the bottle before making a purchase. Encourage patients to select a drink with low sugar and low acidity as this content puts patients at risk of plaque buildup and caries.
Use the buttons below to share these tips with your friends and colleagues!