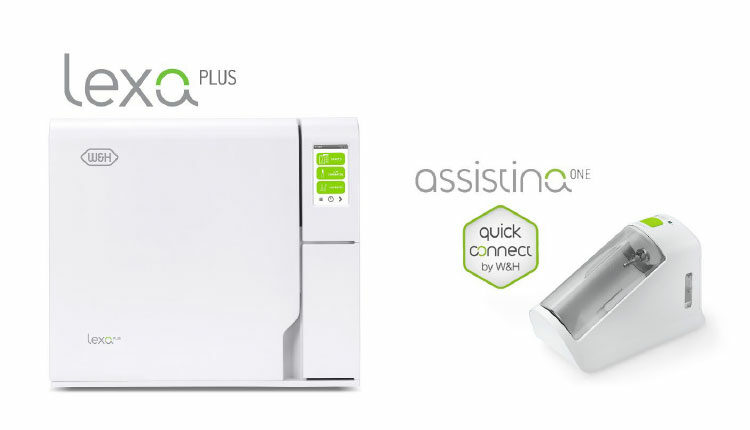 W&H Launches New Innovations to Infection Control Products
W&H is expanding its hygiene portfolio with the addition of a new Lexa Plus Class B sterilizer and Assistina One single port maintenance device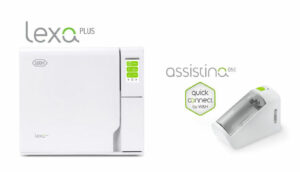 W&H, Windsor, Ontario, has introduced the Lexa Plus sterilizer, a pre-vacuum, Class B sterilizer that provides more capacity, energy-saving fast cycles, automatic water filling, connectivity and traceability options. In addition, the company launched the new Assistina One single port maintenance device that performs the correct lubrication cycles critical to the function and long service life of dental handpieces. The entire lubrication and spray channel cleaning process only takes 18 seconds.
Key Benefits of the Lexa Plus Sterilizer
Eco Dry +: The innovative, patented Eco Dry + adapts the drying time to the mass of the load. This increases efficiency by reducing cycle times, increases the life span of instruments and optimizes energy consumption.
Large capacity: A 7.4-gallon chamber enables Lexa Plus to reprocess up to 16.5 lbs of wrapped and 18 lbs of unwrapped instruments and is extremely flexible with its five-tray rack.
Advanced features: The automatic water filling feature allows a demineralized system to be connected to the sterilizer for optimum efficiency. More advanced connectivity capabilities allow for remote monitoring and advanced service support.
EliTrace: An advanced documentation system offers full traceability, down to a single instrument for a high level of safety for both practice and patient and can be automatically saved to a USB stick.
W&H Bowie & Dick test: This allows for a more enhanced traceability by linking the sterilization cycle with the test sheet.
Key Benefits of the Assistina One
Sustainable and cost-efficient: Up to 2,800 transmission instruments can be maintained with just one Care Set, saving money, time and use of oil spray cans. It works exclusively with compressed air, so it can be put into operation quickly with no need for a power supply.
Easy to use: Straight and contra-angle handpieces, turbines and air motors can be perfectly processed and maintained at the push of a button. The clear view of the chamber along with the fill level indicator on the side contribute to the intuitive operation of the device.
Safe and clean: Maintenance sets in a handy cartridge system means that oil and cleaning fluid can be easily and quickly changed with no mess. Manual refilling is a thing of the past. To ensure a safe and clean working environment, aerosols are also extracted from the chamber and the exhaust air is cleaned using a HEPA filter.
For more information, visit: https://www.wh.com
About W&H
W&H Impex, Inc. located in Ontario, Canada is a subsidiary of W&H Group. Headquartered in Bürmoos, Austria, the international W&H Group is a global leader in the development and manufacture of medical technology products. Passion and innovation are the motor of the company. High-quality product and service solutions, a modern corporate structure, a strong focus on research and development as well as social responsibility make W&H a locally and globally successful family business. More than 1,200 employees contribute to the production of hardware and software products for use in the dental, medical and veterinary industries.