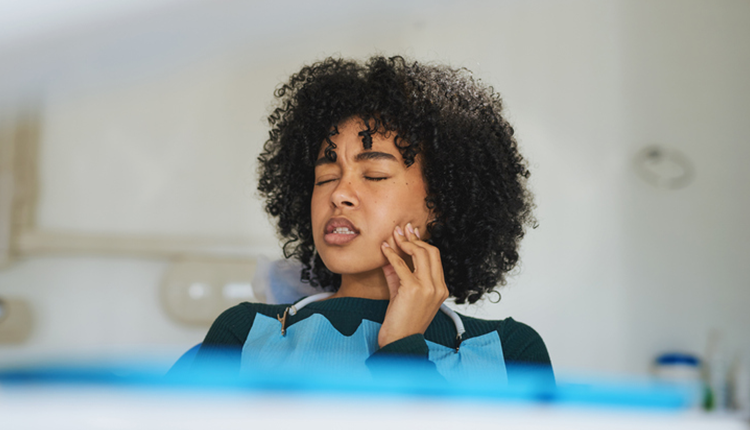 LaylaBird / E+
Diagnosis Is Key to Reducing NSPT-Related Sensitivity
Tooth sensitivity is a common complaint, especially following periodontal debridement, a key component of nonsurgical periodontal therapy (NSPT). Instrumentation during NSPT may inadvertently lead to exposed dentin, open dentinal tubules, and root sensitivity.
Sensitivity following NSPT requires an accurate diagnosis to ensure the most appropriate course of treatment is implemented. Tactile sensitivity tests, such as the Yeaple probe test, and cold air sensitivity tests (eg, Schiff scale) are common methods to confirm and assess the severity of sensitivity.1,2 These tests use instruments to apply pressure to the sensitive area and then the patient reports when the pain begins.3

A visual analog scale (VAS) is used to quantify responses for an assessment and can be used in conjunction with a tactile sensitivity test. The VAS contains a 10 cm long line, indicating the perceived level of pain experienced by the patient (Figure 1). Some VASs include a variety of face emojis that enable the patient to clearly identify his or her pain level (Figure 2).4
The patient is asked to mark on the line or select the appropriate emoji that corresponds to his or her pain level.5 With the cold air sensitivity tests, the operator applies a brief puff of air with an air/water syringe to the affected tooth or site. The patient's sensitivity is then rated on a scale from 0 to 3:
0 if the patient does not respond to air stimulus.
1 if the patient responds to air stimulus but does not ask clinician to stop blowing air.
2 if the patient responds to air stimulus and requests to stop blowing air or moves away.
3 if the patient moves away or considers the air painful and requests the clinician to stop blowing air.6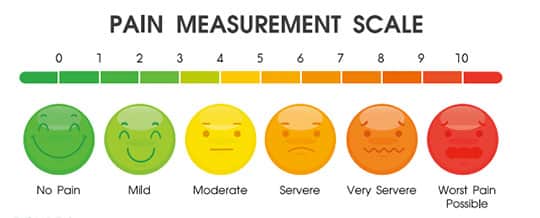 Based on patient history, timing, extent, severity, responses to various stimuli, and ruling out other potential contributory factors, a diagnosis of sensitivity can be made. The clinician can then begin to identify the appropriate treatment recommendations.
Treatments for sensitivity include agents that reduce permeability of dentinal tubules (occlude, restore), decrease neuronal response (depolarize nerve), and remineralize lost tooth structure (change composition). Laser therapy to occlude tubules and/or depolarize nerve is another option.
More invasive procedures include periodontal surgery (mechanical coverage of exposed tooth surfaces) and root canal therapy (pulpal removal).2 Ideal sensitivity treatments should be easily administered, effective, safe, fast-acting, and provide a long-lasting effect.7
References
West NX, Seong J, Davies M. Management of dentine hypersensitivity: efficacy of professionally and self-administered agents. J Clin Periodontol. 2015;42:S256–S302.
Hargreaves K, Goodis H, Tay F. Seltzer and Bender's Dental Pulp. 2nd ed. Batavia, Illinois: Quintessence Publishing Co Inc; 2012.
Garcia-Godoy F, Trushkowsky R. A diagnostic device to record dentin hypersensitivity. Am J Dent. 2013;26:3B–4B.
Gernhardt CR. How valid and applicable are current diagnostic criteria and assessment methods for dentin hypersensitivity? An overview. Clin Oral Investig. 2013;17:S31–S40.
Bubteina N, Garoushi S. Dentine hypersensitivity: a review.
Asnaashari M, Moeini M. Effectiveness of lasers in the treatment of dentin hypersensitivity. J Lasers Med Sci. 2013;4:1–7.

Grossman LI. A systematic method for the treatment of hypersensitive dentin.

J Am Dent Assoc

. 1935;22:592–602.
This information originally appeared in Henderson RP, Wright B. Sensitivity management after nonsurgical periodontal therapy. Dimensions of Dental Hygiene. January 2021;19(1):16–21.