Solmetex Offers a Full System of End-to-End Water Quality and Safety Solutions
The company's full suite of water treatment, filtration, testing, and procedural products are designed to ensure every drop of water is a clean drop of water.
Solmetex, a trusted source of water quality solutions in dentistry, is proud to announce the Solmetex System of Water Solutions. The system consists of a robust portfolio of products and services offered by its Sterisil and DryShield brands, as well as a complementary line of Solmetex products marketed under the PowerScrub, DryShield, Sterisil, and NXT brands.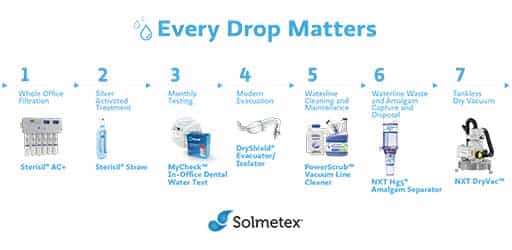 Gene Dorff, Solmetex chief executive officer, stated, "We are committed to providing dental professionals with the best products and services to ensure a healthy dental practice as well as the community it serves. The Solmetex System of Water Solutions includes essential products for water filtration, treatment, testing and amalgam separation, creating the optimal environment for clean and clear lines which improves equipment performance while protecting patients and staff. The Solmetex System of Water Solutions is the culmination of this commitment and makes dental water safety accessible and simple for our customers."
For more information about the Sterisil, DryShield, and Solmetex products that comprise the Solmetex System of Water Solutions in dentistry, visit www.solmetex.com.