Saving Teeth and Lives
Jennifer L. Prince, EdD, began her career as a military dental hygienist, which led to a professional path in mental health where she is helping to prevent suicide among service members.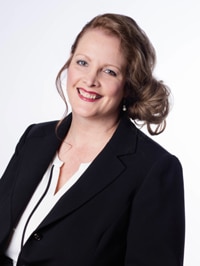 Following her service in the United States Navy as a dental hygienist, Jennifer L. Prince, EdD, was treating a patient who clearly was in emotional distress. As she reached out to help the patient, she realized that a profession in mental health was what she was meant to do. After furthering her education and combining her dental and mental health experience, Prince created a suicide-prevention program for the 416th Theater Engineer Command at the Parkhurst Army Reserve Center in Chicago. The program assists more than 10,5000 military members across a 26-state footprint, including Illinois. Prince shared some insights into her unusual career trajectory with Sunstar ebrief. 
1. How is working as a dental hygienist in the military different from private practice?
Though there are several similarities across the systems, especially when it comes to the actual practice of dental hygiene, there are myriad differences across the other domains of working in a dental clinic. These include but are not limited to a constant change in leadership, dentists, and staffing, as well as "new and improved ways" of doing business with each new leader. Thus, when in the military, I would always have to "shift on the fly" and implement new approaches at any given time. It was exciting, as I love trying new things, especially when it leads to improved operational efficiencies. I was also assigned several collateral duties in the military, including staff training coordinator, where I developed and executed a prophylaxis training program; back-up supervisor when the main supervisor was out of office; and additional duties as needed. In private practice, I served solely as a treatment provider, and if I did not have a patient in the chair, I was required to clock out. There is no "clocking out" in the military. You are on duty 24/7.
2. What experience motivated you to become a mental healthcare provider?
I distinctly remember the moment, because I had been out of the military for just a few months. I recollect the specific patient, who, before she even sat in my chair, was having a very difficult day. She was immensely stressed, distracted, and anxious. This was not dental anxiety. It was something different. Before beginning any hygiene treatment, I took the time to listen. I reflected on what she expressed to me and showed compassion for her. I connected with her. In that moment, something in my heart awoke. I became aware that my higher calling was to be an emotional healer. I immediately pursued and completed my master's degree to become a marriage and family therapist, followed by my doctorate degree in counseling psychology. I've never regretted it.  
3. Describe the suicide prevention program that you created. 
After observing several of my peers' suicide prevention training programs across the Army Reserve, and with my vision of creating a program that would serve soldiers across the entire Army (including the Active, National Guard, and Reserve components), I developed a training program for my command that is Army-sanctioned. Here at the 416th Theater Engineer Command, outside of Chicago, our Suicide Prevention Program Liaison training includes the Army's primary suicide intervention training (Ask. Care. Escort. Suicide Intervention.); the use of an Army-owned risk reduction tool (Soldier Leader Risk Reduction Tool); a bystander intervention training (Engage) and other important areas, such as resourcing and role playing. The course is 3 days long, and when the students graduate, they are suicide interventionists, trainers, and subject matter experts for their commanders. They will go back to their units across our 26-state footprint as force multipliers to prevent and intervene in suicidal ideations and attempts, to train other soldiers and Department of Army civilians in key aspects of the training, and to connect those individuals with the appropriate resources when they are struggling or need assistance.
4. What can dental hygienists do if they sense their patient has a mental health crisis? 
The first step is to identify what a mental health crisis looks like. If you have known a patient long enough, you may be aware of his or her baseline emotional state and can more easily recognize when he or she is having a difficult day. However, you might have a new patient and not know what his or her baseline looks like. Pay close attention to patients making statements about feeling isolated, disconnected, hopeless, or helpless. Other risk factors can include a recent relationship breakup, alcohol misuse, mood disorders (such as depression), financial struggles, or chronic pain conditions. It is helpful for treatment providers to keep resources readily available that they can hand out to patients who may be struggling emotionally. These should minimally include the National Suicide Prevention Lifeline: 1-800-273-8255 and the Crisis Text Line: Text HOME to 741741. Take a moment and ASK your patients how they are and what they need. You could be the ONE who made the difference for them.