Millions follow dangerous DIY braces trend
Millions follow dangerous DIY braces trend   August 18, 2015 In a trend that's sweeping across the internet YouTubers are introducing millions of viewers to the dangerous practice of realigning teeth using a$5 pack of small plastic hair bands. This
Millions follow dangerous DIY braces trend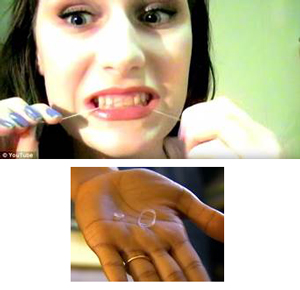 August 18, 2015: In a trend that's sweeping across the internet: YouTubers are introducing millions of viewers to the dangerous practice of realigning teeth using a$5 pack of small plastic hair bands.
This incredibly dangerous practice can lead to infection, tooth discolorationfrom severed blood flow to the teeth, severe root damage and, at worst, permanent tooth loss.
"It seems very attractive that you could possibly move your own teeth and save money," says Dr. Juan Rendon, DDS, MSD at Jefferson Dental Clinics. "Remember that the teeth are surrounded by different tissues like gums, bones and periodontal ligaments. Every time that a tooth is moved, those tissues need to reform and heal."
One Youtuber, whose single video has received more than 600,000 views, explains how the pain from tying the bands tightly around her front teeth will last for several days.
Another Youtube vlogger has drawn hundreds of thousands of views to her series of videos about closing the gap in her front two teeth, and offers viewers advice on replicating the process.
"The problem starts when you do not know how much force is generated with rubber bands or other gadgets. If the force is not appropriate it can cause gum damage, root resorption, damage to the tooth nerve and bone loss," explains Dr. Rendon.
Dr. Rendon adds that your teeth may visually appear to be moving in the right direction, but there is little way to tell whether the roots of the teeth are actually moving, or if the teeth are simply tilting.
This practice is on par with any other extreme do-it-yourself medical procedure: better left to professionals. Orthodontists receive around 10 years of education and training to fully understand anatomy and bite alignment. Compare do-it-yourself dentistry to at-home stitches or a self-performed eye exam.
If you want your teeth to last for many years and look great, it is not worth the risk of trying to move your own teeth," says Dr. Rendon.
Dr. Rendon has been featured as an expert on Refinery 29, MTV, Business Insider, Distractify, Tech Insider, Daily Mail and others.
# # #