This timeline demonstrates the progression of dental therapy from its beginnings in the tribal lands of Alaska to its current adoption or consideration in more than a dozen states.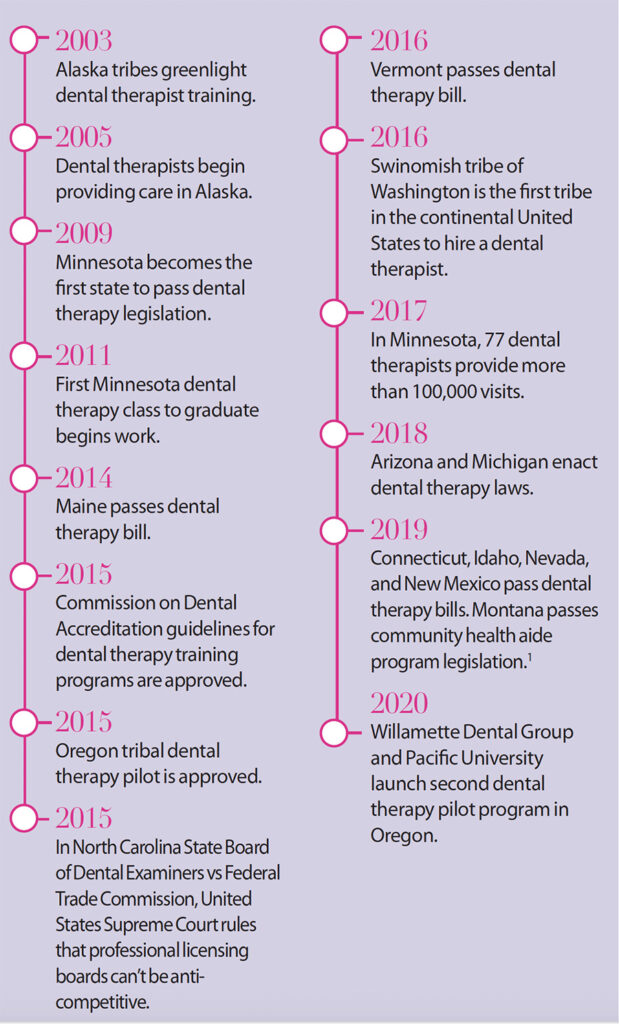 Results
Alaska native communities with dental therapists had lower rates of tooth extractions and more preventive care than Alaska native communities without access to such care.
In 2014, the first analysis of the effects of dental therapy in Minnesota was published.2,3 This evaluation determined the following:
The practice of dental therapy was safe.
The addition of dental therapists enabled clinics to treat more patients, all of whom are underserved.
Decreased wait times and travel times for patients.
Patients reported high levels of satisfaction with the care.
References
American Dental Hygienists' Association. Dental Therapy Is Authorized by State Law. Available at: adha.org/resources-docs/Expanding_ Access_to_Dental_Therapy.pdf. Accessed November 4, 2020.
Minnesota Department of Health, Minnesota Board of Dentistry. Early Impacts of Dental Therapists in Minnesota: Report to the Minnesota Legislature. Available at: mn.gov/​boards/​assets/​2014DentalTherapistReport_​tcm21-45970_​tcm21-313376.pdf. Accessed November 4, 2020.
Brickle CM, Self KD. Dental therapists as new oral health practitioners: increasing access for underserved populations. J Dent Educ. 2017;81:eS65–eS72.
From Perspectives on the Midlevel Practitioner, a supplement to Dimensions of Dental Hygiene. November 2020(12):6.