DenMat® Launches New Whitening Practice Building System with Office Personalized Whitening Product
DenMat® Launches New Whitening Practice Building System with Office Personalized Whitening Product   Lompoc, CA (7 1 15) — Always at the forefront of safe and effective whitening, DenMat, a leading manufacturer of innovative esthetic dentistry and advanced oral health
DenMat® Launches New Whitening Practice Building System with

Office Personalized Whitening Product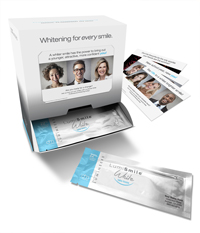 Lompoc, CA (7-1-15) — Always at the forefront of safe and effective whitening, DenMat, a leading manufacturer of innovative esthetic dentistry and advanced oral health solutions, is pleased to announce a variety of new additions to the LumiSmile White Professional Whitening product line. Notably, the in-office and take-home whitening solutions utilize a new brand platform, "Whitening for every smile," to reemphasize the importance of whitening in a practice, and help the dental professional get more patients to say yes to whitening while continually delivering strong results, with minimal sensitivity, at an affordable price to the dentist.
DenMat's new brand platform is designed to make every patient feel that professional whitening can make any smile brighter. The platform includes DenMat's new Practice Building System featuring a bulk package with 50 individually wrapped, personalized whitening syringes and attention grabbing, high-impact marketing materials, such as patient brochures, counter cards, posters and more. "There are so many ways to whiten today, but only dentists have the power to give patients the safest and most effective whitening results possible," said Danielle Hyman, Product Manager at DenMat. "We want to help dentists wake up their whitening programs and grow their practices with LumiSmile White using these new tools."
Other additions include a new take-home option without fluoride that is available in the same concentrations and packaging as the current take-home offerings. As well, the in-office system is now offered as a convenient combo kit, with patient take-home syringes for whitening touch-ups at home.
# # #