Clinician Spotlight: A Global Perspective
Pujitha Siddani, DDS, MPH, BDS, a dentist trained in both India and the United States, is passionate about pediatric oral health.
As a 10-year-old growing up in India, Pujitha Siddani, DDS, MPH, BDS, was enjoying a ride on the bumper cars at a local amusement park when the jolt caused her to hit her face on the inside of the car. She was horrified to realize her front tooth was loose. After an emergency visit to her dentist, who was able to save the tooth, Siddani's interest in dentistry was piqued.
Siddani graduated with a Bachelor of Dental Surgery at the Vishnu Dental College in India in 2013 and then earned a Doctor of Dental Surgery from the University of California, Los Angeles, in 2020. She is currently a resident in the Pediatric Residency Program at Temple University Hospital in Philadelphia, which she will complete next year. In 2017, she finished a Master of Public Health at California State University, Northridge, and has made significant contributions to children's oral health.
She decided early on in her dental school journey that she loved working with children. "I enjoyed communicating and connecting with my pediatric patients and felt drawn toward their infectious and endless energy, resilience, and growth. It didn't take long for me to understand that working with children was my happy place in dentistry," Siddani explains.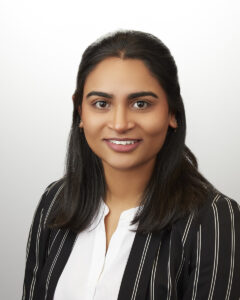 Passionate about ensuring children set out on a lifetime of good oral health, Siddani has seen firsthand the impact of poor dental health on kids' overall health and well-being, and she has some strategies on how to accomplish this goal.
"Improving the oral health of children requires a multifaceted approach that includes a combination of individual and public health strategies. In my opinion, school-based oral health programs, oral health education, community water fluoridation, and expanding insurance coverage are the most effective public health approaches to improving pediatric oral health," she notes.
She likens school-based oral health programs as a lifeline for children without access to dental care as they not only enable patients to receive preventive care but also provide the opportunity to identify more serious dental problems.
"Engaging a community through oral health education programs is another great way to promote good oral hygiene practices, establish the importance of regular dental visits, and equip parents with the skills necessary to advocate for their children's oral health," Siddani asserts. "Medicaid and the Children's Health Insurance Program provide low-income children with access to dental care. Expanding coverage for such programs can help improve access to care and reduce oral health disparities."
Once Siddani completes her residency, she is excited to serve in communities as a pediatric dentist. With her education and experience in both India and the US, she certainly has the necessary skills to make a difference. And she is grateful for the education she received in both places, noting that while both are rigorous, there are some distinct differences.
"The dental curriculum in the US focuses on problem-based learning and comprehensive patient management. In contrast, the dental education in India emphasizes a more didactic approach, with a greater focus on basic sciences. American dental schools typically have access to modern equipment and technology, which may not be as common across dental schools in India. This may add to the cost of attending US dental schools, which is much higher than in India. Also, a dental program in the US typically lasts 4 years whereas in India, it lasts 5. Dental education in both countries prepares students to provide quality dental care," Siddani states.
Siddani is making plans for her future in dentistry in which she is committed to providing high-quality dental care in a comfortable and welcoming environment. She is looking forward to forging long-lasting relationships with patients and their families.
"In addition to working as a clinician, I plan to actively engage in community outreach and education programs," she shares. "My long-term goal is to become a leader in the field of children's oral health and promote oral health equity for all children. I am excited about the opportunities and challenges that lie ahead!"