New User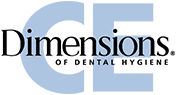 New User
Existing User
Help
Author

Peter B. Lockhart, DDS
0 posts
0 comments
Peter B. Lockhart, DDS, is professor and chair of the Department of Oral Medicine, and director of the Institute for Oral Medicine at Carolinas Medical Center, Charlotte, NC. He holds Fellowship in Dental Surgery diplomas from the Royal College of Physicians and Surgeons of Glasgow, and Royal College of Surgeons of Edinburgh, for which he is the North American regional advisor. Lockhart has a variety of clinical and research interests,
including the dental management of medically compromised patients. He
has written more than 100 textbook chapters and peer-reviewed journal
articles, and is the editor of the textbook Oral Medicine and Medically Complex Patients. Lockhart has served on the American Heart Association Endocarditis Writing Committee since 2004.
Follow these strategies to help determine when antibiotic prophylaxis is necessary before treating patients with cardiovascular problems.
Ensure the safety of patients with cardiovascular disease by keeping up-to-date on the guidelines for prophylaxis.