New User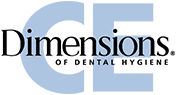 New User
Existing User
Help
Author

Courtney P. Rudick, RDH-EA, MS, CHES
0 posts
0 comments
Courtney P. Rudick, RDH-EA, MS, CHES, is a doctoral student in the Department of Medical Microbiology and Immunology at Creighton University School of Medicine in Omaha. Previously, she was the director of dental services at the Pocatello Free Clinic and a clinical assistant professor at Idaho State University in Pocatello. Rudick's research focuses on the molecular pathogenesis of periodontitis and potential crossover with systemic inflammatory conditions, specifically multiple sclerosis. She can be reached at: [email protected].
Dental hygienists are well positioned to implement risk-based recare intervals in order to improve patient compliance and outcomes.
Understanding the Correlation While the relationship is not causal, the presence of periodontal inflammation may impact the cognitive degeneration associated with Alzheimer's disease.
Maintaining the oral health of patients who have experienced stroke is critical to supporting their systemic health.