The Mobile Dental World Requires Durable Products
Pac-Dent's ProMate CL cordless handpiece benefits both clinicians and patients.
So much has changed in the mobile dental industry. I have worked in this specialty for more than 17 years. I can honestly say that efficiency has never been more critical than now. Though there are many other ways to provide dental care, the mobile dental industry has expanded the most since the pandemic began. This is why Pac-Dent's ProMate CL—the new cordless prophy handpiece—couldn't have come at a better time. As oral healthcare providers, we need high-end, efficient equipment in order to best serve our patients and provide a more therapeutic experience, as well as prevent musculoskeletal injuries from interfering with our ability to provide patient care. I am honored to be a mobile provider for residents who live in long-term care facilities, and the ProMate CL helps me provide the best possible care to this patient population (Figure 1).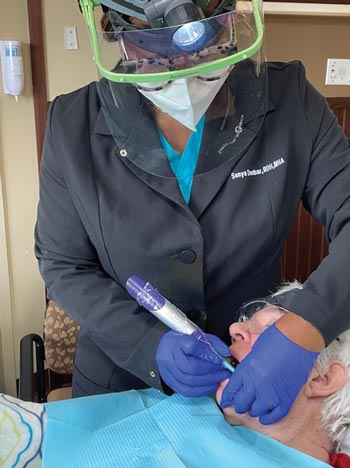 Ergonomic Benefits
Treating patients in a mobile setting takes a toll on the body. I have carpal tunnel in my wrist, and while I am relatively petite in stature, my job requires me to lift and carry heavy items. Pac-Dent's ProMate CL cordless handpiece has enabled me to push past my ailments so I can continue to serve senior and long-term care communities. For more than a decade, my day-to-day duties have involved assisting residents in wheelchairs and Geri chairs, or caring for patients in their beds. With all of the bending, pulling, pushing, and lugging, using durable and lightweight equipment takes the edge off this demanding routine. I would boldly argue that equipment like the ProMate CL cordless handpiece is a must-have for the mobile clinician. 
Myriad Features Serve Mobile Clinicians
The ProMate CL cordless handpiece only weighs 3.8 ounces. The lightweight and silicone grip makes it easy to maneuver while working on residents in wheelchairs. Among the many features I love is the quality of the battery. As I am flexible in where and how I render services, I don't always have access to a power source. This handpiece has a lithium-ion battery that lasts for the treatment of 10 patients, making mobile care more accessible.  
This handpiece comes with three autoclavable shields and 100 disposable barrier sleeves to get you started on the right foot. Using the ProMate CL with Pac-Dent's AntiSplatr disposable prophy angles helps me provide a safe environment for my patients by greatly reducing splatter. 
I also enjoy the control options. Clinicians can use the control button on the handpiece or the Bluetooth-enabled, wireless foot pedal, which is perfect when you're moving from room to room. My favorite feature is its six different speeds from 500 RPM to 4,000 RPM. The speeds allow me to provide a tailored experience from patient to patient. Often, I find myself working with older residents with small, dry mouths, and need to slow down when polishing. However, the ProMate CL cordless handpiece is also suitable for the senior on the go! If I'm working with patients in a hurry to get to bingo, I can speed it up just a little bit to get them on their way. 
The ProMate CL is one of my favorite handpieces simply because it's sleek, modern, and user-friendly for the mobile clinician. Thank you Pac-Dent for making such a great product!
Pac-Dent Inc
909-839-0888
From Dimensions of Dental Hygiene. May 2022; 20(5)18.