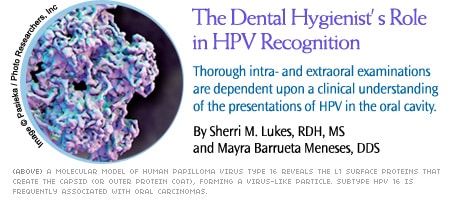 The Dental Hygienist's Role in HPV Recognition
Thorough intra- and extraoral examinations depend upon a clinical understanding of the presentations of HPV in the oral cavity.
PURCHASE COURSE
This course was published in the June 2010 issue and expires June 2013.
The authors have no commercial conflicts of interest to disclose.
This 2 credit hour self-study activity is electronically mediated.
EDUCATIONAL OBJECTIVES
After reading this course, the participant should be able to:
Discuss characteristics of viruses in the human papillomavirus group.
Describe the clinical characteristics of the various lesions presenting in the oral cavity as a result of human papillomavirus (HPV) infection.
Discuss specific characteristics to be considered during the differential diagnostic process.
Explain the hygienist's role in detection of human papillomavirus lesions.
---
The intra- and extraoral examination performed during dental hygiene care is one of the most important services provided for patients. Dental hygienists possess the skills necessary to identify abnormalities during this process, and should be knowledgeable about a variety of lesions presenting in the oral cavity. This article will discuss four clinical presentations of human papillomavirus (HPV) infection orally and periorally that practicing hygienists may encounter. Characteristics of the various lesions (helpful information during the differential diagnosis) will be discussed, as well as HPV's association with oral cancer. This knowledge can greatly assist dental practicioners in identifying lesions that may require biopsy and/or excision in the general dental office, or referral to a specialty care setting.
Due to emergent research concerning human papillomavirus' role in oral cancer, the various benign clinical presentations of HPV infection are worthy of review.
HPV is a family of more than 100 types of double-stranded DNA viruses of the papovavirus subgroup that affect not only humans, but several vertebrate species, including rabbits and cattle. They are species-specific viruses, meaning viruses of one species do not affect other species.1-3 In humans, several areas of the body can be the site of papillary lesions from infection with the different HPV types, all having tropism for epithelial tissue. Almost any area of the skin can be involved, as well as perianal, penile, vaginal and uterine cervical areas. Lesions on mucosal tissues of the head and neck can be found in the oral cavity, nasal passages, esophagus and larynx.2 Four of the benign HPV-associated lesions affecting the oral cavity are squamous papilloma, verrucca vulgaris, condyloma acuminatum and focal epithelial hyperplasia. All may look similar clinically, but are diverse histologically, as they are caused by different subtypes of HPV.
SQUAMOUS PAPILLOMA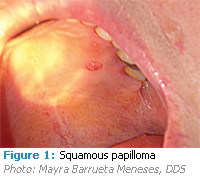 The squamous papilloma (Figure 1) is the most common epithelial papillary or tumorlike lesion found in the oral cavity. HPV types 6 and 11 are primarily the causative agents, though HPV 16 has also been found in some oral papillomas.4 It is a benign, exophytic papillary growth that can be located almost anywhere intraorally, but tends to appear on the uvulopalatal complex and tongue. Clinically, the lesion can be the same color as surrounding tissue or may appear white, according to the amount of keratin present in the lesion. It can have a cauliflower-like or bumpy surface appearance, or be composed of finger like projections. The papilloma is usually less than one centimeter (approximately 0.4 inches) in size, can be pedunculated (attached by a stalk-like base) or sessile (attached by a broad base). It is primarily discovered as a solitary, asymptomatic lesion. Like most papillary and nodular growths in the oral cavity, the treatment of choice is surgical excision followed by histologic/pathologic examination.1,5,6 Recurrence of squamous papilloma is uncommon.
VERRUCA VULGARIS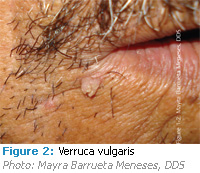 HPV types 2, 4, 6 and 40 are thought to be responsible for verruca vulgaris, or the common wart that appears frequently on the skin but uncommonly in the oral cavity. Children are affected more than adults. It is believed to be spread to the oral cavity by autoinoculation from a verruca on the hands to areas of the mouth, hence, its usual location on the lip or anterior portion of the mouth (Figure 2). Upon its rare occurance intraorally, it is usually found on tissue in which the keritinization is much like that of the skin, which includes the lip, hard palate and gingiva.4 Due to increased keritinization, oral verrucae are more white than pink and can have either a pedunculated or sessile base.1 They can appear cauliflower shaped or exhibit fingerlike projections (hence, appearing similar to some squamous papillomas and, like papillomas, are usually solitary lesions). Verrucae are small (5 mm or less) and painless; they can be treated by surgical excision, but may also show evidence of spontaneous regression.1,7
CONDYLOMA ACUMINATUM
Condyloma acuminatum is typically considered a sexually transmitted disease, as it affects the anogenital epithelium. The virus is believed to be transmitted by genital-oral contact, however, autoinoculation is possible as well. As early as 1901, there was a report of a case of condyloma intraorally,4 and since then, HPV 2, 6, 11, 53 and 54 have been the types detected most in oral lesions.1 The clinical appearance is again a papillary exophytic nodule that can be pink or white (Figure 3). It is most often a sessile lesion that can actually enlarge and coalesce with other condylomata, as they are rarely solitary lesions. Commonly affected oral sites include the labial mucosa, lingual frenum, palate and tongue.6,7,8 Though they are asymptomatic, condylomata are surgically excised or removed by laser therapy if the lesion(s) is sizable. Recurrence is common for condyloma acuminatum.
Of note in discussing condyloma is its relatively common oral presentation in human immunodeficiency virus-positive (HIV) patients.8 A recent study reported that HPV-oral condyloma acuminatum lesions in HIV-positive patients appear to be increasing in an era of highly active antiretroviral therapy (HAART), the chemotherapeutic regimen HIV-positive patients receive. The study's authors stated, however, that more research is needed in this area, as incidence and prevalence of oral condylomata in HIV-positive patients have neither been entirely defined, nor is there clear evidence for their emergence during HAART.8,9
FOCAL EPITHELIALocal Epithelial Hyperplasia
Another oral manifestation of HPV in the oral cavity is focal epithelial hyperplasia (FEH), also known as Heck's disease. This condition appears most often among children of certain ethnic groups, such as indigenous peoples of North America, Central America and South America.10,11 It has also been reported in Israel, South Africa and Sweden, though noted as rare in Caucasians. Clinically, it appears as multiple papillomatous nodules located primarily on the labial and buccal mucosa (Figure 4). They are not painful and may be pink or white, but tend to be sessile rather than pedunculated lesions, with more of a cauliflower appearance than that of finger-like projections. HPV types 13 and 32 are the viruses associated with FEH.5,10 Spontaneous regression of the lesions may occur but, if not, they may be surgically excised when cosmetically objectionable.
In populations where the condition is endemic in children, there has been minimal evidence of residual lesions among adults.12 As with all HPV lesions, they should be examined histologically for definitive diagnoses. Focal epithelial hyperplasia lesions do not have a tendency to recur.
DIFFERENTIAL DIAGNOSIS

Due to the similarity of HPV oral lesions, when noting lesions for the dentist's formulation of a differential diagnosis, several aspects specific to the various clinical presentations should be considered. When located on buccal, labial or soft palatal mucosal surfaces, the squamous papilloma can look almost identical to the sexually transmitted HPV lesion, condyloma acuminatum. Condyloma lesions, however, tend to be multiple, larger in size, have a broader base, and usually appear pink to red due to less keritinization than what is commonly encountered among papillomas. When located on the gingiva, the clinical appearance of squamous papilloma can actually be the same as the giant cell fibroma, a lesion of connective tissue origin. Giant cell fibromas are very common on the gingiva and can have the same papillary or cauliflower-like surface as the squamous papilloma.13 Papillomas, however, do not typically present on the gingiva. Verruca vulgaris can also appear the same as squamous papilloma clinically, but intraoral verrucae are far rarer than the squamous papilloma. They commonly present on the skin, as opposed to inside the oral cavity. Their presence peri orally is com mon, as shown in Figure 2.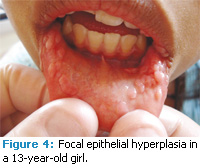 Focal epithelial hyperplasia nodules can appear similar to both squamous papilloma and condyloma acuminatum. The sheer number of nodules can assist in ruling out the papilloma, but distinguishing FEH from condyloma acuminatum clinically can be difficult. Like FEH, condyloma acuminatum lesions are usually multiple and very similar in size and appearance. FEH is seen most commonly among children. Because condyloma acumintum lesions are a sexually transmitted condition, one would not expect to encounter it in a pediatric patient. Ethnicity and familial occurrence of FEH can assist in diagnosis of FEH. Further confirmation can be achieved from histologic examination and polymerase chain reaction analysis of HPV DNA from biopsy samples.
HPV, ORAL CANCER AND THE HYGIENIST'S ROLE
The link between HPV types 16 and 18 and carcinomas of the vaginal cervix is well established.14 The existence of HPV in cancerous and precancerous oral lesions has been confirmed as well. The possibility of HPV as an etiological factor in oral cancer was first suggested in 1983, and research has provided evidence of HPV as an independent risk factor for oral squamous cell carcinoma.4,15 Subtype HPV 16 is the type most frequently associated with oral carcinomas, but types 6, 7, 33, 35 and 59 have also been detected in oral cancer lesions.14 These findings warrant more study in this area, as researchers attempt to discover HPV's exact mechanism in the development of oral cancer lesions.
Hygienists are well positioned to assist the dentist in locating lesions for possible patient referral, and should be vigilant in completing thorough intra- and extraoral exams during the dental hygiene process of care. Continually updating knowledge about the various clinical presentations of HPV-associated (and other) lesions is critical for staying abreast of research in dentistry that will affect how teams of dental professionals will best serve their patients.
REFERENCES
Neville BW, Damm DD, Allen CM, Bouquot JE. Epithelial Pathology. In: Dolan J, ed. Oral and Maxillofacial Pathology. 3rd ed. St. Louis, MO: Saunders, an imprint of Elsevier Inc. 2009;362-374. Agency for Healthcare Research and Quality. Focus on research: improving health care for Americans with disabilities. AHRQ Publication No. 02-MO16, Agency for Healthcare Research and Quality, Rockville, MD, March 2002.
Cutsem EV, Snoeck R, Van Ranst M, Fiten P, Opdenakker G, Geboes K, Janssens J, Rutgeerts P, Vantrappen G, DeClercq E. Successful treatment of a squamous papilloma of the hypopharynx- esophagus b local injections of (S)-1-(3-hydroxy-2-phosphonylmethoxypropyl) cytosine. J Med Virology.

2002;45:230-235.

Terai M, Takagi M. Human papillomavirus in the oral cavity. Oral Med Pathol.

2001;6:1-12.

Syrjanen S. Human papillomavirus infections and oral tumors. Med Microbiol Immunol.

2003;192:123-128.

Sapp PJ, Eversole, LR, Wysocki GP. In: Rudolph P, ed. Contemporary Oral and Maxillofacial Pathology.

2nd ed. St. Louis, MO: Mosby, Inc; 2004;165-166,223-224.

Eversole LR. Papillary lesions of the oral cavity: relationship to human papillomaviruses. J Calif Dent Assoc

. 2000. Available at: www.cda.org/ library/ cda_ member/ pubs/ journal/ jourl 200/ pap .html. Accessed October 11, 2009.

Neville BW, Damm DD, White DK. In: Hiscock T, ed. Color Atlas of Clinical Oral Pathology.

2nd ed. Baltimore, Maryland: Williams and Wilkins; 1999;210.

Regezi JA, Sciubba JJ, Jordan RC. In: Dolan J, ed. Oral Pathology: Clinical Pathologic Correlations.

5th ed. St. Louis, MO: Saunders, an imprint of Elsevier Inc. 2008;141-146.

King MD, Reznik DA, O'Daniels CM, Larsen NM, Osterholt D, Blumberg HM. Human papillo ma virus-associated oral warts among human immunodeficiency virus-seropositive patients in the era of highly active antiretroviral therapy: an emerging infection. Clin Infec Dis.

2002;34:641-648.

Gonzalez LV, Gaviria Am, Sanclemente G, Rady P, Tyring SK, Carlos R, Lorrea LA, Sanchez GI. Clinical, histopathological and virological findings in patients with focal epithelial hyperplasia from Colombia. International J Dermatol.

2004;44:274-279.

Padayachee, A, van Wik CW. Human papillomavirus (HPV) DNA in focal epithelial hyperplasia by in situ hybridization. J Oral Pathol Med.

1991;20:210-214.

Jayasooriza PR, Abeyratne S, Ranasinghe AW, Tilakaratne WM. Focal epithelial hyperplasia (Heck's disease): report of two cases with PCR detection of human papillomavirus DNA. Oral Diseases

. 2004;20:240-243.

Lukes SM, Kuhnert J, Mangels M. Identification of a giant cell fibroma. JDH.

2005;79(3).

Al-Bakkal G, Ficarra G, McNeill k, Eversole LR, Sterrantino G, Birek C. Human papilloma virus type 16 E6 gene expression in oral exophytic epithelial lesiona as detected by in situ rtPCR. Oral Surg OralMed Oral Pathol Oral Radiol Endod.

1999;87:197-208

Syrjanen S. HPV infections and tonsillar carcinoma. J Clin Pathol.

2004;57:449-455.
From Dimensions of Dental Hygiene. June 2010; 8(6): 72. 75-77.