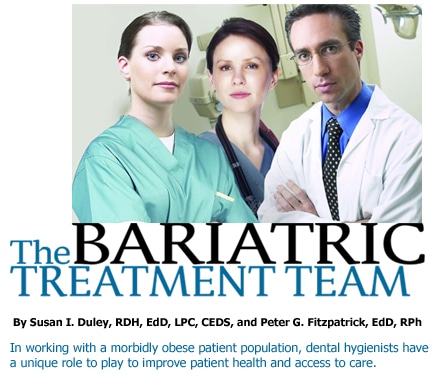 The Bariatric Treatment Team
In working with a morbidly obese patient population, dental hygienists have a unique role to play to improve patient health and access to care.
Morbid obesity is currently a hot topic, with the Surgeon General's dire statistics on the prevalence of obesity in the United States and the resulting media attention. Links to diabetes and heart disease, among other health issues, are now well-known. However, the relationship between oral health and morbid obesity is not often discussed. Oral health is affected by drugs used to control weight as well as the medications that treat the comorbidities of obesity. As a result, dental hygienists need to understand the oral implications of obesity, including this population's limited access to care. In working with obese patients, dental hygienists are in a unique position to collaborate with bariatric (the study of obesity and its treatment) nurses to ensure that this patient population is not neglected.
THE SURGICAL OPTION
Bariatric surgery is growing in popularity for morbidly obese patients who are seeking extensive and somewhat rapid weight loss. Dental professionals understand the link between oral and systemic health and, thus, all patients considering bariatric surgery should have their oral health status checked first. Oral health also plays a role in surgical outcomes, making a pre- and post-operative oral health assessment a must.
The role of the dental hygienist as an active and teaching member of the bariatric treatment team is emerging as oral health screening with appropriate dental interventions should be performed on pre- and post-operative patients. The pre-operative assessment survey documents the patient's oral health status and notes any conditions that may affect the surgery. Patients preparing for surgery may present with dental caries, periodontal disease, or oral conditions related to eating disorders. The assessment is important in determining the timeline for surgery, as well as helping insure that the surgery has every chance of producing the desired outcomes.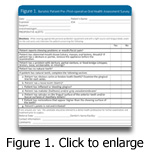 The oral health assessment survey screens for dental diseases and determines the patient's ability to chew post-operatively (See Figure 1 for an example). If the assessment indicates poor oral health, the patient should be referred to a dental professional for appropriate treatment prior to surgery.
The results of the assessment can also be used by the anesthesiologist to prevent dental injuries that may occur during surgical intubation. The dental hygienist can use the assessment inventory to promote post-operative compliance and impact the surgical outcome for the bariatric patient. If the patient reports post-operative problems with side effects from food intake, the screening can be repeated to determine if oral diseases have been treated or if other complications exist affecting the ability to masticate and swallow food.
The candidate for bariatric surgery may present with oral side effects related to medication prescribed to treat morbid obesity and comorbidities. The major side effect with the potential to cause oral manifestations is xerostomia.1 The main symptom of xerostomia is a dry, burning mouth that affects the patient's ability to swallow, taste, speak, and maintain oral tissue integrity. Demineralization of tooth enamel may occur, resulting in the rapid progression of dental caries and overgrowth of candida albicans.1
Another factor related to the development of oral diseases is the patient's diet. Whether the patient has participated in one or more of the behaviors prevalent in eating disorders such as restriction of food, binging and purging of food, or binging without purging, the oral consequences are severe.1 Although the etiology of morbid obesity is multifactorial, the variables related to dietary intake are significant in weight management. Patients who graze food throughout the day greatly promote the incidence of dental caries as the form and frequency of dietary intake impact the caries rate.2
Poor oral health negatively affects behavioral compliance of the post-operative bariatric surgery patient during the reintroduction of food. The patient is required to cut all food into very small bites and is directed to perform 30 chews per bite. During the postoperative period, chewing is required in order to reduce nausea, vomiting, bloating, and blockage of the stoma.2 If the patient's oral health is compromised due to untreated dental caries, periodontal disease causing tooth mobility, loss of all or some teeth or an ill fitting denture, the patient may not be able to adequately start the digestion process through the chewing of food.13 Some surgery failures relate to the inability of the patient to slowly chew food. The patient may experience problems with eating food and turn to high caloric liquid intake and experience a slow or minimal weight loss.12
PHARMACOLOGICAL TREATMENT
The medications used in treating morbid obesity may adversely affect oral health. Direct pharmacological treatment of morbid obesity involves two basic approaches. The first occurs through neurotransmitter medication and the second through impeding the absorption of fats. Medications in the first category are typically either sympathomimetic amines or atypical antidepressants.3 The sympathomimetic amines work by inhibiting norepinephrine, serotonin, and dopamine as is the case with dibutramine.4 Diethylpropion is also a sympathomimetic amine that is a partial reuptake blocker of norepinephrine.3 Due to the sympathetic activity of these medications, they all frequently produce xerostomia. Additionally, sibutamine also produces mouth ulcers in approximately 3% of users.5
Bupropion is an atypical antidepressantuseful in appetite suppression. It acts as a weak inhibitor of the reuptake of norepineohrine, serotonin, and dopamine. While not a sympathomimetic amine, bupropion does produce significant sympathetic oral side effects, probably because it is structurally related to phenylethylamines. Among these side effects is a 1% incidence of xerostomia and a 2% incidence of mouth ulcers.6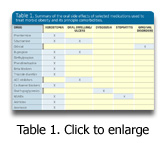 The principle agent in medications used to impede the absorption of fats in the treatment of morbid obesity is orlistat. Orlistat is a lipase inhibitor in the lumen of the stomach and in the small intestine. Lipase inhibition obstructs fat digestion and subsequent absorption producing excretion of these substances. Because orlilstat is not a sympathomimetic, it typically does not produce xerostomia. It does, however, cause a 4.3% incidence of carious lesions and a 4.1% incidence of gingivitis.3 These effects are probably due to hydrochloric acid regurgitation. A fairly significant number of patients experience nausea and/or vomiting while taking this medication, possibly producing this effect.7
Morbid obesity creates systemic health problems including hypertension, type II diabetes, coronary heart disease, stroke, osteoarthritis, and breast cancer. These conditions are frequently treated with medications that produce oral side effects. Hypertension, coronary heart disease, and stroke are treated with, among other medications, beta blockers, thiazide diuretics, and ACE inhibitors. These commonly cause xerostomia; ACE inhibitors are linked to swelling in the mouth.3
Strokes are treated with oral anticoagulants, which can produce nausea and vomiting and the attendant oral problems. Type II diabetics frequently take oral hypoglycemics which, in addition to nausea and vomiting, can produce dysgeusia (bad taste in the mouth). Also, the palliative treatment for osteoarthritis, the nonsteroidal anti-inflammatory drugs (NSAIDs), can produce both xerostomia and stomatitis.8
The risk of breast cancer in a morbidly obese woman is one to five times higher than a normal weight woman.9 The newer medications used to treat breast cancer—aromatase inhibitors—may cause xerostomia included in their panel of side effects.10 Table 1 summarizes the primary oral side effects caused by medications used to treat morbid obesity and its principle comorbidities.
ACCESS TO CARE
The morbidly obese patient population may also experience more oral health problems because of decreased access to care. In a survey of journal articles from the Special Care Dentistry Association, none addressed the care of the morbidly obese. Morbidly obese patients may not seek dental care due to lack of transportation and logistical problems. Dental treatment chairs do not support the weight of a patient with a BMI of 40 or more and the supine position required for care is not conducive to adequate respiration or comfort for the morbidly obese.11 However, as the patient's body mass decreases and the ergonomic ability to obtain dental care increases, self-esteem and the desire for good self-care develops, which encourages patients to seek restorative, cosmetic, and preventive dental care.
CONCLUSION
Health care providers have only recently begun to address the unique needs of the morbidly obese and dental hygienists have an important role to play on the bariatric treatment team. The need for pre- and post-operative dental treatment planning is increasing as the number of people seeking bariatric surgery grows. This population's access to oral health care also needs to be increased. Finally, seminars discussing the impact of poor oral health on surgery outcomes and the importance of including a dental health professional on the bariatric treatment team should be developed and presented to bariatric surgery teams.
REFERENCES
Doniger S. Saliva and oral health. RDH. 2005:25(7): 52-55.
Palmer C. Diet and Nutrition in Oral Health. Upper Saddle River, NJ: Prentice Hall; 2003.
Hitner H, Nagle B. Pharmacology: An Introduction. NewYork: McGraw Hill; 2005.
Hitner H, Nagle B. Battling blubber. Drug Topics. 2005;149(16):24-30.
Ahrens R. Weight matters: the care of overweight and obese patients. CE supplement. America's Pharmacist. September 2003.
Keene JJ Jr, Galasko GT, Land MF. Antidepressant use in psychiatry and medicine: importance for dental practice. J Am Dent Assoc. 2003;134:71-79.
Xenical [package insert]. Nutley, NJ: Roche Laboratories Inc; 2004.
Nursing Drug Handbook. Springhouse, Pa: Springhouse Corp; 2005.
Owens TM. Morbid obesity: the disease and co-morbidities. Crit Care Nurs. 2003; 26:162 165.
Arimidex [package insert]. Wilmington, Del: AstraZeneca; 2004.
Al-Zahrani MS, Bissada NF, Borawskit EA. Obesity and periodontal disease in young, middle-aged, and older adults. J Periodontol. 2003;74:610-615.
Perugini RA, Mason R, Czerniach DR. Predictors of complications and suboptimal weight loss after laparoscopic Roux-en-Y gastric by pass: a series of 188 patients. Arch Surg. 2003;138:541-545.
Boan J. Postoperative management of the bariatric surgery patient. Cortlandt Forum. 2005;22:17-21.
From Dimensions of Dental Hygiene. November 2006;4(11): 14-16.