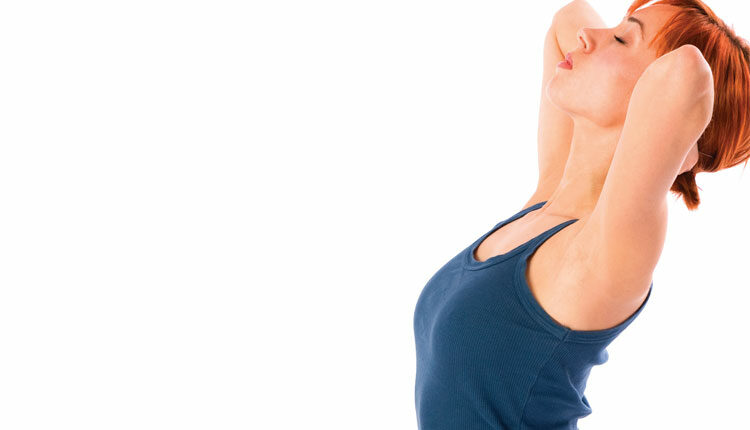 ARTUR BOGACKI / ISTOCK / GETTY IMAGES PLUS
Stretch for Health
A daily stretching regimen can help you reduce your risk of work-related injuries.
Musculoskeletal disorders (MSDs) are some of the most commonly reported work-related injuries, affecting a variety of professions including nurses, truck drivers, office workers, musicians, and oral health professionals.1–3 Approximately $720 billion per year are spent on treating work-related MSDs in the United States.4
Dental hygiene can be a physically demanding occupation and dental hygienists experience high rates of MSDs.5 In order to support career longevity, interventions to prevent and/​or manage MSDs must occur early in the career of dental hygienists.
Many dental hygienists report that their education did not prepare them for the physical demands of full-time clinical work.6,7 Preventing MSDs is an important part of overall wellness.
What Are Musculoskeletal Disorders?
MSDs are degenerative disorders of the muscles, joints, tendons, nerves, and blood vessels caused by repetitive, cumulative trauma occurring over time or due to an acute injury.8 These disorders can include neck and shoulder pain, shoulder tendonitis, neuropathy, tension neck syndrome, and trapezius myalgia.
The prevalence of general MSD pain and neuropathy in dental hygienists ranges from 60% to 96%.5,9–11 Some of the most common symptoms experienced by dental hygienists are:5,11,12
Carpal tunnel syndrome
Neck pain
Hand and wrist pain
Dental hygienists are high risk for these work-related injuries because MSDs are associated with repeated or sustained exertion in awkward or static postures, which is common in dental hygiene work.13
MSDs in dental hygienists can lead to pain, spasms, joint rigidity, shivers, and interference with activities of daily life. Symptoms of MSDs in dental hygienists include the development of tiredness, tingling, pain, and numbness in the shoulders, low back, and neck.14
Interventions for Prevention
Several interventions can be used to prevent MSDs including the use of proper ergonomics, yoga, and stretching.15–22 Ergonomic training can reduce work-related MSDs in dental hygienists. Proper ergonomics can be maintained by using proper equipment, adjusting patient positioning, avoiding static postures, and technique training.23,24
Yoga can reduce stress and prevent injury in the workplace. Hatha yoga is an ancient mind-body exercise that incorporates breathing and postures to unify and relax the mind and body.
Offering yoga in the workplace is a way to educate clinicians about decreasing the risks of injury. Practicing yoga has been shown to reduce pain, relieve tension, reduce risks of injury, improve posture, improve communication, increase energy and attention span, and enhance feelings of overall wellness and well-being.15–17
Stretching for Health
Stretching is an important part of preventing MSDs because dental hygienists perform work-related motions that can damage nerves, tendons, muscles, and supporting structures.18 Stretching can help prevent these injuries, promoting career longevity.
Stretching is defined as a slow deliberate movement used to achieve a lengthening of the muscle.19 Stretching reduces pain and discomfort, while increasing range of motion.20,21 This can provide an anti-inflammatory effect on the muscles and delay muscle soreness after exercise.22
Stretching is an efficient way to prevent MSDs as each stretch takes about 30 seconds. Dental hygienists should focus on stretching their neck, shoulders, lower back, wrists, and hands. Chairside stretching is particularly helpful with the hand and wrist region compared to other areas of the body.21
Stretches can be done at any time during the day and are easily incorporated into the regular work routine. Table 1 demonstrates suggested stretches that can be performed chairside during the workday.
Conclusion
MSDs are common among dental hygienists and can result in pain, discomfort, or numbness in various parts of the body. Incorporating stretches into a daily routine can prevent these common injuries. Dental hygienists should consider stretching on a daily basis, which will allow for the gradual stretching of the impacted muscle groups.19–21
Dental hygienists can stretch chairside, and before and after work. The key is to stretch daily. Allocating time (5 minutes to 10 minutes) to complete these stretches is vital to preserve the dental hygienist's body.
Acknowledgments
The authors would like thank John DeWitt, PT, DPT, SCS, AT, and Madison Helon for their help in preparing this manuscript.
References
Mozafari A, Vahedian M, Mohebi S, Najafi M. Work-related musculoskeletal disorders in truck drivers and official workers. Acta Med Iran. 2015;6:432–438.
Bernal D, Campos-Serna J, Tobias A, Vargas-Prada S, Benavides FG, Serra C. Work-related psychosocial risk factors and musculoskeletal disorders in hospital nurses and nursing aides: a systematic review and meta-analysis. InJ J Nurs Stud. 2015;52:635–648.
Iranzo MÀC, Pérez-Soriano P, Camacho CI, Belloch SL, Cortell-Tormo JM. Playing-related musculoskeletal disorders in woodwind, brass and percussion players: a review. J Hum Sport Exerc. 2010;5:94–100.
Sakzewski L, Naser-ud-Din S. Work-related musculoskeletal disorders in dentists and orthodontists: a review of the literature. Work. 2014;48:37–45.
Hayes MJ, Cockrell D, Smith DR. A systematic review of musculoskeletal disorders among dental professionals. Int J Dent Hyg. 2009;7:159–165.
Crawford L, Gutierrez G, Harber P. Work environment and occupational health of dental hygienists: a qualitative assessment. J Occup Environ Med. 2005;47:623–632.
Hayes MJ, Smith DR, Taylor JA. Musculoskeletal disorders in a 3 year longitudinal cohort of dental hygiene students. J Dent Hyg. 2014;88:36–41.
Hales TR, Bernard BP. Epidemiology of work-related musculoskeletal disorders. Orthop Clin North Am. 1996;27:679–709.
Alexopoulos EC, Stathi IC, Charizani F. Prevalence of musculoskeletal disorders in dentists. BMC Musculoskelet Disord. 2004; 5: 1–8.
Khan SA, Yee Chew K. Effect of working characteristics and taught ergonomics on the prevalence of musculoskeletal disorders amongst dental students. BMC Musculoskelet Disord. 2013;14:1–8.
Anton D, Rosecrance J, Merlino L, Cook T. Prevalence of musculoskeletal symptoms and carpal tunnel syndrome among dental hygienists. Am J Ind Med. 2002;42:248–257.
Åkesson I, Johnsson B, Rylander L, Moritz U, Skerfving S. Musculoskeletal disorders among female dental personnel–clinical examination and a 5-year follow-up study of symptoms. Int Arch Occup Environ Health. 1999;72:395–403.
Morse T, Bruneau H, Michalak-Turcotte C, et al. Musculoskeletal disorders of the neck and shoulder in dental hygienists and dental hygiene students. J Dent Hyg. 2007;81:10.
Gandolfi MG, Zamparini F, Spinelli A, Risi A, Prati, C. Musculoskeletal disorders among Italian dentists and dental hygienists. Int J Environ Res Public Health. 2021;18:2705.
Gura ST. Yoga for stress reduction and injury prevention at work. Work. 2002;19:3–7.
Monson AL, Chismark AM, Cooper BR, Krenik-Matejcek TM. Effects of yoga on musculoskeletal pain. J Dent Hyg. 2017;91:15–22.
Cocchiara RA, Peruzzo M, Mannocci A, et al. The use of yoga to manage stress and burnout in healthcare workers: a systematic review. J Clin Med. 2019;8:284.
Michalak-Turcotte C. Controlling dental hygiene work-related musculoskeletal disorders: the ergonomic process. J Dent Hyg. 2000;74:41–48.
Woods K, Bishop P, Jones E. Warm-up and stretching in the prevention of muscular injury. Sports Med. 2007;37:1089–1099.
Gasibat Q, Simbak NB, Aziz AA, Petridis L, Tróznai Z. Stretching exercises to prevent work-related musculoskeletal disorders: a review article. AJSSM. 2017;5:27–37.
Nye WH, Partido BB, DeWitt J, Kearney RC. Prevention and reduction of musculoskeletal pain through chair-side stretching among dental hygiene students. J Dent Hyg. 2021;95:84–91.
Da Costa BR, Vieira ER. Stretching to reduce work-related musculoskeletal disorders: a systematic review. J Rehabil Med. 2008;40:321–328.
Chismark A, Asher G, Stein M, Tavoc T, Curran A. Use of complementary and alternative medicine for work–related pain correlates with career satisfaction among dental hygienists. J Dent Hyg. 2011;85:273–284.
Roll SC, Tung KD, Chang H, et al. Prevention and rehabilitation of musculoskeletal disorders in oral health care professionals: a systematic review. J Am Dent Assoc. 2019;150:489–502.
From Dimensions of Dental Hygiene. January 2023; 21(1)16-18.