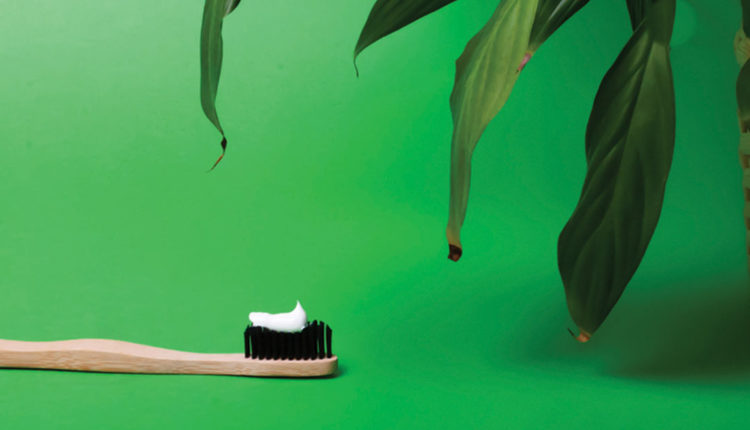 LEHCIM/ISTOCK/GETTY IMAGES PLUS
The Rise of Eco-Dentistry
The implementation of green dentistry can help protect practitioners, patients, and the planet.
PURCHASE COURSE
This course was published in the March 2020 issue and expires March 2023.
The authors have no commercial conflicts of interest to disclose.
This 2 credit hour self-study activity is electronically mediated.
EDUCATIONAL OBJECTIVES
After reading this course, the participant should be able to:
Explain environmental considerations that support green dentistry, and its potential for reducing the negative impacts of practice.
List specific strategies dental offices and clinics can use to provide eco-friendly care.
Cite examples of the impacts traditional dental practice can have on the environment and community.
---
There has been a sharp increase in environmental awareness or eco-consciousness in recent years.1 This has translated into a global movement leading to green transformations, where the term "going green" is defined as an action seeking to improve the health of the environment and community by conserving resources and minimizing detrimental impacts to the ecosystem.1 The practice of green dentistry, or eco-dentistry, can contribute to more sustainable resources and a healthier environment. Patients may seek oral health professionals who share the same values of planetary wellness. Thus, by adopting environmentally friendly practices, dental offices can provide social value to the communities they are rooted in.1
The National Environmental Policy Act of 1969 committed the United States to sustainability, declaring it a national policy "to create and maintain conditions under which humans and nature can exist in productive harmony, [and] that permit fulfilling the social, economic and other requirements of present and future generations."2 Sustainability, as defined by the University of California, Los Angeles, is the quality of not harming the environment or depleting the Earth of its natural resources.3
Health care providers who aim for sustainability are becoming more determined in their efforts to share best practices to ensure positive environmental and communal impacts.2 Expanding sustainability in the dental setting can be accomplished by adopting measures that support green dentistry.1
DENTISTRY'S CARBON FOOTPRINT
When envisioning a sustainable eco-friendly dental practice, dental teams should review and consider all key components. Carbon dioxide is an important greenhouse gas. The burning of fossil fuels (such as coal, natural gas, and oil), as well as waste, releases carbon dioxide into the atmosphere. A carbon footprint is defined as the amount of carbon produced by an organization or individual, either directly or indirectly.4
In current practice, dentistry has a significant environmental impact due to its high use of energy and resources.1 Oral health professionals need to consider whether they have a professional obligation and social responsibility to transform the practice of dentistry from an environmentally perilous model to a sustainable one.1
Day-to-day operations use various electronic dental equipment, copious amounts of water, and numerous disposable products for preclinical, clinical, and post-clinical use.1 Medical and dental waste is a significant contributor to the environmental problems stemming from single-use plastic products.5 According to the Eco-Dentistry Association, dental practices discard approximately 680 million chair barriers, light handle covers, and patient bibs, as well as 1.7 million sterilization pouches each year.6 Other disposables include gloves, masks, suction tips, saliva ejectors, needles, and paper. Much of this waste does not easily decompose. In addition, dental practices generate 4.8 million lead foils, 28 million liters of toxic X-ray fixer, and 3.7 tons of mercury waste each year.6 Moreover, conventional vacuum systems use up to 360 gallons of water per day.6
Laying out a simple blueprint for the integration of sustainable clinical approaches can be carried out while still upholding high standards in asepsis and patient care.5 Many of these resources take the form of infection control practices used to protect patients and staff from disease transmission. Dental facilities can implement infection control protocols that consider the environment while still adhering to guidelines set forth by the US Centers for Disease Control and Prevention (CDC).7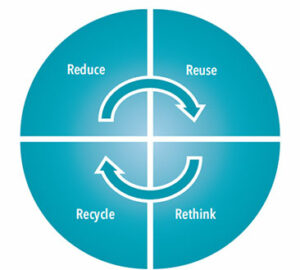 THE FOUR R MODEL
There are numerous ways to reduce the adverse environmental impact of common products and materials used for treatment. Eco-friendly dental offices and clinics can implement the Four R model: reduce, reuse, recycle, and rethink (Figure 1).8 The four Rs emphasize sustainable consumption habits in an effort to curtail waste.
Dental practices are encouraged to be proactive in implementing the Four R model. The reduction component focuses on minimizing landfill waste and conserving energy and resources. One of the biggest sources of dental landfill waste involves disposable products. The use of biodegradable items can offset some of the reliance on disposables. Biodegradation is the breakdown of materials by microbes in an appropriate environment.9 Because plastic decomposes very slowly, dental teams may wish to consider materials that are in better alignment with the goals of green dentistry.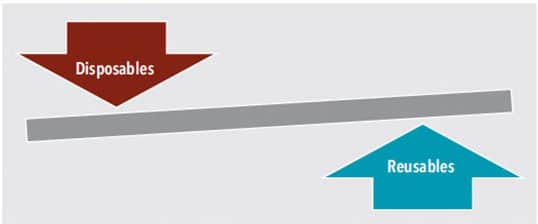 The next Four R component focuses on reusable products rather than disposable items (Figure 2). Reusable products can reduce the need to create new products, thus reducing energy consumption.10 Much of the waste sent to landfills can be recycled;10 with this goal in mind, dental manufacturers should strive to develop innovative recyclable dental products. At the practice level, there are many ways dental teams can rethink and incorporate sustainability into the delivery of care. Best practice management approaches are essential if the profession is to thrive in an environmentally conscious era (Table 1). The Rethink and Recycle components of the Four R model can be addressed through considering ways for appropriate waste reduction (including hazardous and chemical waste), reducing electricity and water consumption, and transitioning to reusable items.
WASTE REDUCTION
Effective management of waste disposal is a key concept in green dentistry. As they seek to minimize waste, environmentally conscious practices can still adhere to the CDC's most recent guidelines for the dental setting.7,11 Reducing the number of products used is a simple first step. Examples include decreasing the amount of plastic barrier wrap used (while still maintaining recommended asepsis protocols), using biodegradable paper cups and paper high-volume-evacuation tips (as opposed to plastic), and dispensing patient self-care products without plastic bags. Dental teams can consider innovative approaches, such as recycling not only paper products and similar waste, but also masks and gloves.
Paper lab coats can be replaced with laundered ones. Although laundering garments consumes energy and water, it has less of an environmental impact than discarding paper lab coats.11 In addition, the use of reusable utility gloves during operatory cleanup and instrument processing not only minimizes occupational exposure to sharps, chemicals, and pathogens, it also reduces the number of exams gloves that are thrown away.12 In support of eco-friendly dental practice, offices can also invest in organic scrubs and biodegradable nitrile gloves, and place recycling bins near trash receptacles in treatment and reprocessing areas.
By purchasing supplies in bulk, dental teams can reduce packaging and shipping waste. Moreover, offices should consider implementing inventory control measures to eliminate discarding products that are past their expiration date. Measures to reduce paper waste include asking to be removed from junk mail lists, and sending appointment reminders in a digital and paperless manner. Lastly, by implementing electronic health records, offices can transition to a paperless system, thereby reducing paper usage.
HAZARDOUS AND CHEMICAL WASTE
The tenets of green dentistry also call for eliminating or reducing hazardous and chemical waste, and managing and disposing it in an environmentally responsible fashion.13 The American Dental Association (ADA) encourages dental teams to follow best practices for amalgam waste handling and disposal.14 A study funded by the ADA found that dental offices contributed more than 50% (6.5 tons of 12.3 tons) of mercury entering wastewater through publicly owned treatment works.15 In July 2017, the US Environmental Protection Agency (EPA) established a final rule on the installation of amalgam separators: most dental offices are required to install amalgam separators by July 14, 2020.14
Furthermore, the transition from traditional radiographs to digital imaging has reduced the use of chemicals associated with developing film.16 In all cases, dental teams should give due consideration to appropriate disposal of chemicals, radiograph film packets, and lead aprons.
Recommendations set forth by the Organization for Safety, Asepsis and Prevention (OSAP) can also be followed in an environmentally friendly manner.9,11 For example, switching to biodegradable disinfectants with organic compounds is a significant step toward green dentistry.11 According to OSAP, "Products advertised as 'biodegradable' should be scientifically certified to do just that."9 The Eco-Dentistry Association suggests the use of intermediate-level disinfectants that are enzyme-free, biodegradable, and free of volatile organic compounds.9
REDUCING ELECTRICITY AND WATER CONSUMPTION
The ADA notes that being proactive starts with adapting green habits and policies.17 Dental teams can begin by installing energy-efficient devices, switching to green products, conserving energy and resources, reusing and recycling, and providing appropriate patient education.17 To conserve energy and resources, dental teams should complete an office energy audit and create an energy management plan. Practices and clinics can also conserve electricity by using LED lights, which reduce energy consumption by 70%.13
Simply powering off electronic devices—such as cameras, televisions, computer monitors, and printers—at the end of the day saves energy. Offices can also invest in motion sensors that turn off lighting when the room is unoccupied. Using Energy Star-rated appliances is another way to conserve energy. Energy Star is a system used by the EPA and US Department of Energy to rate the efficiency of products.2,18 Installing a waterless vacuum system can save hundreds of gallons of water per day.19 The use of low-flow faucets and toilets is another alternative to save water.
TRANSITIONING TO REUSABLE ITEMS
According to the Eco-Dentistry Association, by switching to reusable items, a dental office can reduce the number of disposables by several thousand items each year.20 One example would be choosing US Food and Drug Administration-approved reusable sterilization pouches.11 The Eco-Dentistry Association estimates that "by switching to reusables, a sole practitioner can divert as much as 4,680 paper and plastic autoclave bags annually."20 Another option is to replace paper and plastic autoclave bags with compostable bags, which are made from corn, potato, and soy starches and are completely biodegradable.5 In addition, dental offices and clinics can recycle old or unwanted dental instruments. Some manufacturers have programs that offer financial incentives. When possible, dental teams should consider replacing disposable care items with reusable products, including face shields, air/water syringes, and impression trays. Plastic high- and slow-speed suction tips can be replaced with stainless steel alternatives.
TRENDING NOW
Numerous innovative approaches are on the forefront as we advance toward sustainability. The University of Michigan is reportedly the first dental clinic to implement a glove recycling program, with the goal of waste reduction and sustainability.21 Dental facilities could partner with recycling companies and dental manufacturers to recycle a number of dental items, such as worn dental instruments, masks and plastic barriers. Recently, a school in Long Island, New York, was given a new playground built from recycled toothpaste and toothbrushes.
GREENER SELF-CARE OPTIONS
Patients who are environmentally conscious may appreciate suggestions about ways they can reduce their environmental impact. For example, besides traditional toothbrushes, patients can choose biodegradable bamboo toothbrushes and floss picks, as well as products made from #5 recycled plastics. Another recommendation is to use tubeless toothpaste tablets. Patients might also consider recycling toothbrushes and electric toothbrush heads, and using biodegradable dental floss with a refillable glass holder. It is important to advise patients not to flush dental floss, as it can entangle with other debris, such as hair or baby wipes, and cause serious clogs in the sewer system.22
BARRIERS TO GREEN DENTISTRY
Although research is limited on the environmental impact of eco-friendly products, the development and creation of green dental products and technology offer hope for the future. While the cost of implementing greener initiatives may be a prohibitive for some practices, a financial return from making sustainable changes may be seen in time.23
In addition to cost constraints, lack of state and federal regulation means environmental accountability is largely on a voluntary basis. Introducing environmental standards would create a more centralized approach to environmental protection. At present, there is limited literature on the assessment of sustainability measures and quantification in social sustainability supply chains.24 More research is needed to assess the sustainability of eco-friendly measures, and the environmental impact of dental practice.19
Clinicians would be more inclined to adopt eco-friendly methods when strong support exists from professional associations and key opinion leaders.1 The United Nations 2030 Agenda for Sustainable Development incorporates oral health goals related to sustainability.19 Dental teams can collectively work to take a lead role in establishing sustainable practices.19
CONCLUSION
In simplest terms, green dentistry is an eco-friendly approach that is kinder to the planet and creates a caring environment for patients.25 By being at the forefront of sustainable practice, oral health professionals can make small changes that, cumulatively, positively impact the environment. One example would be implementing infection control procedures that consider the local ecosystem while still adhering to established asepsis guidelines. Everyone, including oral health professionals, can take steps to conserve energy and reduce greenhouses gases, while also minimizing water usage and landfill waste.
Together, these measures can contribute to more sustainable resources and a healthier environment. At the same time, practicing green dentistry helps dental offices provide social value to the local community1 and a brighter future for present and future generations.
REFERENCES
Mulimani P. Green dentistry: the art and science of sustainable practice. Br Dent J. 2017;222:954–961.
Environmental Protection Agency. Learn About Sustainability. Available at: epa.gov/​sustainability/​learn-about-sustainability#what. Accessed February 7, 2020.
University of California Los Angeles. Sustainability. Available at: https:/​/​www. sustain.ucla.edu/​. Accessed February 7, 2020.
Penz E, Polsa P. How Do Companies Reduce Their Carbon Footprint and How Do They Communicate These Measures to Stakeholders. J Cleaner Prod. 2018;195:1125–1138.
Sitterson K, Sitterson J. Single use plastics in dentistry: What you need to know about chemical product labeling and safety data sheets. Dent Assist. 2017:14.
Eco-Dentistry Association. Dental Office Waste. Available at: ecodentistry.org/​green-dental-Accessed February 7, 2020.
U.S. Centers for Disease Control and Prevention. Infection Prevention & Control Guidelines and Recommendations. Available at: cdc.gov/​oralhealth/​infectioncontrol/​guidelines/​index.htm. Accessed February 7, 2020.
Rastogi V, Sharma R, Yadav L, Satpute P, Sharma V. Green dentistry, a metamorphosis towards an eco-friendly dentistry: a short communication. J Clin Diag Res. 2014;8:ZM01–ZM2.
Occupational Safety and Asepsis Procedures, 2010. Available at: cdn.ymaws.com/​www.osap.org/​resource/​resmgr/​Symposium_​2010/​GreenInfControl.pdf. Accessed February 7, 2020.
Passi S, Bhalla S. Go green dentistry. J Educ Ethics Dent. 2012;2:10–12.
Willette AE. The greening of the dental practice: Start with infection procedures to reduce waste. The Dental Assistant. 2019;1:12–13.
Occupational Safety and Health Administration. Personal Protective Equipment. Available at: osha.gov/​Publications/​osha3151.pdf. Accessed February 7, 2020.
Rathakrishnan M, Priyadarhini A. Green dentistry: the future. J Int Clin Dent Res Org. 2017;9:59–61.
American Dental Association. Amalgam Separators and Waste Best Management. Available at: ada.org/​en/​member-center/​oral-health-topics/​amalgam-separators. Accessed February 7, 2020.
American Dental Association. Summary of Recent Study of Dental Amalgam in Wastewater. Available at: ada.org/​~/​media/​ADA/​Member%20Center/​FIles/​topics_​amalgamwaste_​summary.pdf?la=en. Accessed February 7, 2020.
American Dental Association. Statement from Gary L. Roberts, DDS, President, Dental amalgam regulation. Available at: ada.org/​en/​press-room/​news-releases/​2017-archives/​june/​statement-from-gary-roberts-epa-regulation-on-dental-amalgam. Accessed February 7, 2020.
American Dental Association. 80 Ways to Make Your Dental Practice Green. Available at: success.ada.org /​en/​practice-management/​office-design/​80-ways-to-make-your-dental-practice-green. Accessed February 7, 2020.
Energy Efficeincy & Renewable Energy. Available at: energy.gov/​ eere/​buildings/​energy-star. Accessed February 7, 2020.
FDI World Dental Federation. Sustainability in Dentistry. Available at: fdiworlddental.org/​resources/​ policy-statements-and-resolutions/​ sustainability-in-dentistry. Accessed February 7, 2020.
Farahani A, Suchak M. Eco-Friendly Dentistry: The Environmentally-Responsible Dental Practice. University of Waterloo. Available at: https:/​/​ecodentistry.org/​wp-content/​uploads/​2014/​12/​eco-friendly_​dentistry_​jcda.pdf. Accessed February 7, 2020.
Goddard, MC, Pavlik S, Kamodia S, et al. Greening the Dental Clinic. Available at: sustainability.umich.edu/​media/​files/​dow/​Sustainable_​Dentistry_​Dow-Masters-2016.pdf. Accessed February 7, 2020.
Environmental Protection Agency. How to Care for Your Septic System. Available at: epa.gov/​septic/​how-care-your-septic-system. Accessed February 7, 2020.
Al-Qarni MA. Awareness of eco-friendly dentistry among dental faculty and students of King Khalid University, Saudi Arabia. J Clin Diag Res. 2016;10:75–78.
Popovic T, Kraslawski A, Barbosa-Póvoa A, Carvalho A. Quantitative indicators for social sustainability assessment of society and product responsibility aspects in supply chains. J Int Studies. 2017;10:9–36.
Damle S. Eco-friendly green dentistry: the future of dentistry? Contemp Clin Dent. 2016;7:423.
From Dimensions of Dental Hygiene. March 2020;18(3):40–43.