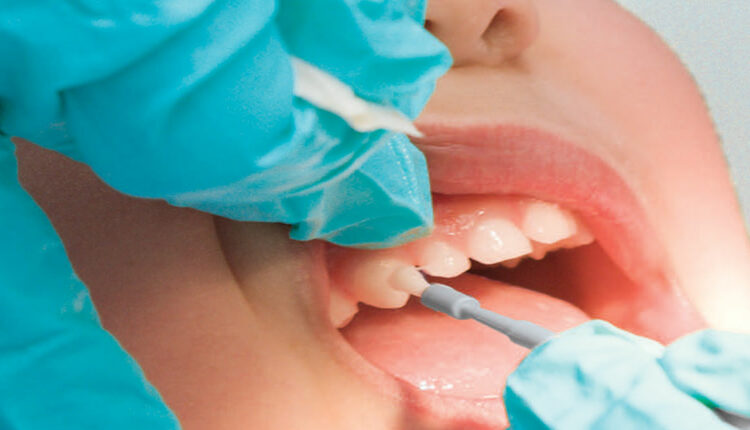 NFSPHOTO/ISTOCK/GETTY IMAGES PLUS
Reducing Caries Risk With Topical Fluoride
A variety of options are available to support clinicians in their efforts to reduce the prevalence of tooth decay.
Topical application of fluoride—which is available in gels, varnishes, and liquids—is the most effective way to use fluoride in the prevention of dental caries.1,2 To determine a patient's most appropriate fluoride regimen, a caries risk assessment must be performed. Patient compliance is also an important factor when determining the form and frequency of fluoride treatment. Fluoride usage can play a significant role in dental caries management; therefore, oral health professionals need to understand the different treatment options available.
IN-OFFICE GEL
Professional fluoride gels, available in 1.23% concentration of acidulated phosphate fluoride (APF) and 2% concentration of neutral sodium fluoride, are applied with a tray.3,4 Fluoride gels are generally applied for 4 minutes, and they are effective in reducing caries in children's permanent teeth. After fluoride gel application, patients are instructed to delay eating and drinking for 30 minutes.4,5
The American Dental Association (ADA) Council on Scientific Affairs recommends the use of 1.23% APF gel for patients older than 6 at least every 3 months to 6 months to prevent caries.6,7
FLUORIDE VARNISH
Fluoride varnishes are available in sodium fluoride and difluorsilane preparations in various viscosities.3,4 They are brushed on with a tacky consistency that allows them to adhere to the tooth surface, providing more time for fluoride uptake into the enamel. After fluoride varnish application, patients can eat and drink but should avoid hot foods and beverages for 4 hours.8 Additionally, they should abstain from brushing their teeth the same day of varnish application.
The ADA Council on Scientific Affairs recommends the use of 2.26% fluoride varnish for patients younger than 6, and 2.26% fluoride varnish for patients age 6 and older at least every 3 months to 6 months.6,7
LIQUID SILVER DIAMINE FLUORIDE
Silver diamine fluoride (SDF) is the newest addition to the caries armamentarium, and it is used to arrest and prevent caries lesions.9 SDF combines silver, ammonia, fluoride, and water into a clear liquid that is applied topically.4 It was approved for the treatment of dentinal hypersensitivity by the United States Food and Drug Administration (FDA) in 2014.10 However, in 2016, the FDA granted SDF a designation of "breakthrough therapy" for its use in the treatment of caries lesions.11 In 2017, the American Academy of Pediatric Dentistry recommended the use of 38% SDF for "children and adolescents, including those with special healthcare needs."12 The ADA recommends the use of SDF to reverse or arrest noncavitated caries lesions.13
Application Method. Informed consent is the first step before applying SDF because it stains carious tooth structure and soft tissues.8 Patients and parents/​caregivers also need to know that a temporary metallic taste is often experienced post-application.3,7,8 Contact with gingival tissue may result in minor irritation and/​or a whitish lesion at the gingival margin, both of which disappear within a day or two. Applying petroleum jelly around the gingival margin carefully without touching the lesion before the procedure may prevent irritation.14 However, keeping petroleum jelly off of the lesion may be challenging if the patient closes his or her mouth during the application.
Applying SDF is quick and easy. Once the clinician has determined that SDF is the best course of action and informed consent has been obtained, debris from around the treatment area must be removed. The area must also be isolated and gently dried. A single drop of SDF should be placed in a disposable dappen dish and applied with a microbrush. This amount should treat up to five lesions (Figure 1).10 After waiting 1 minute to 3 minutes for SDF's mechanism of action to take place, the remaining liquid is soaked up using a cotton roll or 2×2 gauze.9 The patient can return to eating and drinking immediately following completion of the procedure.12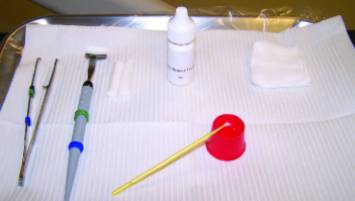 If SDF contacts the skin, it can create a temporary staining that lasts up to 14 days. SDF permanently stains clothes, equipment, and other surfaces after contact.12 To avoid staining surfaces in the dental operatory, the clinician should directly dispose of the plastic dappen dish, microbrush, cotton rolls/​gauze, and gloves immediately after application. A good technique is to gather all disposable items in one gloved hand upon completion of the application procedure, and then pull the gloves off and over those items, encapsulating them in the gloves for easy disposal (Figure 2).
Efficacy. Studies indicate that SDF arrests more than 75% of caries when applied every 6 months.9,15,16 Applying SDF annually has been shown to be more effective in preventing caries in children than the application of fluoride varnish four times per year.9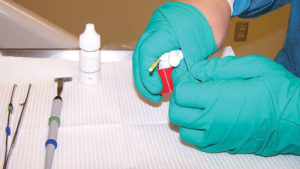 Results of a 3-year study on SDF in children found that professional application of SDF every 6 months significantly impacted the arrest of caries on primary teeth and the prevention of new caries development in first permanent molars.15 Studies also demonstrate the effectiveness of annual SDF application in eliminating root caries.17–19 SDF can be used to irrigate the root canal during endodontic treatment and effectively remove bacteria from the canal and pulpal dentin.17
CONCLUSION
Oral health professionals have an array of choices when preventing and treating caries, with fluoride remaining the gold standard in caries prevention. The use of SDF is gaining popularity with its ease of application and effectiveness; however, it is not without drawbacks, such as staining. Dental professionals and patients alike should understand the benefits and risks of all fluoride options before making a decision.
REFERENCES
American Dental Association. Fluoride Facts. Available at: ada.org/en/public-programs/advocating-for-the-public/fluoride-and-fluoridation/. Accessed May 22, 2020.
Kanduti D, Sterbenk P, Artnik B. Fluoride: a review of use and effects on health. Mater Sociomed

. 2016;28:133–137.

American Dental Association. Fluoride: Topical and Systemic Supplements. Available at: ada.o/​g/​en/​member-center/​oral-health-topics/​fluoride-topical-and-systemic-supplements. Accessed May 22, 2020.
United States Centers for Disease Control and Prevention. Recommendations for using fluoride to prevent and control dental caries in the United States. MMWR Recomm Rep

. 2001;50(RR14):1-42.

American Dental Association. Fluoride treatments in the dental office. J Am Dent Assoc

. 2007;38:420.

Weyant RJ, Tracy SL, Anselmo TT, et al. Topical fluoride for caries prevention: executive summary of the updated clinical recommendations and supporting systematic review. J Am Dent Assoc

. 2013;144:1279–1291.

Calleros C, Lee LM. Reduce caries risk with topical fluoride. Dimensions of Dental Hygiene

. 2019;17(4):18–21.

Regen A, Dalal M. Fluoride varnish in the dental practice. J Mass Dent Soc.

2016;65:30–32.

Featherstone J, Horst J. A fresh approach to caries arrest in adults. Decisions in Dentistry

. Available at:

 

decisionsindentistry.com/​article/​fresh-approach-to-caries-arrest-in-adults/​. Accessed May 22, 2020.

Horst J, Ellenikiotis H, Milgrom P. UCSF protocol for caries arrest using silver diamine fluoride: rationale, indications, and consent. J Calif Dent Assoc

. 2016;44:16–28.

Breakthrough therapy designation for silver diamine fluoride granted by FDA. Decisions in Dentistry

. Available at: decisionsindentistry.com/​2016/​11/​3715/​. Assessed May 22, 2020.

Crystal YO, Marghalani AA, Ureles SD, et al. Use of silver diamine fluoride for dental caries management in children and adolescents, including those with special health care needs. Pediatr Dent

. 2017;39:E135–E145.

Slayton RL, Urquhart O, Araujo MWB, et al. Evidence-based clinical practice guideline on nonrestorative treatments for carious lesions: a report from the American Dental Association. J Am Dent Assoc.

2018;149:837–849.

Fung M, Wong M, Lo E, Chu C. Arresting early childhood caries with silver diamine fluoride-a literature review. J Oral Hyg Health.

2013;1:117.

Llodra J, Rodriguez A, Ferrer B, MenadrdiaV, Ramos T, Morato M. Efficacy of silver diamine fluoride for caries reduction in primary teeth and first permanent molars of schoolchildren: 36-month clinical trial. J Dent Res.

2005;84:721–724.

Zhi QH, Lo ECM, Lin HC. Randomized clinical trial on effectiveness of silver diamine fluoride and glass ionomer in arresting dentine caries in preschool children. J Dent.

2012;40:962–967.

Shah S, Bhaskar V, Venkatraghavan K, Choudhary P, Ganesh M, Trivedi K. Silver diamine fluoride: a review and current applications. Available at: joaor.org/​printarticle.html?ArticleCode=656OTg=. Accessed May 22, 2020.
Tan HP, Lo EC, Dyson JE et al. A randomized trial on root caries prevention in elders. J Dent Res

. 2010;89:1086–1090.

Zhang W, McGrath C, Lo EC, Li JY. Silver diamine fluoride and education to prevent and arrest root caries among community dwelling elders. Caries Res

. 2013;47:284–290.
From Dimensions of Dental Hygiene. June 2020;18(6):22-23.