Micro-Touch Denta-Glove Examination Gloves from Ansell
Gloves designed for dental professionals.
Ansell is focused on delivering examination gloves that provide improved dexterity, ergonomics, and overall hand health. As such, the company recently launched its MICRO-TOUCH® DENTA-GLOVE®, the first series of examination gloves developed specifically for the needs of dental professionals.
KEY BENEFITS
Better grip and dexterity for working in small, sensitive spaces.
Designed using ERGOFORM Ergonomic Design Technology, which reduces muscle effort for long procedures and decreases the cumulative effect of wearing examination gloves all day.
Tested for biocompatibility in order to ensure that Ansell products are safe for both clinicians and patients.
Available in green neoprene and blue nitrile; both formulations are powder-free and feature finger-textured grips.
Ansell products aim to deliver with the lowest amount of residues and odors to ensure the best possible patient experience.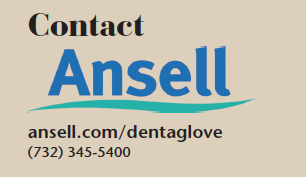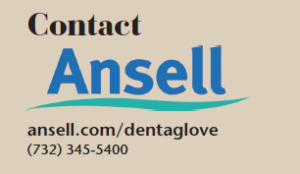 From Dimensions of Dental Hygiene. May 2017;15(5):59.