December 2014 Marketplace
A listing of featured products.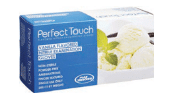 VANILLA-FLAVORED NITRILE EXAM GLOVES
Plak Smacker, Algonquin, Illinois, introduces Perfect Touch® Vanilla Flavored Nitrile Exam Gloves. These unique gloves, which deliver a burst of vanilla flavor to enhance patient experience, are medical-grade, powder-free, and ambidextrous. The fully textured design provides superior tactility and grip, making it easier to handle dental equipment and maneuver in the mouth. The gloves, packaged in 100- or 200-count boxes, are offered in sizes extra-small to large. (800) 558-6684; plaksmacker.com.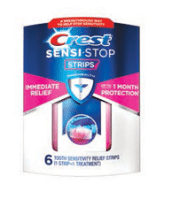 SENSITIVITY STRIPS
Procter & Gamble, Cincinnati, offers Crest® SENSI-STOP™ Strips—an easy-to-use and quick fix for pain related to tooth sensitivity. This small, flexible, transparent strip is designed to relieve tooth sensitivity caused by cold or hot stimuli, toothbrushing, gingival recession, or exposed dentinal and dentin tubules. Crest SENSI-STOP Strips incorporate advanced oxalate crystal technology—which treats sensitivity by sealing tubule openings. Users simply apply the strip to the sensitive area for approximately 10 minutes. Once removed, the affected area should experience protection from sensitivity pain for up to 30 days. (800) 543-2577; dentalcare.com/getsensitivityrelief.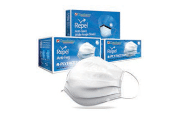 COMFORTABLE AND EFFECTIVE FACE MASKS
Cranberry USA, Pinole, California, presents its Repel® 4-Ply Face Masks. With its exclusive Quad-Fold™ design, Repel masks offer excellent breathing volume. The mask's CoolSilk™ lint-free inner layer provides a cool and long-lasting soft feeling without irritation. Repel 4-Ply Face Masks, which are 100% latex and fiberglass-free, feature a full-length noseguard to ensure secure and comfortable protection. The masks provide ASTM Level 3 protection and are available in three designs to meet every clinical need. (888) 811-6839; cranberryusa.com.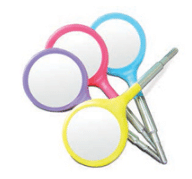 ANTI-FOG SOLUTION FOR MIRRORED INSTRUMENTS
Zirc Dental Products Inc, Buffalo, Minnesota, has released a solution for fog frustration with its Mirror Magic™ Anti-Fog System. Designed to eliminate the vapor on mirrored hand instruments, this unique system comprises a disposable, self-adhesive Swipe Pad and anti-fog solution. Just apply the sticky side of the Swipe Pad to the back of a gloved hand or patient bib, add a few drops of Mirror Magic solution, and then gently swipe the mirror over the pad prior to each procedure. The Mirror Magic Anti-Fog System may also be used to remove debris from the instrument during treatment and eliminates fuzz residue experienced when using cotton 2-inch by 2-inch squares.
(800) 328-3899; zirc.com.
PLAQUE-FIGHTING SYSTEM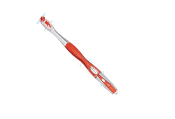 Quantum Labs, Minneapolis, Minnesota, recently launched the PlaquePRO™—a dual-care plaque-fighting solution. PlaquePRO is an all-in-one toothbrush and interdental cleaner designed for patients who do not floss. The built-in interdental cleaner provides a silent reminder that brushing should be accompanied by interdental plaque removal each day. The system includes two interdental brushes—one for tight spaces, the other for wide spaces. Interdental brush refills are available for
purchase in convenient 10-packs. (888) 443-6549; quantumlabs.com.
MULTIFACETED GEL AND TOOTHPASTE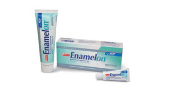 Premier Dental Products Co, Plymouth Meeting, Pennsylvania, has debuted its Enamelon® Preventive Treatment Gel and Toothpaste. Designed to prevent caries and gingivitis and treat dentinal hypersensitivity, these home-care products provide a safe and effective alternative to 5,000 ppm fluoride toothpaste and remineralizing pastes. Featuring a unique nonabrasive formula composed of stannous fluoride, calcium, and phosphate, Enamelon is designed to relieve pain associated with dentinal hypersensitivity, while providing significant fluoride uptake and promoting remineralization. (888) 670-6100;
premusa.com.
REMINERALIZING PROPHY PASTE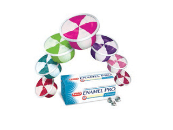 Premier Dental Products Co, Plymouth Meeting, Pennsylvania, makes Enamel Pro Prophy Paste, which contains amorphous calcium phosphate, a remineralizing technology. Gluten-free and available in multiple grits and seven patient-friendly flavors, Enamel Pro removes tough stains and polishes quickly—and without
unwanted spatter. (888) 670-6100; premusa.com.
FACE MASK FEATURES SECURE FIT TECHNOLOGY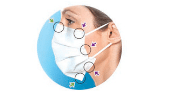 Crosstex International, Hauppauge, New York, offers Secure Fit® Technology Face Masks. Secure Fit masks are designed to provide up to three times more protection than standard earloop face masks. Features, such as aluminum nose and chin pieces, create a custom fit for every user, regardless of face size or shape—ensuring superior protection, eliminating gapping, and delivering optimal comfort. The American-made masks are available for purchase in 13 models and three filtration levels, including ASTM levels 1, 2, or 3. Free samples are available. (888) 276-7783; crosstex.com.
CLEAR FLUORIDE VARNISH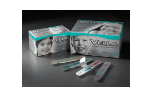 Preventech, Indian Trail, North Carolina, has announced the launch of its new clear Vella 5% sodium fluoride varnish with xylitol. Delivering improved esthetics and smooth, easy application, this clear, thin-layer application system sets quickly when it comes in contact with saliva. Its smooth, mess-free formula encourages patient compliance, while also delivering high fluoride uptake and relieving pain associated with dentinal hypersensitivity. Vella is available in four patient-pleasing flavors, including strawberry, spearmint, melon, and bubble gum. (800) 474-8681; preventech.com.
ULTRA-THIN NITRILE GLOVES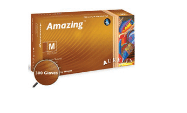 Aurelia Gloves, a Division of Supermax Healthcare Inc, Aurora, Illinois, proudly presents Aurelia® Amazing™ Nitrile Exam Gloves, the company's thinnest nitrile gloves to date. They are light, flexible, and easily conform to the user's hands, providing clinicians with maximum comfort. Made with textured fingers for a precise and strong grip, the gloves deliver high tactile sensitivity and also feature Aurelia Gloves Zero-Touch technology—which uses 100% machine-packed gloves to provide wrinkle-free and hassle-free dispensing to eliminate human contact and prevent cross-contamination. (877) AURELIA; aureliagloves.com.
SENSOR HOLDER BITEBLOCKS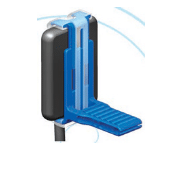 DENTSPLY Rinn, York, Pennsylvania, announces the launch of additional biteblocks and a kit configuration to its popular universal sensor holder line
XCP®-DS FIT®—an autoclavable holder that uses a self-adjusting clip to accommodate all brands and sizes of digital sensors. The product's new biteblocks include a thin anterior version, easing placement of larger sensors and a size #0 periapical holder. The kit includes XCP color-coded arms and rings, which simplify assembly. (800) 323-0970; rinncorp.com.
PASTE-FREE PROPHYLAXIS CUPS

Sunstar Americas Inc, Chicago, has debuted its new Butler Prophyciency™ Prophy Angle with ButlerBloom Contouring Cup. This prophy angle incorporates both polishing and stain-removing agents in the cup—eliminating the need for prophy paste. The patent-pending technology features a flexible, flower-shaped cup that adjusts to all tooth surfaces for a superior clean. Removal of prophy paste from prophylaxis improves operator visibility and virtually eliminates spatter. In addition, Prophyciency Prophy Angles decrease the need for patients to rinse, which quickens clean-up time and reduces mess. They are available in two models—Clean & Polish and Polish. (800) 528-8537; prophyciency.com.
DISPOSABLE PROPHY ANGLE

Preventech, Indian Trail, North Carolina, recently introduced its Pivot®NL Contra Disposable Prophy Angle, which combines the ergonomic and cleaning benefits of a 15° contra bend with high performance. Due to its ergonomic design, PivotNL Contras offer greater reach, access, visibility, and comfort. The American-made cups are available in firm or soft and fit all slow-speed, straight-nose cone-style handpieces. PivotNL Contra Disposable Prophy Angles run smooth and operate free of chatter. Free samples are available. (800) 474-8681; preventech.com.
INTERNAL FLOW ULTRASONIC INSERT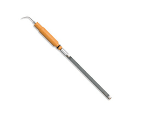 Premier Dental Products Co, Plymouth Meeting, Pennsylvania, offers a complete line of internal flow ultrasonic inserts featuring resin handles to complement the ergonomic Big Easy® line. The inserts come in universal, triple bend, or thin-tip designs. Premier resin handle inserts offer exceptional value and are 100% made in the United States. The inserts are compatible with most magnetostrictive handpieces. (888) 670-6100; premusa.com.
PERSONALIZED ORAL CARE KITS

Tess Oral Health, Eau Claire, Wisconsin, has announced its Dental Health Month Oral Care Kits to promote good oral hygiene and dental practices at a special value. Each kit includes a personalized toothbrush of the practice's choice, 15 m of floss or children's flossers, and a travel cap in a personalized kit bag. (800) 762-1765; tessoralhealth.com.
HANDHELD AIR POLISHING DEVICE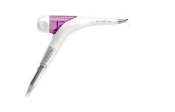 Hu-Friedy Manufacturing Co LLC, Chicago, is the exclusive distributor of the Hu-Friedy EMS AIR-FLOW family of air polishing products, including the AIR-FLOW Handy 3.0 Perio. This lightweight, portable air polishing unit allows clinicians to efficiently, safely, and comfortably perform air polishing treatments in any operatory. Featuring a slim handpiece that is easy to grip and rotate and a powder chamber that provides optimal visibility in the patient's mouth, the AIR-FLOW Handy 3.0 Perio connects to any dental unit for a simple, convenient subgingival air polishing experience. (800) HU-FRIEDY; hufriedy.com/hf-ems.
GLOVES WITH WET-GRIP TECHNOLOGY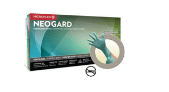 Microflex, Reno, Nevada, offers Neogard Exam Gloves, which provide a firm grasp for an excellent grip in both wet and dry conditions. Due to their chloroprene formulation, Neogard Exam Gloves also provide stretchy, soft comfort, while delivering the ultimate in tactile sensitivity and strength. Nonsterile, ambidextrous, and latex-free, the gloves feature textured fingers and a beaded cuff for ultimate protection. In addition, Neogard gloves are polymer-coated for easy donning—even on damp hands. The gloves are available for purchase in a 100-glove count box, size extra-small to extra-large. (877) 750-6115; microflex.com.
IMPLANT MAINTENANCE KIT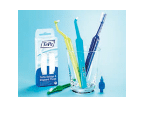 TePe Oral Health Care Inc, Anaheim, California, has introduced an implant maintenance kit for self-care. Adequate oral hygiene is critical for patients with implants, so TePe, in collaboration with the dental community, created its implant maintenance kit, which contains several different types of brushes designed to help patients easily and effectively clean difficult-to-reach areas. (888) 644-8373; tepeusa.com.
AIR-WATER SYRINGE TIPS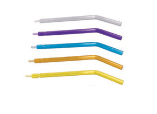 Crosstex International, Hauppauge, New York, introduces its Sparkle® Disposable Air Water Syringe Tips—the latest addition to the company's Patient's Choice® treatment accessories line. These disposable air-water syringe tips provide the following benefits: a four-part Quad Core air channel that keeps water and air flow separate; the ability to connect directly to any handpiece without the need for an adapter; and dual beveled edges to improve patient comfort and prevent O-ring instrument damage. The single-use plastic tips are durable and can be recycled. Free samples are available. (888) 276-7783;
crosstex.com.
BONE GRAFTING SYSTEM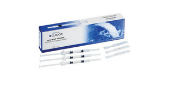 Sunstar Americas Inc, Chicago, has announced the newest extension to its guided bone regeneration portfolio—the GUIDOR® easy-graft® CLASSIC Alloplastic Bone Grafting System. Designed with technology that enables the material to be syringed directly into a bone defect, GUIDOR easy-graft hardens into a stable, porous scaffold in minutes—eliminating the need for a dental membrane in many cases. Cleared for a wide range of indications, GUIDOR easy-graft is suited for socket preservation after tooth extraction and implant packing. The product is sold in a range of sizes; each unit contains three single-use applications. (877) 484-3671; guidor.com.
TOOTHBRUSH WITH BLUETOOTH TECHNOLOGY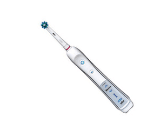 Procter & Gamble, Cincinnati, has made real-time feedback possible for patients with the Oral-B® Pro 5000 SmartSeries Power Toothbrush. The brush delivers communication between the brush and the user's smartphone. Toothbrush owners can download the free Oral-B app to receive helpful tips that will help them focus on brushing vital areas of the mouth, provide motivation to brush the recommended 2 minutes, deliver feedback when brushing is too hard, and track progress over time. (800) 543-2577; dentalcare.com.
XYLITOL-INFUSED PROPHY PASTE

Preventech, Indian Trail, North Carolina, manufactures MAXmin® Prophy Paste with NuFluor®. This proprietary formulation features fluoride, calcium, and phosphate chemistry designed specifically for prophy paste. Sweetened with xylitol, a naturally occurring "tooth-friendly" sweetener, MAXmin maximizes cleaning while minimizing splatter and cost. In addition to being tough on stains, this prophy paste flash rinses to a clean finish. Available in medium and coarse grits, MAXmin is available in patient-friendly mint, cherry, bubble gum, and Orange Vanilla flavors. Free samples are available. (800) 474-8681; preventech.com.
PROPHY LINE ADDS PRODUCTS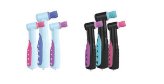 Kerr TotalCare, Anaheim, California, has added new offerings to its popular PerfectPearl™ line. These contra prophylaxis angles provide exceptional interproximal access, while the lip of the latex-free cup delivers a nice flare for optimal subgingival cleaning. The spiral grooves on the inside of the patented cup design hold the prophy paste and push it toward the tooth as the prophy angle rotates, reducing spatter. The comprehensive line now includes disposable prophy angles in the midnight series and an updated classic series, as well as a new brush. (855) 845-4061; kerrtotalcare.com.
---
From Dimensions of Dental Hygiene. December 2014;12(12):68–71.