January 2019 Marketplace for Dental Hygienists
A listing of featured products.
3D INTRAORAL SCANNER
Video Dental Concepts, Ormond Beach, Florida, now offers the QuickScan iOS, a three-dimensional (3D) intraoral scanner for use in dental and orthodontic offices. The state-of-the-art QuickScan iOS allows for a full, radiation-free diagnostic scan of the inside of a patient's mouth, and produces highly detailed digital images. The scanner is designed to eliminate the need for impression goop, while providing high-end 3000 fps video and generating digital images more quickly than with an impression. 800-323-2690; videodental.com.
SPRAY OFFERS XEROSTOMIA RELIEF
3M, St. Paul, Minnesota, has released new Xerostomia Relief Spray, which moistens and lubricates mucosa. This lipid-based spray provides patients with prescription-strength relief of xerostomia symptoms for up to 4 hours per use. Use of Xerostomia Relief Spray showed an improvement in dry mouth symptoms in 92% of clinical study participants, according to 3M. The spray is ready to use without any premixing or preparation requirements. New Xerostomia Relief Spray is available only by prescription. 888-364-3577; 3m.com/xerostomia.
SAFETY EYEWEAR
Three new styles of safety eyewear have been added to the ProVision line offered by Palmero Healthcare, Stratford, Connecticut. Designed to fit pediatric patients, the ProVision Rainbow features a scratch resistant, 100% polycarbonate gray tinted lens that is said to have a calming effect on young patients by reducing the glare of harsh operatory lights. The ProVision Econo features a lightweight frame with tilting arms to ensure a contoured fit, as well as a firm nose pad and soft, rubberized temple tips. The ProVision Econowrap Mini Bonding eyewear offers an orange polycarbonate lens for maximum protection to prevent ocular damage, while blocking blue light rays between 385 nm and 500 nm. 800-344-6424; palmerohealth.com.
INTRAORAL CAMERA
Planmeca, Roselle, Illinois, offers a new intraoral camera, Planmeca Somia. Dental professionals will appreciate the ease at which the light and slender Somia can access all areas of the mouth. The clinician will have his/her hands free to position the camera, as freezing and saving images can be done via foot control. Planmeca Somia can be mounted on the dental instrument console and images can be saved to the patient database in Planmeca Romexis. 800-537-6070; planmeca.com.
HANDS-FREE SUCTION
Zirc, Buffalo, Minnesota, introduces Pink Petal. By placing on the buccal side, the one-time-use Pink Petal holds the saliva ejector in the back corner of the patient's mouth without obstructing the clinician's view. Pink Petal slides easily into the saliva ejector, providing continuous, comfortable hands-free suction with no additional attachments required. The Pink Petal is sold 50 to a pack. 800-328-3899; zirc.com.
DENTAL 3D PRINTER
VOCO, Indian Land, South Carolina, has added the SolFlex 170's compact desktop dental three-dimensional (3D) printer to its line of product offerings. SolFlex 170 features sensor-monitored production that measures the peeling forces to optimize the building speed. The printer's use of 385 nm digital light processing chip technology means the printer can print in the invisible spectrum of light, allowing for the production of truly clear orthodontic appliances without the yellow tint. SolFlex 170's use of VOCO's patented Flex-Vat technology enables the printer to work more quickly, while reducing the number of required support structures and post-processing time and material used. 888-658-2584; vocoamerica.com
DENTAL OFFICE COMMUNICATION SYSTEM
Comlite Systems, Alpharetta, Georgia, has introduced its new light-signaling software. This system uses light buttons and multiple chime tones to represent people, tasks, and locations to provide a real-time view of staff and patient activity throughout the office. The system's interface offers texting capabilities to stations throughout the dental office. Advanced timing functions with analytic reporting are also included in this customizable communication system, which works on any Windows product. 800-426-5271; comliteinfo.com.
HEADREST FOR PATIENT COMFORT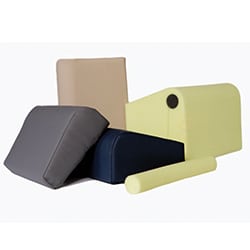 MediPosture, Little Falls, Minnesota, introduces its ICORE dental headrest series. Equipped with memory foam and ICORE support technology, these headrests help clinicians protect themselves from musculoskeletal injuries by allowing them to accurately set patient head positioning, while helping patients feel comfortable at the same time. The headrest is fully customizable and includes two ICORE support technology foam support rods that can be interchanged to deliver extra soft or more controlled neck support. The ICORE dental headrests fasten to the chair with a strong elastic strap that is adjustable and secured with a locking clamp. The headrests are available in black, beige, gray, and navy. 888-499-8709; mediposture.com.
NEW TOOTHPASTE
Colgate®, New York, is excited to introduce the next generation of Colgate Total®, New Colgate TotalSF. Offering comprehensive benefits for the whole mouth, the toothpaste's new stannous fluoride formula stabilized with zinc phosphate addresses all indications of the original Colgate Total® including plaque, gingivitis, caries, stain removal/whitening, and calculus; and provides additional new benefits, including sensitivity relief, enhanced enamel strength, and odor neutralization. 800-226-5428; colgateprofessional.com.
WATERLINE FILTER
Hu-Friedy, Chicago, has added a waterline filter to its line of infection prevention solutions. This ready-to-use cartridge is suitable for municipal waterlines and independent water reservoirs, providing accurate dosing to inhibit microbial contamination for up to 1 year. The waterline filter is registered by the United States Environmental Protection Agency in all 50 states as a microbial agent for use in dental unit waterlines attached to dynamic dental instruments. This product also reduces contamination and odor-causing bacteria to 200 CFU/mL or less. 800-483-7433; hu-friedy.com.
DIGITAL RADIOLOGY UNIT
Owandy Radiology's, Middlebury, Connecticut, three-dimensional panoramic digital radiography unit, I-Max 3D, has received United States Food and Drug Administration 501(k) clearance. The unit comes with a cone-beam flat panel, which delivers high-definition image quality, and its Automatic Layers Integration System ensures exceptional image quality and automatically selects the best images. The sleek and lightweight I-Max 3D can be easily wall-mounted by one technician, offers multiple fields of view, and is computer-aided design and computer-aided manufacturing ready. 203-745-0575; owandy.com.
NEW FRAME OFFERINGS
Orascoptic, Middleton, Wisconsin, has added the new ErgoEdge frame to its product portfolio. Clinicians are able to fine-tune their loupe declination angle to achieve their preferences and ergonomic posture thanks to the through-the-lens frame and comfort-tilt technology. ErgoEdge offers a stylish sports frame equipped with a set of adjustable features, including an adjustable nose pad and a head strap that clips directly into the tips of the temple arms, resulting in a more secure fit. 800-369-3698; orascoptic.com.
From Dimensions of Dental Hygiene. January 2019;17(1):44–45.