Industry Info
CE explores effects of head and neck radiation therapy.
CE Explores Effects of Head and Neck Radiation Therapy
Head and neck cancer is a common type of cancer in the United States, with nearly 50,000 new cases diagnosed annually. The most frequently indicated treatment for this type of cancer is radiation therapy, which exerts significant negative effects on oral health. As such, oral health professionals need to be prepared to effectively mitigate these oral side effects in this patient population. The continuing education article, "Oral Health Effects of Head and Neck Radiation," sponsored by Colgate and created in partnership with the American Academy of Periodontology, by Andrea Ravida, DDS, MS, and Fernando Suárez López del Amo, DDS, MS, provides an in-depth discussion of radiation therapy's oral side effects and strategies to mitigate these risks, including the need for interprofessional collaboration.
OHA Releases Report on Oral Health Among Older Adults
Oral Health America (OHA)—a Chicago-based nonprofit organization dedicated to changing lives by connecting communities with resources to drive access to care, increase health literacy, and advocate for policies that improve overall health through better oral health for all Americans, especially those most vulnerable—released a national report on the oral health of older adults in the United States.
The publication, A State of Decay Volume IV, is a follow-up to a survey taken in 2016. The findings indicate that some advancements have been made in ensuring that older adults maintain their oral health, while other results demonstrate a variety of problems that remain. Some of the key findings are:
One-third (33%) of older adults have lost six or more teeth.

CHESIIRECAT/ISTOCK/GETTY IMAGES PLUS

Twenty-five states received a poor overall score based on six key performance measures.
Minnesota, Wisconsin, Iowa, Connecticut, and Colorado all earned an "Excellent" score. Iowa and California made big improvements, jumping from 23 and 30, respectively, in 2016 to three and nine in 2018.
The states with the lowest overall scores are Wyoming, Delaware, West Virginia, New Jersey, Arkansas, Texas, Oklahoma, Louisiana, Tennessee, and Mississippi.
Community water fluoridation increased from a state average of 71.9% in 2016 to 72.6% in 2018, a national increase of about 2.2 million people.
Medicaid coverage of oral health benefits increased. Delaware and South Dakota provided no benefits in 2016 but added some of the 13 services measured in this 2018 survey.
More state oral health officials are including older adults in state oral health plans and administering basic screening surveys that include seniors.
To read the report in its entirety, visit: oralhealthamerica.org/astateofdecay.
Arizona Diamondbacks Receive Oral Cancer Screenings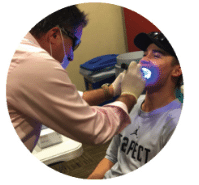 Professional baseball players are well known for their historic use of spit tobacco, which raises the risk of oral cancer. While efforts have been made to decrease players' use of smokeless tobacco, it remains a health issue in Major League Baseball. Forward Science, a Houston-based biotechnology company, has partnered with the Arizona Diamondbacks baseball team to provide oral cancer screenings for the entire organization. While undergoing their traditional health screenings at the start of spring training, the players received an OralID™ test to screen for oral cancer. The test uses a fluorescent light to catch oral cancer lesions before they are viewable by the naked eye. OralID does not require disposables, rinses, or dyes, enabling screenings to be portable and affordable for both patients and oral health professionals.
Urgent Dental Clinic Opens in North Carolina
The first clinic dedicated solely to urgent dental care needs opened in Wilmington, North Carolina, in late March. The clinic, ASAP Urgent Dental Care, is staffed by licensed dentists and oral health professionals and is open 7 days a week from 8 am to 8 pm. Designed to provide comprehensive emergency dental and oral procedures that are unavailable in emergency departments and urgent care clinics, ASAP can provide assessment, diagnosis, and treatment of urgent dental and oral emergencies. It is a fee-for-service provider and payment is due at the time services are provided.
---
From Dimensions of Dental Hygiene. May 2018;16(5):15.