Vermont Opens the Door To Dental Therapists
New legislation paves the way for improving access to care in this state through the introduction of a new provider model.
Over the past few years, talk of a "new" dental workforce provider—the dental therapist—has been widespread. In reality, these providers are not new. Dental therapists have been practicing in countries other than the United States since 1921, and they are now successfully employed in more than 50 countries, including the US.1 The documented access-to-oral-health-care crisis is clearly visible in this country and, unfortunately, trends in Vermont reflect this. In 2012, approximately one out of every six Vermonters went without dental care. This population is composed mostly of children covered by Medicaid, older adults, and low-income families.2 In 2013, the Vermont Department of Health3 reported:
48% of Vermont dentists were 55 or older
Only 12 pediatric dentists were practicing in the state
36% of Vermont dentists accepted five or more new Medicaid patients per month.
As the Institute of Medicine report "Improving Access to Oral Health Care for Vulnerable and Underserved Populations" explains, the current dental delivery system is broken and states should explore all avenues to expand access to care, including amending state practice laws to enable new providers.4
HISTORY OF THE LEGISLATION TO INTRODUCE THE DENTAL THERAPIST IN VERMONT
In 2010, the nonprofit organization Voices for Vermont's Children was given grant assistance and guidance by the Kellogg Foundation with the goal of increasing access to oral health care in the state. One of the Kellogg Foundation's proposed solutions was the creation and implementation of a dental therapy provider. Within months of receiving the grant, a coalition of more than 40 diverse groups—the Vermont Oral Health Care for All Coalition—came together to support the proposed dental workforce provider. The Vermont State Dental Society chose to actively
oppose it.
In 2011, with support from Vermont House leaders, the first dental therapist bill (House Bill 398) was introduced. From 2011 through 2015, the legislation underwent several changes, moved to the Senate (Senate Bill 20), acquired more support, and was heard several times by multiple committees. Eventually, in April 2015, the legislation (S. 20) passed the Senate by an 18-8 vote. Along the way, local and national media coverage further exposed the access-to-oral health-care crisis, and interest in the dental therapist provider model in particular increased. Additionally, the Vermont Oral Health Care for All Coalition was able to recruit several Vermont dentists who were willing to testify in favor of the proposed workforce provider. These supporters made a world of difference as the process moved forward.
KEY COMPONENTS OF THE VERMONT DENTAL THERAPIST LEGISLATION
Dental hygienists understand that the key to breaking the cycle of dental disease is education, prevention, and the ability to access routine dental care. While some dental therapist models are dental hygiene based in the US and other countries, others are not. As a member of the Vermont Oral Health Care for All Coalition, the Vermont Dental Hygienists' Association (VDHA) played a central role in planning for the Vermont dental therapist model. In initial discussions, the VDHA was a strong advocate for a dental hygiene-based dental therapist model. By building solid relationships with other coalition members, the VDHA was able to accomplish this goal.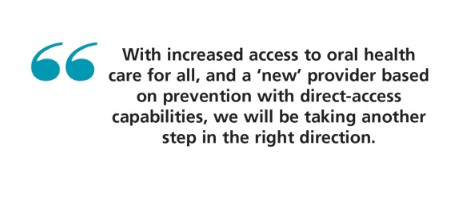 Another important aspect of the Vermont legislation was that the provider be able to work in rural and community settings without the direct oversight of a dentist. This means that the dental therapist must work under general supervision. Without this important caveat, access to much needed dental care for Vermonters would not have been improved. Although general supervision was written in legislation from the beginning, in 2015, some Senate committee members hearing testimony indicated they would be more comfortable passing the legislation if the provider worked only under direct supervision. In order to get a favorable vote from this particular committee, the coalition chose to agree to this request. The goal was to change the wording back to general supervision further down the road and, due to strong support from the sponsors of the bill, this goal was achieved. By the time legislation went for a final vote in the Senate, the provider was back to the originally suggested model of a dental hygiene-based dental therapist working under general supervision, where it remained.
THE 2016 LEGISLATIVE SESSION AND THE END RESULT OF THE VERMONT DENTAL THERAPIST
The Vermont legislative session runs from January through April. As has been the case since 2010, the summer and fall months of each year are used to network and prepare for the upcoming legislative session, and last year was no exception. Because S. 20 passed the Vermont Senate in 2015, the House Committee on Human Services took up the bill in January 2016. Three days of testimony were completed before S. 20 was tabled due to other bills needing immediate action. Hearings on S. 20 resumed in mid-March. After a favorable vote in Human Services, the bill moved to the House Committee on Government Operations, where it was approved and finally moved to the House Committee of Ways and Means where it was passed again. After hearing testimony, both of those committees voted in favor of S. 20, clearing the way for a final vote on the House floor. It was an exciting day when the House voted 109-32 in favor of legislation to create a new dental workforce provider in Vermont: the dental therapist. The bill is expected to be signed into law by Governor Peter Shumlin.
DENTAL THERAPY EDUCATION
Faculty members from the Department of Dental Hygiene at Vermont Technical College (VTC) in Williston created a dental therapist curriculum that exceeds the Commission on Dental Accreditation's recently implemented Accreditation Standards for Dental Therapy Education.5 The program will be housed at VTC and implemented by dentists and dental hygiene faculty in the school's state-of-the-art clinic and classrooms. When the first class of dental therapists begin practicing under general supervision, they will have as much or more clinical experience providing restorative care as dental school graduates.
It's time for a change in the way Vermonters—and the nation—perceive oral health. Evidence shows that dental therapists are an effective and safe way to provide dental care to people in rural communities, children covered by Medicaid, and low-income populations.6-10 With increased access to oral health care for all and a "new" provider based on prevention with direct-access capabilities, we will be taking another step in the right direction.
References
Kellogg Foundation. A Review of the Global Literature on Dental Therapists. Available at:wkkf.org/news-and-media/article/2012/04/nash-report-is-evidence-that-dental-therapists-expandaccess.Accessed May 13, 2016.
Voices for Vermont's Children. Dental Therapists Are Right for Vermont. Available at:vtoralhealthforall.org. Accessed May 13, 2016.
Vermont Department of Health. 2013 Dentist Census. Available at: healthvermont.gov/research/HlthCarePrvSrvys/documents/DDS13ppt.pdf. Accessed May 13, 2016.
Institute of Medicine. Improving Access to Oral Health Care for Vulnerable and UnderservedPopulations. Washington, DC: National Academies Press; 2011.
Commission on Dental Accreditation. Accreditation Standards for Dental Therapy EducationPrograms. Available at: ada.org/~/media/CODA/Files/dt.ashx. Accessed May 13, 2016.
Freeman R, Lush C, MacGillveray S, Themessl-Huber M, Richards D. Dental therapists/hygienistsworking in remote-rural primary care: a structured review of effectiveness, efficiency, sustainability,acceptability and affordability. Int Dent J. 2013;63:103–112.
Bader JD, Lee JY, Shugars DA, Burrus BB, Wetterhall S. Clinical technical performance of dentaltherapists in Alaska. J Am Dent Assoc. 2011;142:322–326.
Matthiesen A. Economic feasibility of alternative practitioners for provision of dental care to theunderserved. J Calif Dent Assoc. 2012;40:49–64.
Dunker A, Krofah E, Isasi F. The role of dental hygienists in providing access to oral care. Availableat: nga.org/files/live/sites/NGA/files/pdf/2014/1401DentalHealthCare.pdf. Accessed May 13, 2016.
American Dental Hygienists' Association. The benefits of dental hygiene-based oral healthprovider models. Available at: ncsl.org/documents/summit/summit2013/onlineresources/
ADHA_handout.pdf. Accessed May 13, 2016.
---
From Dimensions of Dental Hygiene. June 2016;14(06):16,18–19.