Improving the Oral Health Of Children Across the Globe
The American Academy of Pediatric Dentistry is emphasizing the importance of the dental home, the age 1 dental visit, and utilization of pediatric dental care services in the united states and abroad
The American Academy of Pediatric Dentistry is emphasizing the importance of the dental home, the age 1 dental visit, and utilization of pediatric dental care services in the united states and abroad. In the 2015-2016 edition of the American Academy of Pediatric Dentistry Reference Manual, the dental home is defined as "the ongoing relationship between the dentist and the patient, inclusive of all aspects of oral health care delivered in a comprehensive, continuously accessible, coordinated, and family-centered way.  The dental home should be established no later than 12 months of age and includes referral to dental specialists when appropriate." This concept is the centerpiece of effective oral health care delivery to pediatric patients. Ensuring that children visit a dentist by age 1 is another important conversation that will lead to improved children's oral health. The American Academy of Pediatric Dentistry (AAPD) and the American Academy of Pediatrics have been recommending the age 1 dental visit for more than 12 years. This emphasis has led to the training of pediatric dental residents in infant oral health care and educating pediatricians in the application of fluoride varnish and other dental concepts. Research shows that early intervention/education has the potential to prevent more serious and costly disease—specifically early childhood caries.1,2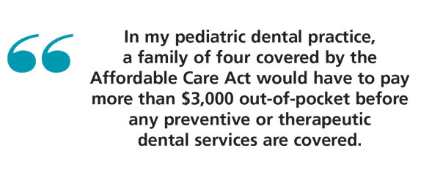 While dental caries is the most common chronic childhood disease, it is preventable. Unfortunately, the disease is on the rise in low-income and minority populations.3,4 Identifying the disconnect that keeps caries prevalence high among children is imperative to affecting change. Part of the problem may be resistance to adopting the dental home concept. Most children receive their first dental visit at age 3 or 4. In Europe, the recommended age for the first dental visit can be as high as 8. According to the World Health Organization, some parts of Europe have caries prevalence rates that are double those in the US.5
For children who do not receive early professional oral health care, the consequences can be dire. The population of children younger than 5 with decay severe enough to require sedation or general anesthesia before treatment is rising.6,7 As such, the best time to educate parents/caregivers about caries prevention is within a year of primary teeth eruption. At this time, oral health professionals can focus on educating parents/caregivers on oral hygiene instruction and feeding practices to prevent early childhood caries.
Education programs for expectant parents about the importance of the age 1 dental visit and infant oral health care programs designed to educate parents/caregivers about oral health in maternity wards need to be expanded. More opportunities for collaboration between medical and dental colleagues who serve pediatric populations would also be beneficial. Oral health professionals need to remain dedicated to educating colleagues about dental health, furthering oral health efforts through legislation, and reaching out to communities in order to create the reality of a cavity-free generation.
ACCESS TO CARE VS UTILIZATION
Maintaining an ongoing relationship between dentist and patient is another important factor in reducing caries prevalence. It is particularly relevant to the debate regarding access to care vs utilization. The current Affordable Care Act (ACA) stipulates pediatric dentistry as an essential benefit, meaning, in theory, that it must be included in offered policies. The reality, however, is different. If the pediatric dental benefit is embedded in the health insurance policy, the average family has to meet the full medical deductible before any pediatric dental services are reimbursed. For example, in my pediatric dental practice, a family of four covered by the ACA would have to pay more than $3,000 out-of-pocket before any preventive or therapeutic dental services are covered. This is access to care in theory, but not in practice. The AAPD has been lobbying on Capitol Hill to ensure pediatric dentistry becomes a stand-alone policy benefit, keeping the provision of preventive and therapeutic and oral health services separate from the deductible requirement.
COLLABORATION AND COORDINATION
The final issue that needs to be addressed is the concept of coordination. This implies more than scheduling, confirming, and ensuring the family shows up for appointments. The spectrum of pediatric medical and dental care is more closely connected because pediatric oral health professionals are treating more children with special needs. The incidence of autism spectrum disorder is reported to be one in 88 births, which means more children with special needs will be seeking care in traditional dental practices. 8 Treating these patients with compassion and empathy requires a multidisciplinary approach. In many cases, these patients are under the care of four or five health care providers, each of whom must understand the other's unique treatment considerations. The same applies to other conditions that are managed interprofessionally, as well as pediatric patients whose needs exceed what can be provided in pediatric dental practices, but whose cooperation levels do not. As these scenarios become more common, communication and coordination with colleagues will need to become more integral to both medical and dental practice.
GLOBAL APPROACH
The fundamental concept of the dental home is not just a domestic concern, it also has international implications. The AAPD is determined to expand the reach of the dental home message and will present the idea at the October 2016 Royal College of Surgeons of Ireland meeting in Dublin. The AAPD is unified in its mission of helping children across the globe achieve optimal oral health. For more information on the dental home and other pediatric dental topics, visit: mychildrensteeth.org.
References
Savage MF, Lee JY, Kotch JB, Vann WF Jr. Early preventive dental visits: effects on subsequentutilization and costs. Pediatrics. 2004;114;418–423.
Allareddy V, Nalliah RP, Haque M, Johnson H, Tech SRB, Lee MK. Hospital-based emergencydepartment visits with dental conditions among children in the United States: nationwideepidemiological data. Pediatr Dent. 2014;36:393–399.
Vargas CM, Crall JJ, Schneider DA. Sociodemographic distribution of pediatric dental caries:NHANES III, 1988–1994. J Am Dent Assoc. 1998;129:1229–1238.
Tinanoff N, Reisine S. Update on early childhood caries since the Surgeon General's Report.Academic Pediatr. 2009;9:396–403.
World Health Organization, Oral Health Information Systems. Available at:who.int/oral_health/ action/information/surveillance/en. Accessed January 5, 2016.
White HR, Lee JY, Rozier RG. The Effects of general anesthesia legislation on operating roomvisits by preschool children undergoing dental treatment. Pediatr Dent. 2008;30:70 –75.
American Academy of Pediatric Dentistry. Policy on early childhood caries (ECC): uniquechallenges and treatment options. Pediatr Dent. 2015;37:53–55.
Centers for Disease Control and Prevention. Autism Spectrum Disorder: Key Findings:Prevalence and Characteristics of ASD Among 4-Year-Old Children. Available at:cdc.gov/ncbddd/ autism/features/characteristics.html. Accessed January 5, 2016.
---
From Dimensions of Dental Hygiene. February 2016;14(02):14–15.