New Career Opportunity
A recent change in eligibility requirements enables dental hygienists to become certified diabetes educators.
Dental hygienists have long recognized the special oral health needs of patients with diabetes. Research demonstrates that patients with diabetes are at greater risk for prevalence, progression, and severity of periodontal diseases, depending on their level of blood glucose control.1 Periodontal infections may lead to insulin resistance and difficulty in maintaining appropriate blood glucose levels.1,2 Additionally, poor wound healing, decreased resistance to infections, recurrent infections, candidiasis, xerostomia, burning mouth, and dental caries are often experienced by individuals with diabetes.
The dental literature, however, is inconclusive regarding the effects of periodontal treatment on blood glucose control. A recent landmark study, the Diabetes and Periodontal Therapy Trial, which included 257 participants, determined that nonsurgical periodontal therapy did not improve blood glucose levels in patients with type 2 diabetes who experienced moderate to advanced chronic periodontitis.3 Chapple et al,1 however, reported that several randomized controlled trials consistently demonstrated that scaling and root planing reduced blood glucose levels at 3 months post-therapy. Additional studies, with larger subject groups and extended follow-up, are necessary to determine whether periodontal therapy improves blood glucose control.
IMPORTANT ROLE OF ORAL HEALTH CLINICIANS
Due to the relationship between diabetes and oral health, dental professionals have always played an important role in diabetes management. Dental examinations provided by oral health professionals uncover many signs and symptoms linked with diabetes. The completion of a comprehensive medical history and intraoral/extraoral and periodontal examinations provides critical clues to patients' diabetes status.
The dental management of patients with diabetes, especially those whose blood glucose values are uncontrolled (greater than 200 mg/dL on three separate occasions),4 requires additional care and extensive education provided by dental hygienists. Conversations with patients who have prediabetes, diabetes, and those at high risk should include:
Connection of diabetes to oral health
Impact of periodontal diseases and other oral infections onmaintaining appropriate blood glucose control
Increased risk of periodontal diseases and associated tooth loss
Optimal oral preventive care
Prompt treatment of oral health problems before they progress inseverity
Eating modifications based on dental needs that comply withpatients' current meal plans or referral to their health care provider
Benefit of regular recare appointments to monitor periodontal health
Instruction on conducting an oral self-exams to detect dentalconditions common among patients with diabetes
Referral for those who have not been diagnosed with diabetes,but present oral signs and symptoms or are at elevated risk
Obtaining additional training in diabetes management provides dental hygienists with a better understanding of the constellation of metabolic abnormalities, so they can be more effective in helping patients maintain both their oral and systemic health. This training also increases the value that dental hygienists bring to the health care team.
BECOME A CERTIFIED DIABETES EDUCATOR
Previously, dental hygienists were not eligible to become certified diabetes educators (CDEs), while nurses, occupational therapists, physical therapists, dietitians, and other allied health professionals were eligible. Fortunately, dental hygienists and other oral health professionals are now permitted to undergo the educational process and take the licensing examination to earn the CDE designation.
The National Certification Board for Diabetes Educators (NCBDE) defines a CDE as "a health professional who possesses comprehensive knowledge of and experience in prediabetes, diabetes prevention, and management. The CDE educates and supports people affected by diabetes to understand and manage the condition. A CDE promotes self-management to achieve individualized behavioral and treatment goals that optimize health outcomes."5
Today, there are 17,870 CDEs in the United States employed in settings such as hospitals, physician offices, clinics, home health, and wellness programs.5 As a registered dietitian, I was able to become a CDE 15 years ago. Since then, I have used my diabetes expertise as a dental hygienist and dental hygiene educator in countless situations. I currently work as a CDE in a hospital-based setting.
New this year, dental professionals with master's degrees can submit a unique qualifications pathway application to become a CDE. This decision arose from the need for additional CDEs due to the growing number of individuals diagnosed with prediabetes or diabetes. The application is available at: ncbde.org/assets/1/7/UQPathwayAppCanonsPacket092513fillableFinal.pdf.

The requirements established by NCBDE to obtain and maintain the CDE credential for any health professional are demanding (Table 1). The professional practice experience requires 2,000 documented hours of direct diabetes self-management education. The NCBDE defines direct diabetes self-management education as "involving the person with prediabetes or diabetes and/or the caregivers and the educator(s) and is defined as the ongoing process of facilitating the knowledge, skill, and ability necessary for self-care."5
The hours of direct diabetes self-management education include assessment of diabetes, development of a dental hygiene plan, providing education related to diabetes and oral health, follow-up evaluations and documentation, and program development and administration. The following activities are NOT eligible as direct diabetes self-management education:
Instructing, demonstrating, or providing a service not associated with diabetes management, such as placing a sealant
General medical and dental assessment, diagnosis, or treatment(eg, performing a dental prophylaxis)
Providing continuing education courses to health care professionals
Activities in professional organizations
Having diabetes or caring for a family member with diabetes
In order to be completely clear on what type of activities are eligible, contact the NCBDE with specific questions.
A minimum of 30 hours of continuing education in diabetes by an NCBDE-approved provider, such as the American Association of Diabetes Educators and American Diabetes Association, is needed. These hours can be obtained through online or face-to-face continuing education programs, but they do not include activities such as poster sessions, academic coursework, or articles or presentations by the candidate. Two recommendations, one of which must be completed by a CDE, are to accompany the application. Once these requirements have been approved, the candidate will be invited to schedule an appointment to take the Certification Examination for Diabetes Educators. The examination is offered twice a year at a specific testing agency designated by NCBDE.
Because of the rigor of obtaining the CDE certification, reaching out to other dental professionals who are working toward the same goal may be helpful. Communicating and forming study and support groups; finding others through social media; forming a special practice group through the local, state, or national dental hygiene association; or joining the mentor program established through NCBDE are all helpful in achieving the goal of becoming a CDE.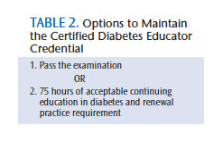 Upon successful completion of the examination, dental professionals will received the CDE credential for 5 years. Renewal of the certification is required every 5 years in order to remain current in diabetes information. This is achieved in two ways (Table 2). One is to prepare for and pass the examination. The second avenue is to obtain 75 hours of acceptable continuing education in diabetes and meet the renewal practice requirement. Documentation of 1,000 hours of professional practice experience in diabetes self-management over the 5 years is required. This equates to about 4 hours per week. More detail on activities that meet the practice requirement can be found here.
The NCBDE recognizes the qualifications, contributions, and value various health professionals, including dental hygienists, bring to diabetes education. Dental professionals can now equally join their health care colleagues in pursuit of an improved quality of life for patients with diabetes.
REFERENCES
Chapple IL, Genco R, working group 2 of the joint EFP/AAP workshop.Diabetes and periodontal diseases: Consensus report of the Joint EFP/AAPWorkshop on periodontitis and systemic diseases. J Clin Periodontol

. 2013;40(Suppl 14):S106–S112.

Borgnakke WS, Ylöstalo PV, Taylor GW, Genco RJ. Effect of periodontal disease on diabetes: Systematic review of epidemiologic observational evidence. J Periodontol. 2013;84(Suppl 4):S135–S152.
Engebretson SP, Hyman LG, Michalowicz BS, et al. The effect of nonsurgical periodontal therapy on hemoglobin A1c levels in persons with type 2 diabetes and chronic periodontitis: A randomized clinical trial. JAMA. 2013;310:2523–2532.
American Diabetes Association. Standards of medical care in diabetes—2014.Diabetes Care. 2014;37(Suppl 1):S14–S80.
National Certification Board for Diabetes Educators. What Is a CDE? Availableat: ncbde.org/living-with-diabetes/whatisacde. Accessed August 21, 2014.
The Ask the Expert column features answers to your most pressing clinical questions provided by Dimensions of Dental Hygiene's online panel of key opinion leaders, including: Jacqueline J. Freudenthal, RDH, MHE, on anesthesia; Nancy K. Mann, RDH, MSEd, on cultural competency; Claudia Turcotte, CDA, RDH, MSDH, MSOSH, on ergonomics; Van B. Haywood, DMD, and Erin S. Boyleston, RDH, MS, on esthetic dentistry; Michele Carr, RDH, MA, and Rachel Kearney, RDH, MS, on ethics and risk management; Durinda Mattana, RDH, MS, on fluoride use; Kandis V. Garland, RDH, MS, on infection control; Mary Kaye Scaramucci, RDH, MS, on instrument sharpening; Stacy A. Matsuda, RDH, BS, MS, on instrumentation; Karen Davis, RDH, BSDH, on insurance coding; Cynthia Stegeman, EdD, RDH, RD, LD, CDE, on nutrition; Olga A.C. Ibsen, RDH, MS, on oral pathology; Jessica Y. Lee, DDS, MPH, PhD, on pediatric dentistry; Bryan J. Frantz, DMD, MS, and Timothy J. Hempton, DDS, on periodontal therapy; Ann Eshenaur Spolarich, RDH, PhD, on pharmacology; and Caren M. Barnes, RDH, MS, on polishing. Log on to dimensionsofdentalhygiene.com/asktheexpert to submit your question.
From Dimensions of Dental Hygiene. September 2014;11(9):20.