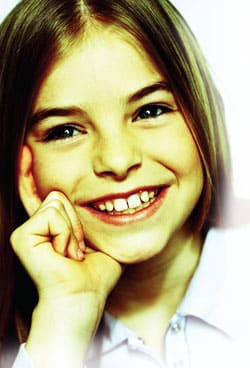 Going Off Label
Although not approved by the FDA specifically for caries prevention, when used appropriately fluoride varnish is an effective and safe therapy in reducing caries.
Fluoride varnish has become an alternative to other forms of professionally applied fluoride therapy in recent years. 1 Although the use of fluoride varnish as a professionally applied preventive agent is gaining further acceptance, 2,3 its use as a caries preventive agent remains off-label. 4
Topically applied fluoride varnishes usually consist of sodium fluoride in a resin carrier and are used primarily as a caries prevention therapy for pediatric and high-risk caries patients. Although fluoride varnish has only recently become available in the United States, it has been widely used in Western Europe, Canada, and Scandinavia>since the 1980s. 5-7
A large number of studies, mostly done outside of the United States, have shown that fluoride varnishes are safe and effective in preventing or reducing caries. 8-12 Fluoride varnishes are approved by the Food and Drug Administration (FDA) for use only as cavity liners and for treating hypersensitive tooth structure.13 Their off-label use as caries prevention agents, however, is not contraindicated when used by dental professionals who understand the literature supporting their clinical use.14-16
INSTRUCTIONS FOR USE
It is generally recommended that teeth be cleaned prior to placing the fluoride varnish, but at least one study showed that cleaning the teeth prior to placing the varnish is not required.17 In very young children, a toothbrush prophy is indicated because very young children typically present with only soft deposits that are easily removable with a toothbrush. Using a toothbrush to carry out the prophy also allows the clinician to demonstrate proper technique while actually cleaning the teeth.
The teeth should be dried with gauze (Figure 1) or a cotton roll to remove moisture, but they do not need to be thoroughly dried because the varnish sets in contact with moisture. Move around the mouth in a systematic fashion to allow sequential drying followed by varnish application on a segment-by-segment basis. In other words, if starting with the maxillary right segment, use a 2×2 gauze to dry the surfaces in the segment, followed by careful application of the fluoride varnish (Figure 2). Repeat this procedure in the other five segments of the mouth (Figures 3 and 4). Most varnish products come in a unit dose version with a brush to apply the varnish.
Some manufacturers recommend that the treated teeth remain isolated for a period of time after varnish application. The patient is advised not to drink hot liquids or alcohol or eat crunchy foods for a period of time following treatment (typically from 45 minutes to 4 hours) and to forgo brushing that evening. Were commend advising the patient/parent to only skip the next brushing in order to reinforce the necessity of the patient's/parent's home care regimen in the maintenance of overall oral health.
Patients should be advised before treatment that some varnishes can impart a slight discoloration to the teeth. The discoloration is temporary and is removed by the first brushing. Some perceptible color change may also occur on the surface of tooth-colored restorations, although this effect is reversible and usually disappears within a day or so with typical oral hygiene. Several manufacturers are working on a more patient acceptable tooth-colored fluoride varnish product for patients who may be otherwise reluctant to go home with the temporary yellowish-orangish color on their teeth.
The taste of fluoride varnish is another issue. Varnishes contain naturally occurring resins and retain the taste of tree resin in most cases. Flavored resins can mask much of the resin taste by super imposition of other flavors, however, the resin taste may prevail and the patient should be warned of this. Most patients accept the taste of the varnish when presented with the benefit of the fluoride application. Several manufacturers have recently introduced additional masking flavors, such as bubblegum, and are using non-cariogenic sweeteners like xylitol.
APPLICATION FREQUENCY
Biannual applications of fluoride varnishes are usually recommended, although, some clinicians advise treatment every 3 months. Frequency of application is based on the history of usage of other forms of professionally applied fluoride and from the results of studies conducted in Europe. A frequency of application regimen has not been determined in all cases. Differing frequencies of application might be advised in the future based on the caries risk of the patient. For example, high-risk patients may undergo a more frequent regimen of fluoride varnish application. Included in such high-risk groups are: toddlers at high risk of early childhood caries, senior adults at great risk of root caries, and teenagers at significant risk of smooth surface carious lesions within a short period of time due to diet.
VARNISH EFFECTIVENESS
Fluoride varnishes aid in caries prevention because their stickiness helps keep them in close contact with tooth structure for a longer time than topically-applied fluoride gels and liquids.18 In addition, because the typically used volume of fluoride varnish is less than 0.4 ml (the amount ina larger-sized unit dose, Figure 5), the total exposure of fluoride ion to the patient is often as little as a tenth of that provided during a tray delivered fluoride gel application.19 Additionally, the time required for application is less than in tray-applied fluoride gels.
Fluoride varnishes are not only here to stay but are likely to prosper in their development, variations, and, ultimately, in their prevalence. Once the caries prevention indication of fluoride varnish is studied in clinical trials, manufacturers will be able to make claims of caries prevention, increasing the use of varnishes. We surmise that other forms of fluoride varnish, including higher concentrations with greater viscosity and tenacity that are retained over longer periods of time, will be introduced in the future. This might allow lesion specific treatments, where newly developed early caries detection devices may deliver medicinal therapies to prevent small early lesions from progressing into larger cavitated lesions, reducing the need for surgical restorative interventions.
REFERENCES
Smith DM. Fluoride varnish application.   J Am Dent Assoc. 2005;136:283-284.
Castellano JB, Donly KJ. Potential remineralization of demineralized enamel after application of fluoride varnish. Am J Dent. 2004;17:462-464.
Attin T, Grieme R, Paque F, Hannig C, Buchalla W, Attin R. Enamel fluoride uptake of a novel water-based fluoride varnish. Arch Oral Biol

. 2005;50:317-322.

Oskouian, R, Domoto PK , Berg, JH. Furthering fluoride usage. Dimensions of Dental Hygiene

. 2004;2(6):18-24.

Seppa L. Fluoride varnishes in caries prevention. Med Princ Pract

. 2004;13:307-311.

Petersson LG, Twetman S, Dahlgren H, et al. Professional fluoride varnish treatment for caries control: a systematic review of clinical trials. Acta Odontol Scand

. 2004 ;62(3):170-176.

Hausen H. Benefits of topical fluorides firmly established. Evid Based Dent

. 2004;5(2):36-37.

Hawkins R, Noble J, Locker D, et al. A comparison of the costs and patient acceptability of professionally applied topical fluoride foam and varnish. J Public Health Dent

. 2004;64:106-110.

Dohnke-Hohrmann S, Zimmer S. Change in caries prevalence after implementation of a fluoride varnish program. J Public Health Dent

. 2004;64:96-100.

Marinho VC, Higgins JP, Sheiham A, Logan S. Combinations of topical fluoride (toothpastes, mouthrinses, gels, varnishes)versus single topical fluoride for preventing dental caries in children and adolescents. Cochrane Database Syst Rev.

2004;1:CD002781.

Weintraub JA. Fluoride varnish for caries prevention: comparisons with other preventive agents and recommendations for a community-based protocol. Spec Care Dentist

. 2003;23(5):180-186.

Jacobsen P, Young D. The use of topical fluoride to prevent or reverse dental caries. Spec Care Dentist

. 2003;23:177-179.

Gaffar A. Treating hypersensitivity with fluoride varnish. Compend Contin Educ Dent

. 1999;20:27-33.

Donly KJ. Fluoride varnishes. J

Calif Dent Assoc. 2003;31:217-219.

Scheifele E, Studen-Pavlovich D, Markovic N. Practitioner's guide to fluoride. Dent Clin North Am

. 2002;46:831-846.

Ramos-Gomez F, Jue B, Bonta CY. Implementing an infant oral care program. J

Calif Dent Assoc. 2002;30:752-761.

Hawkins R, Locker D, Noble J, Kay EJ. Prevention. Part 7: professionally applied topical fluorides for caries prevention. Br Dent J

. 2003 Sep 27;195:313-317.

Marinho VC, Higgins JP, Logan S, Sheiham A. Fluoride varnishes for preventing dental caries in children and adolescents. Cochrane Database Syst Rev

. 2002;(3):CD002279.

Seppa L. Efficacy and safety of fluoride varnishes. Compend Contin Educ Dent

. 1999;20:18-26.
From Dimensions of Dental Hygiene. June 2005;3(6):28, 30.