Healing Those Who Need It Most
Dental hygiene and dentistry are filled with remarkable clinicians who are doing amazing things.
Dental hygiene and dentistry are filled with remarkable clinicians who are doing amazing things. I had the good fortune to meet Steven P. Perlman, DDS, MScD, DHL (Hon), in 1994 when he spoke at the American Dental Hygienists' Association Annual Session about providing oral health services to individuals with intellectual disabilities. He had just started the Special Olympics Special Smiles (SOSS) program to facilitate care to this underserved patient population. Everyone in the room was moved by Perlman's passion and dedication to his work. SOSS' mission is to provide education and oral health screenings to Special Olympics athletes during competitive events while also helping them access professional dental services on a regular basis. With the support of Eunice Kennedy Shriver (sister of President John F. Kennedy), SOSS rapidly grew into a global initiative and gave birth to the Special Olympics Healthy Athletes program.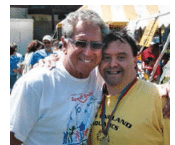 The great work that can be achieved through interprofessional collaboration was not lost on Perlman. As the current president of the American Academy of Developmental Medicine and Dentistry (AADMD), he now focuses on interdisciplinary projects to help those with neurodevelopmental disorders, such as autism, Down syndrome, cerebral palsy, and fetal alcohol syndrome. Founded in 2002, AADMD's goal is to "improve the quality of health care for individuals with neurodevelopmental disorders and intellectual disabilities." Perlman and I recently spoke about AADMD, and I detected the same level of excitement in his voice that I heard 20 years ago when I first attended his lecture about SOSS. He truly loves his work.
"The AADMD is the most remarkable organization for health professionals who are interested in the care of children and adults with intellectual disabilities. We are educators, advocates, and caring clinicians who strive to improve the quality of life for individuals with intellectual disabilities," explains Perlman. All health care practitioners can join the AADMD, and Perlman has special admiration for dental hygienists. "Dental hygienists have always been an integral part of SOSS. They serve as local coordinators, educators, and volunteers. Dental hygienists—leaders in education, prevention, and the care of patients with special health care needs—are welcome to join the AADMD," he asserts.
This year, the AADMD's annual conference will be held in conjunction with the Special Olympics 2014 games (for more information, visit aadmd.org). Scheduled for June 16 to 18 in Princeton, New Jersey, this historic meeting will be the marriage of two important advocacy groups. Perlman is thrilled to work with all health care professionals. He notes, "Physicians, dental personnel, and other allied health care providers are working together to serve this medically and dentally underserved population. Our educational programs, advocacy work, and accomplishments are absolutely fantastic." Thank you, Dr. Perlman, for looking out for those who cannot look out for themselves.
Jill Rethman, RDH, BA
Editor in Chief
[email protected]
From Dimensions of Dental Hygiene. June 2014;12(6):8.