Survey of Radiographic Imaging Practices Seeks Respondents
While guidelines on the safe practice of radiographic imaging are available, it is unclear how many oral health professionals follow these recommendations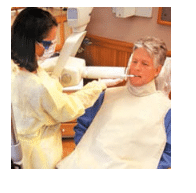 While guidelines on the safe practice of radiographic imaging are available, it is unclear how many oral health professionals follow these recommendations. To better understand common X-ray procedures used by oral health professionals and to assess compliance with the guidelines, a national survey conducted by faculty from Texas A&M University Baylor College of Dentistry in Dallas and Idaho State University in Pocatello is underway.
Clinicians who receive the survey request, which is being distributed via email with the subject line "Important National Survey on Radiographic Dental Practices," are asked to promptly complete and return the questionnaire. Responses will be used to make a general statement on the common radiographic practices used in dental practices across the United States.
From Dimensions of Dental Hygiene. May 2014;12(5):12,14.