EBM in the Age of COVID-19
We are in uncharted territory with so many aspects of COVID-19.
We are in uncharted territory with so many aspects of COVID-19. On an optimistic note, it's been impressive and unprecedented the way we've come together to protect people's health, especially those most vulnerable. It seems likely that if faced with another global health challenge, we will be much better organized and able to treat it expeditiously. As oral health professionals, we know that safety and efficacy go hand-in-hand when developing any type of preventive or treatment measures. Evidence-based medicine (EBM) is at the core of what we and our medical colleagues do (Figure 1). The COVID-19 virus has been challenging to treat and since it is novel and virulent, time is of the essence. So how do we ensure that appropriate measures based on the EBM concept are used in a time of crisis, when efficacy and efficiency are critical?
Evidence-based decision making in medicine and dentistry involves reviewing relevant research, along with two additional important concepts: using the experience of the clinician and considering the patient's desires. The definition of EBM is a"systematic approach to clinical problem-solving which allows the integration of the best available research evidence with clinical expertise and patient values."1 Yet because COVID-19 is new, relevant research regarding prevention and treatment didn't exist initially and even as we are several months into the pandemic, the high-quality studies that we crave are sparse.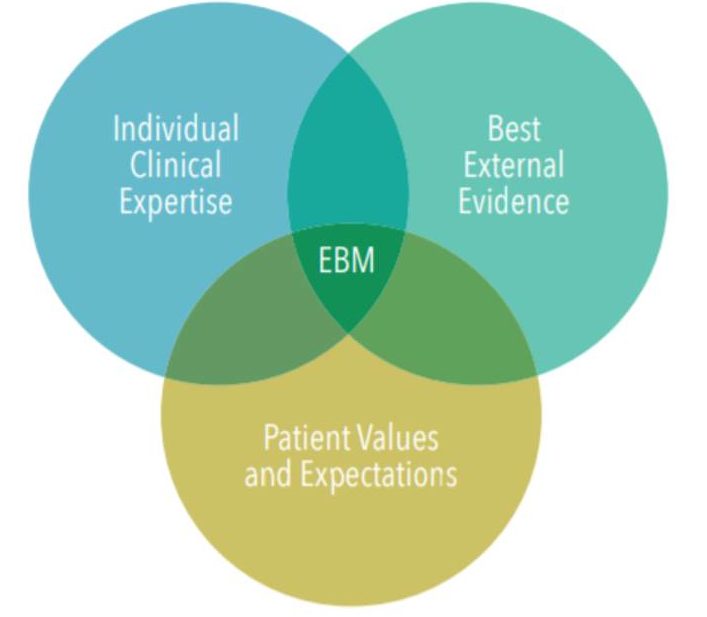 As of this writing, news reports are hopeful with the information that remdesivir has just received emergency use authorization from the United States Food and Drug Administration. A study by the National Institute of Allergies and Infectious Diseases has shown it may help those who are severely ill with COVID-19.2 Yet a study published in The Lancet refutes these findings.3  Another treatment approach using hydroxychloroquine and azithromycin has been lauded in case series and other reports.4 However, some in the scientific community hesitate to recommend use of the combination due to lack of randomized, double-blind, controlled trials showing effectiveness and safety treating patients with COVID-19. Other potential therapies, such as convalescent plasma, synthetic DNA, ultraviolet light, and monoclonal antibodies, are being investigated. Numerous research institutions in various countries are working on developing a vaccine.5 While these developments are promising for the future, medicine is forced to do its best with what is currently available.
Now, more than ever, the three concepts of EBM are key. And we are realizing how important clinical experience and patients' desires are in dealing with this pandemic.
Jill Rethman, RDH, BA
Editor in Chief
[email protected]
REFERENCES
Straus S, Glasziou P, Richardson WS, Haynes RB. Evidence-Based Medicine: How to Practice and Teach EBM. Amsterdam, Netherlands: Elsevier; 2018.
Adaptive COVID-19 Treatment Trial. National Institute of Allergies and Infectious Disease. Available at: clinicaltrials.gov/​ct2/​show/​NCT04280705?term=niaid&cond=covid-19&draw=2&rank=5

 

Accessed May 1, 2020.

Wang Y, Zhang D, Du G, et al. Remdesivir in adults with severe COVID-19: a randomised, double-blind, placebo-controlled, multicentre trial. The Lancet

. April 29, 2020.

Gautret P, Lagier JC, Parola P, et al. Clinical and microbiological effect of a combination of hydroxychloroquine and azithromycin in 80 COVID-19 patients with at least a six-day follow up: a pilot observational study. Travel Med Infect Dis

. 2020;101663.

Amanat F, Krammer F. SARS-CoV-2 vaccines: status report. Immunity

. April 6, 2020.
From Dimensions of Dental Hygiene. May 2020;18(5):6.