Resurge® Ultrasonic Cleaner Family by Dentsply Sirona
Ultrasonic Cleaner Offers High Capacity and Flexibility.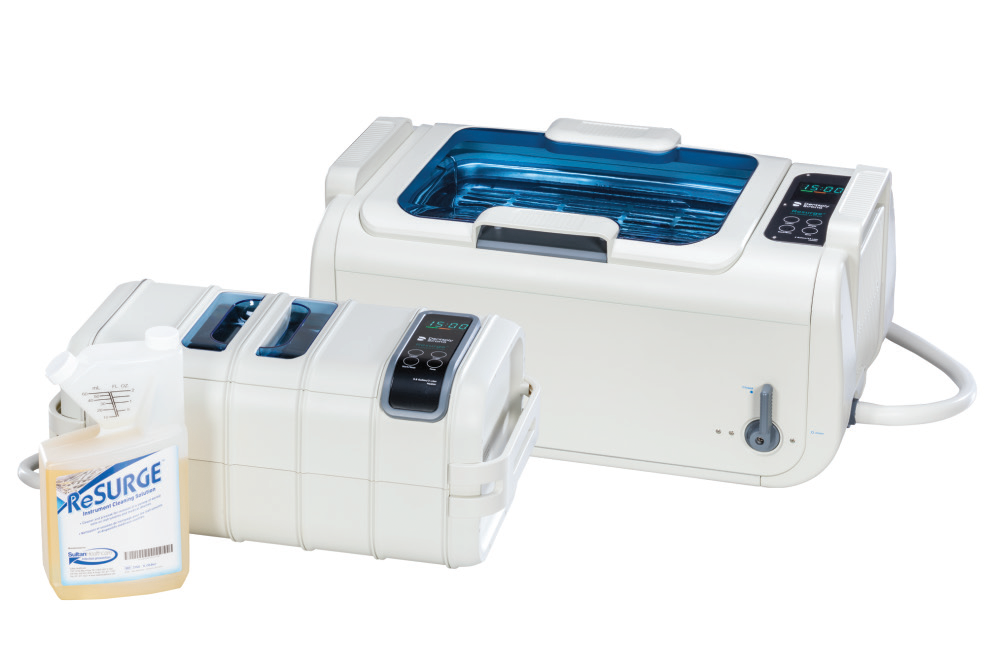 Dentsply Sirona announces the launch of the new Resurge Ultrasonic Cleaner Family—providing optimum capacity and flexibility in cleaning dental instruments. Available in two sizes—0.8 gallon and 2.0 gallon— these units meet the needs of dental practices that require either high- or lowcapacity cleaning requirements.
Both units feature a low-profile design, making it easy to insert and remove instruments, while a touch screen simplifies set up and operation. No matter how instruments are processed, the Resurge Ultrasonic Cleaners offer flexibility in loading instruments. The units come with a universal rack that accepts cassettes from most manufacturers and a stainless steel basket for loading bundled or loose instruments. In addition, a low-profile tray for spreading out instruments is available.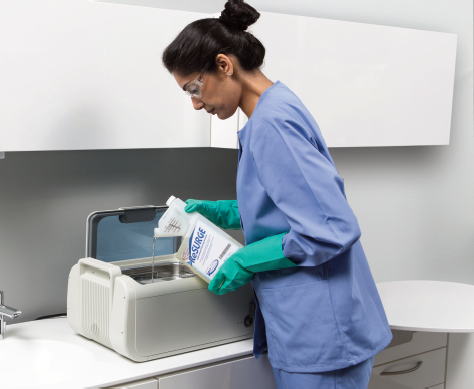 CONFIDENCE IN INSTRUMENT CLEANING
When combined with Resurge® Instrument Cleaning Solution, the units provide high-quality and fast instrument cleaning. The solution also contains a unique formula to help protect instruments' outer coating, reducing the potential for stains, spots, and even rust.
The United States Centers for Disease Control and Prevention states that "using automated equipment can be more efficient and safer than manually cleaning contaminated instruments."1Dentsply Cavitron® inserts are well suited for use with the Resurge Ultrasonic Cleaner family. In fact, the solution and cleaner are recommended to support the inserts' longevity and reliability.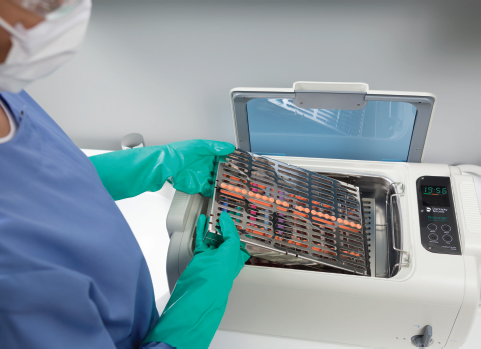 The new units can easily handle the instrument load of single practices, as well as the demand experienced by multi-dentist practices, offering optimum capacity and flexibility.
Customers can request a demonstration and learn more about the Resurge Ultrasonic Cleaners by contacting Dentsply Sirona Customer Service at 800-637-8582 or by visiting dentsply dentsplysirona.com/resurgeultrasonic.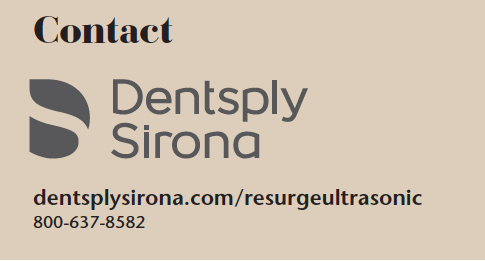 ---
From Dimensions of Dental Hygiene. July 2017;15(7):59.