Clinical Insights: Ensure the Safety of Your Waterlines
Sterisil's new Single Operatory SMART Compliance Kit, by Solmetex, provides you with everything you need to ensure the safety of your practice's dental unit waterlines.
This past October, the United States Centers for Disease Control and Prevention released a "Health Alert Network Health Advisory" regarding the importance of effectively maintaining dental unit waterlines after an outbreak of nontuberculous Mycobacteria infections among children who had recently received pulpotomies at dental clinics. The water tested at these clinics contained high levels of bacteria.
Dental unit waterlines are at high risk of microbial contamination. Their plastic construction paired with long stints of stagnation at room temperature increases the likelihood of biofilm accumulation over time.
Because of these risk factors, dental practices are encouraged to maintain the effluent water quality of their handpieces to <500 CFU/ml.
Simple Solution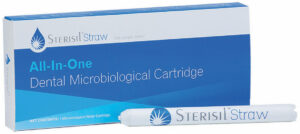 The entire Sterisil® product line — by Solmetex — is engineered to prevent biofilm accumulation and provide safe and clean water for routine non-surgical procedures.
Sterisil's Single Operatory SMART Compliance Kit makes dental unit waterline compliance simple. The kit includes:
Sterisil Straw (365 days of treatment)
Citrisil Dental Waterline Shock Tablets
MyCheck In-Office Water Testing Paddles for a single operatory
Quick Start Guide
SMART Compliance Binder
Quarterly Water Testing Flowchart as recommended by the Organization for Safety, Asepsis and Prevention (OSAP)
Innovative Technology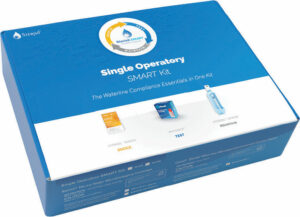 The Sterisil Straw is the industry's top choice for dental unit waterline treatment. Each Single Op kit provides the unmatched superior silver-ion technology of the Sterisil Straw. Highly capable of killing odor-causing bacteria, it is designed to be 20 times more effective than iodine straws without the high maintenance. It is the only straw that includes built-in shock and provides tasteless, odor-free, and consistently treated water for 365 days.
Sterisil's silver ions are exceptional in their ability to treat dental unit waterlines, without the oxidative properties of chlorine or iodine found in other cleaners. Rest assured, Sterisil products will not degrade the performance of your amalgam separator and ensure you're staying compliant with the Environmental Protection Agency's dental amalgam rule.
Bottom Line
When every drop matters in the dental chair, Sterisil makes waterline compliance simple, safe, and reliable. As the only manufacturer that can provide a complete kit to treat and maintain dental waterlines using silver ion technology, Sterisil gives you confidence in knowing that not only are you protecting your patients, but also community water supplies.
Ensure the safety of your dental unit waterlines with no taste, no staining, low maintenance, and superior treatment.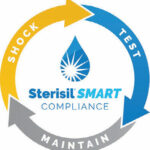 Solmetex LLC
800-216-5505
From Dimensions of Dental Hygiene. June 2023; 21(6):22.