Product Profile: ACT® Advanced Care™ Plaque Guard™
New defense against plaque and gingivitis.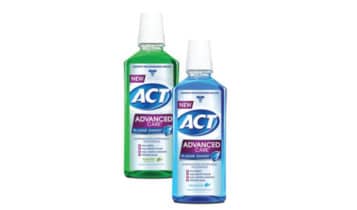 To help fight plague and gingivitis, ACT has launched ACT Advanced Care Plaque Guard—a new mouthrinse designed to kill 99% of the bacteria in plaque that cause gingivitis and bad breath. The new mouthrinse is available with and without alcohol. Both versions contain 0.07% cetylpyridinium chloride (CPC) to help reduce plaque and control gingivitis.
ANTI-PLAQUE RINSE
In the absence of good oral hygiene habits, individuals may experience dental plaque buildup. When left unattended, this bacteria buildup signals an inflammatory response that may result in redness and/or swelling of the gingiva—and signifies the presence of gingivitis.
Luckily, plaque buildup and gingivitis can be prevented with a strong oral hygiene routine. In addition to brushing and flossing, individuals can benefit from daily rinsing with a CPC mouthrinse. Killing bacteria using ACT Advanced Care Plaque Guard not only helps prevent plaque and gingivitis, it refreshes the mouth and freshens breath.
KEY FEATURES
Designed to kill 99% of the bacteria responsible for plague, gingivitis, and bad breath
Provides 12-hour protection against plaque and gingivitis
Contains a unique cleaning system that freshens the whole mouth
Sweetened with xylitol; saccharin-free
---
From Dimensions of Dental Hygiene. May 2015;13(5):70.