Aerosol Protection Loupes by Designs for Vision
Designs for Vision now offers Aerosol Protection Loupes.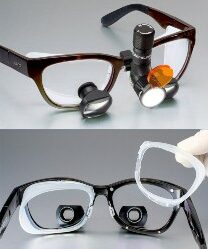 During the beginning of the COVID-19 crisis Designs for Vision was contacted by clinicians that wanted to incorporate protection from aerosols into their loupes.  A surgeon from the U.K. suggested Moisture Chamber Glasses, which utilize a seal around the eye to treat Dry Eye Syndrome. Designs for Vision contacted the manufacturer of these frames, Ziena Eyewear, and discovered that they were offering their frames to healthcare professionals for aerosol protection. Designs for Vision and Ziena decided to collaborate to offer Aerosol Protection to clinicians using loupes.
The most recent Centers for Disease Control and Prevention Guidance for Dental Settings recommends the use of eyewear and states "Protective eyewear (e.g., safety glasses, trauma glasses) with gaps between glasses and the face likely do not protect eyes from all splashes and sprays." Aerosol Protection Loupes from Designs for Vision utilizes soft silicone inserts to provide a protective seal around the eyes. These inserts are connected to the frame via embedded magnets, so they are easy to remove and disinfect. 
The Aerosol Protection Loupes are available in 2.5x, 3.0x, and 3.5x magnifications, and most prescriptions can be incorporated into the loupes. The stylish frames are available in black and tortoise shell and the frames accept both wireless and wired headlights.
If you are curious, a Designs for Vision representative will visit you and the Aerosol Protection Loupes are available on a 45-day trial.  To arrange a visit, call 800-345-4009 or visit designsforvision.com.