Young Launches New Vera® Advanced Bright™ Prophy Paste
Young Launches New Vera® Advanced Bright™ Prophy Paste   EARTH CITY, MO., SEPT. 21, 2015 – Young is excited to announce the launch of new Vera® Advanced Bright™ Prophy Paste powered by baking soda Vera Advanced Bright Prophy Paste contains
Young Launches New Vera® Advanced Bright™ Prophy Paste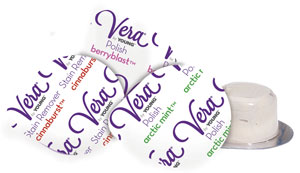 EARTH CITY, MO., SEPT. 21, 2015 – Young is excited to announce the launch of new Vera® Advanced Bright™ Prophy Paste powered by baking soda!
Vera Advanced Bright Prophy Paste contains baking soda, a time-honored ingredient with low abrasivity that's recognized for its ability to whiten, brighten and neutralize pH.
This proprietary mixture of baking soda and pumice is designed to break down stain molecules to gently brighten enamel and neutralize pH during polishing.
Vera Advanced Bright Prophy Paste is the first paste from the Vera® by Young™ product line, which includes Young's top-selling Vera Classic and Vera Contra prophy angles. These prophy angles recently earned the 2015 Dental Advisor's Editors' Choice five-star rating.
"A new Vera prophy paste to match the innovative qualities of our popular Vera prophy angle is a logical next phase for Vera," said Kristi Metrick, Senior Brand Manager for Young. "We spent time gathering input from hygienists throughout the U.S. on new features and benefits they would like to see in a prophy paste. The neutralizing benefit of classic baking soda was a clear winner!"
Vera Advanced Bright Prophy Paste is available in Stain Remover (medium-coarse grit) and Polish (fine grit) – and comes in the deliciously refreshing Arctic Mint™ and Assorted (Arctic Mint™, Cinnaburst™ and Berryblast™) flavors.
"Our chemists and engineering team in Earth City, Mo., spent months perfecting the formula to ensure a pleasing taste profile and low-splatter consistency," said Metrick. "The final result is a product highly endorsed by our esteemed hygienist test panel."
For more information about new Vera Advanced Bright Prophy Paste and to request a free sample, please visit www.youngdental.com/verapaste.
# # #