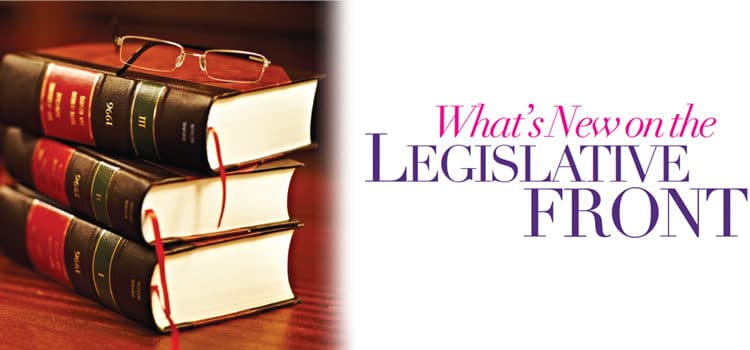 PEOPLEIMAGES/DIGITALVISION/GETTYIMAGESPLUS
What's New on the Legislative Front
Efforts to reduce restrictions on dental hygiene practice and expand the midlevel practitioner model are helping to improve access to care.
In an annual accounting of legislative actions revolving around expanded roles for dental hygienists, most oral health professionals still do not have an avenue to expanded scope of practice or a midlevel practitioner path. Yet, progress continues through expanded roles, which allow dental hygienists to more freely apply their skills in preventive care, while also providing an entrance into restorative and diagnostic realms.
Because it is up to each state how or if lawmakers want to expand oral health provider roles, educational requirements, scope of practice, supervisory conditions, and professional designations vary. In the handful of states that have passed the requisite legislation, dental hygienists may become midlevel practitioners, often designated as dental therapists.
But more common are dental hygienists working in expanded capacities, under a range of designations, short of the dental therapy model. These include public health dental hygienists, and variations such as California's registered dental hygienist in alternative practice (RDHAP), Oregon's expanded practice dental hygienist, and Maine's independent practice dental hygienist.
EXPANDED ROLES WITHIN DENTAL HYGIENE
Although the majority of states are not yet ready to legislate dental therapy into existence, increasing numbers are looking more closely at the midlevel practitioner model. In addition, the ongoing trend of allowing dental hygienists to practice to the fullest extent of their license is leading to the adoption of direct access. As defined by the American Dental Hygienists' Association (ADHA), "direct access is the ability of dental hygienists to initiate treatment based on their assessment of a patient's needs without the specific authorization of a dentist, treat the patient without the presence of a dentist, and maintain a provider-patient relationship."1 Direct access helps to increase access to care for rural and other underserved populations, including patients covered by Medicaid. And, in some cases, direct Medicaid reimbursement is allowed. Each state, however, sets its own parameters within which its dental hygienists must operate.
Arizona, for example, is a direct-access state that enables dental hygienists to practice as affiliated practice dental hygienists in public health settings, under a written agreement with a dentist. In Colorado, another direct-access state, there is no authorization or supervision requirement for dental hygienists to render most dental hygiene services. In fact, they may also own their own practices. Likewise, California's RDHAPs may practice as independent contractors or own their own practices, with services rendered under general supervision, but without the need for dentists to examine patients prior to initial treatment.1
Other states permitting direct access for dental hygienists include Alaska, Arkansas, Connecticut, Florida, Georgia, Idaho, Illinois, Iowa, Kansas, Kentucky, Maine, Maryland, Massachusetts, Michigan, Minnesota, Missouri, Montana, Nebraska, New Hampshire, New Mexico, New York, Nevada, Ohio, Oklahoma, Oregon, Pennsylvania, Rhode Island, South Carolina, South Dakota, Tennessee, Texas, Utah, Vermont, Virginia, Washington, West Virginia, and Wisconsin.1
NEW LEGISLATION
This year several bills have been passed to expand the scope of practice for dental hygienists. In Georgia, HB 154 will become law in January 2018, making it the 40th direct-access state, with dental hygienists permitted to practice expanded roles in a number of settings under general supervision of a dentist. The law will allow licensed dental hygienists to perform prophylaxes and apply sealants and topical fluorides in safety-net settings, which include hospitals, nursing homes, rural health clinics, and Title I schools.2
In an interesting turn of events, Maine lawmakers recently passed legislation removing the minimum number of years of practice required in order for dental hygienists to perform in expanded capacities, only to have it vetoed by the governor. In response, legislators overrode the veto and, according to the ADHA, dental hygienists who have a bachelor's or associate's degree and 2,000 hours of clinical practice can apply for a license to practice independently with no restriction on the number of years in practice.2
In Minnesota, the pioneer for statewide dental therapy, House File 1712 was signed into law this summer. It modifies and clarifies some of the collaborative requirements for dental hygienist practice, such as those pertaining to cardiopulmonary resuscitation certification, medical emergency training, and recordkeeping for making referrals. In the state's collaborative practice, which was established in 2001, dental hygienists are employed by health care facilities or programs, or nonprofits to perform preventive oral health care without an examination by a dentist.2
The Montana legislature gave the thumbs up to SB 120 in May. This green lights dental hygienists to prescribe topical agents such as high parts-per-million fluoride, oral anesthetics, and nonsystemic antimicrobials. It also allows them to administer local anesthesia under general, rather than direct supervision.2
Nebraska's Legislative Bill 18, passed in March, allows expanded function dental hygienists to work, under indirect supervision, in offices, public institutions, or schools. They may also write prescriptions for mouthrinses and fluoride products, administer nitrous oxide, and place simple and more complex restorations.2
Texas' HB 2007, which became law in May, allows dental hygienists to provide voluntary charity care with a limited volunteer license.2
House Bill 1474 passed this March in Virginia to loosen many supervisory requirements for dental hygienists working remotely.2
In a late-breaking move, Wisconsin's Governor Scott Walker signed Assembly Bill 146 into law this summer. The bill expands the direct-access settings in which dental hygienists can work, allowing them to practice without the authorization and supervision of a licensed dentist in settings ranging from federal, state, county, or municipal correctional or detention facilities; nursing homes; nonprofit home health care agencies and dental care programs serving adult day care centers; charitable institutions; and outpatient medical facilities.
STATES CURRENTLY PERMITTING DENTAL THERAPISTS
Long controversial, the midlevel model of dental therapy is beginning to see a shift. While organized dentistry remains opposed, other stakeholders—from nonprofit organizations to public health officials—remain interested in implementing midlevel practitioners to improve access to oral health care. In fact, a primary driver for the creation of dental therapists is to expand access to oral health care to underserved populations. This includes as many as 72 million patients covered by Medicaid, to whom an estimated two-thirds of the nation's dental offices remain unavailable. 
In Minnesota—the first state to pass legislation to make dental therapy a reality—77 dental therapists, who have completed the required curriculum, are now licensed. In the fall of 2016, the University of Minnesota School of Dentistry's Dental Therapy Program combined Bachelor of Science in Dental Hygiene and Master of Dental Therapy degrees into a dual-degree program. The change was designed to better meet the needs of oral health care providers and patients. Metropolitan State University, in partnership with Normandale Community College, is also offering a master's degree in dental therapy in Minnesota. Students attending that program must be licensed dental hygienists.
Under Minnesota law, dental therapists work within a collaborative management agreement with a dentist, and may practice primarily in low-income settings or in underserved areas. The services they are allowed to perform include cavity preparations, placement of temporary restorations and crowns, primary tooth extractions, brush biopsies, and re-cementing of permanent crowns. They may also dispense and administer analgesics, anti-inflammatories, and oral antibiotics.
In 2014, Maine became the second state to pass legislation authorizing dental therapists. To date, however, there appear to be no plans to develop an educational program in that state. Instead, Maine dental hygienists may opt for training in nearby Vermont, once that program is underway, according to Kellie A. Stanhope, RDH, BSDH, EFDA, president of the Maine Dental Hygienists' Association.
Meanwhile, Vermont, the next state to authorize dental therapy, has, indeed, moved forward with its educational program, which will be offered through Vermont Technical College, most likely in 2019. In fact, this summer, it hired a program director, who is developing a curriculum and seeking accreditation. In addition, the Vermont Board of Dental Examiners is creating licensing parameters for the new practitioners. The college, which already educates dental hygienists, will require an additional year and clinical hours for therapists. Those educated in Vermont can reportedly practice in any state that permits dental therapists to work.
DENTAL HEALTH AIDE THERAPY ON TRIBAL LANDS
In a few states, dental health aide therapists (DHATs) are practicing on tribal lands without state authorization. They can do this because tribal lands are regarded as sovereign nations. Alaska, the first of the 50 states to benefit from this type of provider, employs DHATs, who practice in remote areas under the general supervision of a dentist. They provide culturally appropriate dental education and care for native populations, though they do not have prescriptive authority. They also provide limited preventive services, though their scope of practice in this respect is not as broad as it is for dental hygienists.
The original DHATs received training in New Zealand, where dental therapy has long been an accepted profession. Now, training is offered via Alaska Dental Therapy Educational Programs in partnership with the Iḷisagvik College. Through such programs, DHATs undergo 2 years of training to earn an associate's degree in dental therapy, and must complete at least a 400-hour preceptorship before they can apply for certification.
Washington and Oregon have also recently authorized such therapists to work in underserved native populations. In the case of Oregon, last July, Lane Community College (LCC) in Eugene, Oregon, received a $100,000 grant from the W.K. Kellogg Foundation to study the feasibility of creating an accredited 2-year dental therapist program. According to Sharon Hagan, RDH, MS, coordinator of the LCC Dental Hygiene Program, so far, working in partnership with the Oregon Oral Health Coalition, educators have begun putting infrastructure in place that would support two dental therapy program tracks, one for practicing dental hygienists and the other for those who are not currently dental hygienists.
Hagan says, however, that additional funds will be needed for facilities and equipment, and that much work remains to be done in educating the dental community about the benefits offered by dental therapists. "We can educate dental therapists, but then they need to find work," says Hagan, who, nonetheless, anticipates continued forward movement, albeit, at a slower pace than she would like. "I'd like the dental therapy program to start as soon as possible," she says, "though it's probably 3 years to 5 years down the road. But we are exploring all options to make it happen in Oregon."
Additionally, in 2011 the Oregon State Legislature passed Senate Bill 738, allowing the Oregon Health Authority to authorize a dental pilot project pending application approval. The goal is to encourage the development of innovative practices in oral health care delivery, especially in underserved populations with high rates of disease. The project was designed to train and employ Native Americans from such communities.
Subsequently, a pilot program—funded by the W.K. Kellogg Foundation, The Pew Charitable Trusts, Northwest Portland Area Indian Health Board, Confederated Tribes of Coos, Lower Umpqua and Siuslaw Indians, and Coquille Indian Tribe—was developed to teach new oral health care roles and to provide midlevel oral health care via DHATs to underserved tribal populations. Under this program, trainees are sent from select tribal communities to Alaska for training through that state's DHAT program. When they return, they complete an additional 400 hours of on-site training with an experienced DHAT and a supervising dentist, with whom they will continue to work as part of a team for at least 1 year.
In Washington state last year, the Swinomish tribe hired an Alaska-trained DHAT, despite state dental lobby opposition. Payment has been a challenge due to state and federal constrictions, so funding was provided through the W.K. Kellogg Foundation. But in March of this year, Governor Jay Inslee signed SB 5079 into law, removing restrictions on the use of federal funds to pay for and to authorize DHATs to work on tribal lands.
OTHER STATES CONSIDERING MIDLEVEL PRACTITIONERS
The Massachusetts legislature is considering the addition of midlevel practitioners. In January of this year, State Senator Harriette L. Chandler introduced Senate Bill 1169, which aims to make dental therapists a recognized professional entity in Massachusetts. The bill, which is based on national accreditation standards for dental therapy education programs, enjoys wide support by a large coalition, including the Massachusetts Dental Hygienists' Association. An update of a bill that was introduced in 2014, S 1169 would allow broader practice parameters than one recently proposed by the Massachusetts Dental Society (MDS), and would have therapists practicing under a collaborative agreement with a dentist. A hearing on both S 1169 and its companion H 2474 was held in September during which broad support was expressed for the measures. The bills now await committee action. The legislation supported by the MDS would create a public health dental practitioner. While many in the dental community see it as a step in the right direction, other Massachusetts stakeholders, including some dentists, think it doesn't go far enough to remedy the access-to-care problem. Under this legislation, dental hygienists would have to complete at least 2 years of graduate school and work under direct supervision of a dentist. Working under direct supervision of a dentist can become problematic in areas with a shortage of dentists and defeats the purpose for creating a midlevel practitioner. They would also be limited to practice in federal community health centers and locations experiencing dentist shortages.
Earlier this year, North Dakota tried to pass legislation that would have allowed dental therapists in that state, but HB 1256 was defeated in a 32-59 vote. Efforts to bring a midlevel practitioner continue in this state where dentist shortfalls are severe.3
According to the United States Department of Health Resources and Services Administration, Arizona has as many as 178 dental health professional shortage areas.4 Nonetheless, lawmakers rejected an application filed by the Dental Care for Arizona coalition in support of dental therapy last January. But proponents of the new profession plan to keep on pushing their agenda.
In Ohio, SB 330, sponsored by Ohio State Senator Peggy Lehner, would broaden the ability of dental hygienists to work without on-site supervision by a dentist. It would also create licensure for dental therapists.
In Michigan, a bill (SB 541) would authorize dental therapy, enabling dental therapists to have written practice agreements with a supervising dentist. This is similar to the collaborative management agreement between dental therapists and dentists in Minnesota. The bill was introduced by Senator Mike Shirkey on September 7. The Senate Health Policy Committee recommended passage of the bill on September 20. The bill is expected to go for a Senate floor vote; although a date has not yet been set. Among the other states considering allowing dental therapists are Connecticut, Hawaii, Kansas, Maryland, New Hampshire, New Mexico, and Texas.5The situation, however, remains fluid, and additional states are in the early stages of bringing legislation forward.
ROADBLOCK REMOVAL
The implications of removing the direct supervision requirement for dental hygienists are wide ranging. After all, they can then help close the oral care access gap in rural and underserved settings; boost a practice's bottom line by increasing the number of patients that can be seen, which includes allowing dentists to expand office hours to circumvent patient work conflicts; provide more cost-effective means of treating patients covered by Medicaid; safely and efficiently perform preventive and basic restorative services, freeing up dentists to focus on more complex procedures; and saving practices money as the pay for dental therapists is less than for dentists.
In essence, dental hygienists are well positioned to be part of the oral health care access solution. And in the face of opposition, proponents are ready to bring about this kind of change. Regardless, it is a direction in which most states appear to be headed—even if it's only one small victory at a time.
---
From Perspectives on the Midlevel Practitioner, a supplement to Dimensions of Dental Hygiene. October 2017;4(10):14,16.