Water Fluoridation Found to be Safest Anticaries Strategy Available
Decades of research have shown that this use of fluoride has been immensely beneficial, safe, and instrumental in decreasing the incidence of caries across the globe.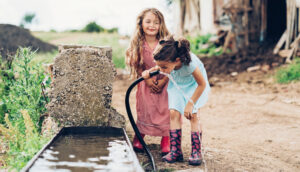 The addition of fluoride into community water sources in the United States has reduced the development of caries in children and adults by about 25% over the past 75 years. Further, more than 35% of the world's population today reaps the benefits of water fluoridation, reflected in significant reductions in dental caries. In fact, community water fluoridation has been named as one of the 10 greatest public health achievements of the 20th Century.1–3
ENVIRONMENTAL CONCERNS
Lately, however, controversy over the use of this mineral in water supplies has ramped up again, as can be seen via a trip through the Internet. In the face of concerns regarding climate change, the environmental impact of water fluoridation has come under renewed scrutiny.
But while data on the clinical effectiveness and costs of water fluoridation have long been available, research on its environmental impact has been lacking. Until now. And these new research findings, do not lend credence to environmental impact worries.1,2
A recent collaborative study between Trinity College Dublin and the University College London, has found that community water fluoridation is not only safe and effective, but is actually an environmentally friendly strategy for reducing caries due to its low environmental impact compared to other preventive measures.2
RE-EXAMINING FLUORIDE
As the final installment of a three-part study, the researchers explored and quantified the environmental impact of water fluoridation based on the model of one 5-year-old child over 1 year and using Ireland's public water fluoridation process. They compared environmental sustainability impact as well as clinical and cost effectiveness of water fluoridation with the use of community-based fluoride varnish and toothbrushing programs.
To obtain the results, a Life Cycle Assessment (LCA) was performed to measure the combined travel, weight, and amounts of all products, as well as the processes involved in all three preventive programs, including carbon footprint, amount of water used and amount of land use.
The results of the study showed that water fluoridation had the lowest environmental impact of all methods studied, making it the most sustainable strategy available for community-level caries prevention. The study also found that water fluoridation provides the greatest return on investment.
PREVENTIVE MEASURE OF CHOICE
While there is no doubt that toothbrushing with fluoride toothpaste and fluoride varnish applications will remain important weapons against caries, after weighing all the factors, the researchers concluded that water fluoridation should be the preventive intervention of choice. These findings, they believe, strengthen the case for water fluoridation programs to help prevent and reduce dental decay globally, especially in the most at-risk populations.
"As the climate crisis starts to worsen, we need to find ways of preventing disease to reduce the environmental impact of our health systems," said study leader Brett Duane, BDS, MAM (Health) GCertDent, MPH, PhD, an associate professor in Dental Public Health at Trinity College. "This research clearly demonstrates the low carbon impact of water fluoridation as an effective prevention tool."1
REFERENCES
Science Daily. Water Fluoridation: Effective Prevention for Tooth Decay and a Win for the Environment, Research Shows.
Duane B, Lyne A, Parle R, et al. The environmental impact of community caries prevention—part 3: water fluoridation. Br Dent J. 2022;233:303–307.
United States Centers for Disease Control and Prevention. Community Water Fluoridation.