UNE welcomes students to first dental school in northern New England
UNE welcomes students to first dental school in northern New England   Portland, Maine – University of New England will open the first dental school in northern New England on Wednesday, August 28, 2013 when it welcomes the inaugural class
UNE welcomes students to first dental school in northern New England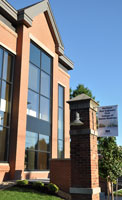 Portland, Maine – University of New England will open the first dental school in northern New England on Wednesday, August 28, 2013 when it welcomes the inaugural class of 64 students. Classes will be held in the Oral Health Center on Stevens Ave. on the Portland Campus. A formal dedication will be held on October 2, 2013.
The inaugural class includes 24 students from Maine, representing 11 counties and more than 20 towns. There are also five students from New Hampshire, four from Vermont and the other students represent 16 states in addition to Canada.
"UNE is uniquely qualified to open the first College of Dental Medicine in the region. This graduate program in oral health joins medical, pharmacy, public health, dental hygiene and allied health programs," said UNE President Danielle Ripich. "Our interprofessional health education learning environment provides students with the opportunity to work together as members of the health care team to ultimately provide the best patient care."
UNE graduates enjoy one of the greatest lifetime returns on investment in Maine, according to Affordable Colleges Online, a website reporting on higher education affordability. The website ranked UNE second in student return on investment (ROI) among 43 public and private colleges and universities in Maine, including four-year, degree-granting, fully accredited non-profit institutions.
UNE College of Dental Medicine Dean James Koelbl said, "This dental school is the result of a public-private partnership. First and foremost, it is an educational institution where pioneering students will become ethical, caring and competent health care providers.
"We will implement one of the most robust community education programs available anywhere with a focus in the fourth year on extensive clinical experience in a distributed, community-based clinical learning environment across northern New England (Maine, New Hampshire and Vermont)," added Koelbl.
Once the College is fully operational, faculty and students will provide approximately 12,000-15,000 patient visits per year in the Oral Health Center, with an additional 20,000-25,000 visits per year provided in the community-based network.
The University of New England is an innovative health sciences university grounded in the liberal arts, with two distinctive coastal Maine campuses and unique study abroad opportunities. UNE has internationally recognized scholars in the sciences, health, medicine and humanities, and offers more than 40 undergraduate, graduate and professional degree programs.
# # #